Ulnar claw hand is term referred to condition of the hand that results due to ulnar nerve palsy. Ulnar nerve is responsible for supplying the lumbricals which are responsible for extension of interphalangeal joints and flexion of metacarpophalngeal joints.
The ulnar nerve palsy therefore would result in hyperextension of metacarpo-phalangeal joint and flexion at the interphalangeal joints of 4th and 5th digit.
A hand in ulnar claw position will have the 4th and 5th fingers drawn towards the back of the hand at the first knuckle and curled towards the palm at the second and third knuckles.
Following two photographs are of  a man with ulnar nerve palsy of right hand.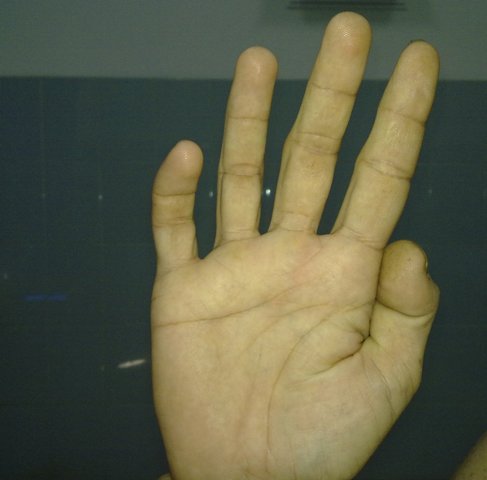 The deformity is more pronounced in the little finger as you can see.
Following photograph was taken for comparison. [Sorry for the background. OPD was heavy]
It is the extension of the MCP joints coupled with the slight flexion of the IP joints that gives the hand the claw-like appearance.