Xray of a Normal Foot
Xrays are basic investigations for orthopedic problems. To find the abnormal one must have an idea of normal.
This is how an xray of a normal foot looks like. The present image shows an anteroposterior and oblique views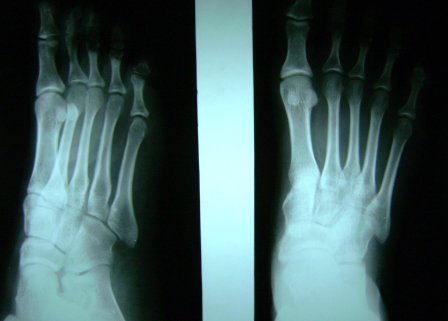 On left side of the plate there is an oblique view of the foot. On right side there is anteroposterior view.
Xray of the foot is ordered in various ailments of foot including trauma. Anteroposterior and oblique views are most common views that are ordered in foot.
There are many other xray views which can be done for the foot as the condition demands.
Note:In the present film phalanges have not been exposed properly. In a properly exposed foot phalanges would have been clearly visible.
Incoming search terms:
foot xray (155)
normal foot xray (72)
xray of foot (67)
normal foot x-ray (45)
normal foot x ray (39)
foot x ray (38)
foot xrays (19)
foot x-ray (18)
xray of foot bones (16)
xray foot (15)
Related Terms: