Xray of Fracture of Medial Malleolus of Tibia
A malleolus is a projection of bone beyond ankle joint. The medial one is called medial malleolus. Other arising from tibia is called posterior. A counterpart called lateral malleolus is distal end of fibula.
A fracture is a break in the continuity of the bone and is usually caused by force beyond the strength of the bone.
Fracture of medial malleolus is a common ankle injury and following is an xray of fracture of medial malleolus.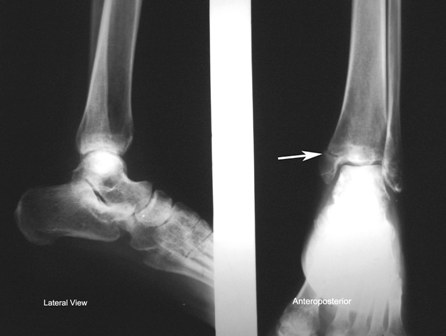 The present xray shows a fractured medial malleolus.
Treatment of the fractured medial malleolus depends upon many factors. These are presence of concomitant fracture of fibula, amount of displacement of medial malleolus, age of the patient and demands of patient.
In nonoperative methods, patients are given below knee or short leg casts. SOmetimes the definitive cast needs to preceded with a temporary slab to reduce the swelling. It is mostly done in cases of undisplaced fractures or patients with very low demands.
Surgical treatment of medial malleolus fracture aims at anatomical restoration and holding the fractured fragments at that anatomical position by means of screws, Kwires or tension band wiring.
A fractured medial malleolus would take around 4-6 weeks to unite.
Xrayof Fracture of Medial Malleolus Fixed With Malleolar Screw
The xray in picture is of 27 years old male who fell after his ankle got twisted. He had a displaced fracture of medial malleolus and the fracture was fixed with two malleolar screw.
Incoming search terms:
medial malleolus (235)
medial malleolus fracture (50)
malleolus bone (19)
lateral malleolus (11)
Medial Malleolus Pain (10)
what to do for soft tissue swelling along the medial malleolus (8)
ankle xray (7)
broken medial malleolus (7)
fractured medial malleolus (6)
left lateral malleolus fracture (6)