The anatomy of distal radius is unique. The articular surface of distal radius is biconcave, triangular, and covered with hyaline cartilage. A smooth anteroposterior ridge divides the articular surface into two facets: a triangular lateral facet, which articulates with the scaphoid, and a quadrilateral medial facet, which articulates with the lunate. The medial surface of the distal radius forms a semicircular notch covered with hyaline cartilage, which articulates with the ulna head. This articulation enables the radius to swing around the ulna.
The lateral surface of the radius elongates into a prominent styloid process, which gives attachment to the brachioradialis muscle.
Some more images would explain the anatomy of distal radius in detail
In normal anatomy of distal radius and wrist,  styloid process of the radius lies distal to the styloid process of ulna. The usual distance is about 12 mm.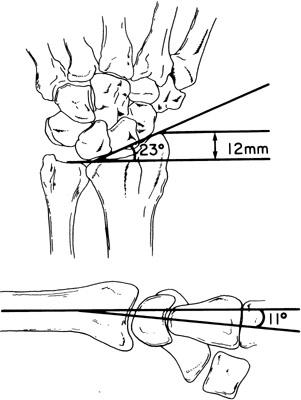 There is normally an average of 23° of radial angulation in the anteroposterior plane and 11° of inclination in lateral view.
Significance of Anatomy of Distal Radius
Understanding the anatomy of distal radius is very important for proper management of fractures of distal radius and restoring the function of the wrist to its fullest.
Fractures of the distal radius are very common. Colles, Smith and Barton fracture are few of these fractures differentiated by their fracture pattern and displacements.
Most of these fractures are managed by closed reduction and plaster immobilization and it becomes important to understand the anatomy of distal radius to assess and analyze the reduction under C-arm image intensifier. Moreover, the loss of reduction can be checked on postoperative x-rays only when the anatomy of distal radius is understood.
Some diseases like Madelung deformity typically affects radius physis and alters the shape of the distal radius.
Madelung's deformity is an abnormality of the wrist caused by a growth disturbance that retards the development of the ulnar and volar portions of the distal radial physis.
Get more on Musculoskeletal Health

in your inbox
Subscribe to our Newsletter and get updates delivered to your email inbox.
Thank you for subscribing.
Something went wrong.