The nail is an integral component of the digital tip. It is a unique hardened structure formed by keratinized squamous cells. Nail functions to protect the fingertip and provides a counterforce to tactile sensation and for aiding in the grip formed by fingertips [ as in pinching].
It is also involved in temperature control [thermoregulationion] which is regulated by glomus bodies in the nail bed and matrix.
Nails are similar to claws in other animals.
Parts of The Nail
Nail Plate
The nail plate is also called corpus unguis. It is the hard visible part of the nail. The nail plate is composed of hard, keratinized, squamous cells that are loosely adherent to germinal matrix but strongly attached to the sterile matrix.
Matrix
Matrix is the tissue that a nail [nail plate] protects. It lies beneath the nail and contains nerves, lymph and blood vessels. The matrix is responsible for producing cells that become the nail plate. It has two parts sterile and germinal.
Lunula
Lunula is the white area at the base of a fingernail. Lunula means little moon. Lunula represents distal extent of the germinal matrix.
It is located at the proximal end of the nail and lies under the nail.
It is white only when seen through the nail. The lunula damage to lunula will cause permanent deformation of the nail.
Hyponychium, Eponychium and Paronychium
The hyponychium is the epithelium located beneath the nail plate at the junction between the free edge of the nail and the skin of the fingertip.
The eponychium is the small band of epithelium that extends from the posterior nail wall onto the base of the nail.
Paronychium are the lateral nail folds on either side of nail plate.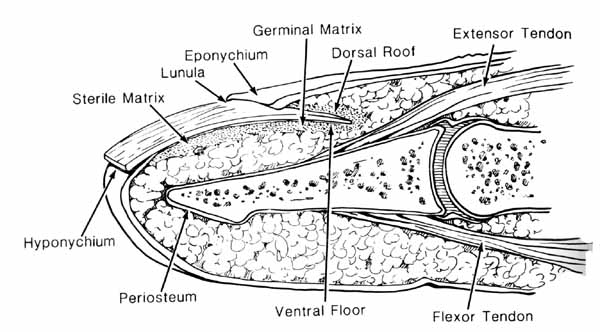 Blood Supply
Terminal branches of the radial and ulnar proper palmar (volar) digital arteries supply the nail.
Nail growth is separated occurs from the germinal matrix, sterile matrix, and dorsal roof of the nail fold.
Nail growth is estimated at 3-4 mm per month.