Anterior spinal artery syndrome affects the supply of the anterior spinal artery which supplies the ventral two-thirds of the spinal cord and Medulla. Infarction or blockage of this artery jeopardizes the supply to the cord and results in symptoms of weakness and loss of pain and temperature sensation below the level of injury.
Causes of Anterior Spinal Artery Syndrome
Most common associated causes of anterior spinal artery syndrome are atherosclerosis of the aorta [results in narrowing of the lumen and hence blood supply] and may result from dissection of an Aortic aneurysm.
The artery might rarely be injured in the dissection of the spine.
Other causes are trauma, vasculitis (inflammation of the blood vessels), compression by any space occupying lesion and infections.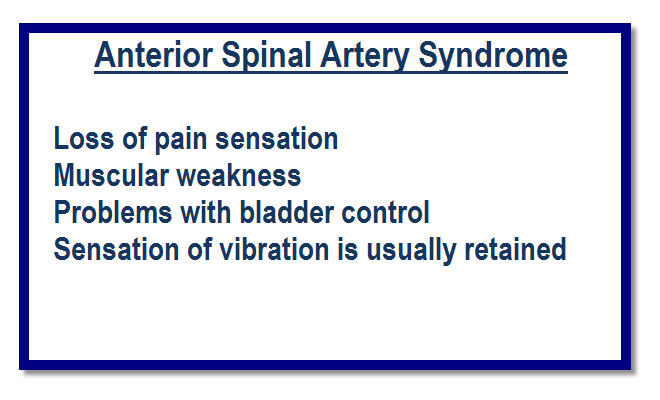 Presentation of Anterior Spinal Artery Syndrome
Loss of pain sensation below the point of reduced blood flow
Muscular weakness in the limbs and problems with bladder control.
The sensation of vibration is usually retained.
Diagnosis of Anterior Spinal Artery Syndrome
The clinical examination would point to the presentation and likely level. The cause of the syndrome would vary. History might point to a cause like trauma. If the anterior spinal artery syndrome is found after the surgery, a preoperative injury is most likely the cause.
A magnetic resonance imaging may help to identify causes like atherosclerosis or an aneurysm.
Treatment
The root cause if treatable should be addressed. The treatment in such cases would depend upon the root cause.