Atlanto-occipital fusion or Occipitalization of atlas [C1]is the most common congenital abnormality of the upper cervical spine. It means partial or complete congenital fusion between the atlas and the base of the occiput.
Other names for atlanto-occipital fusion are occipitalization, occipitocervical Synostosis, assimilation of Atlas
The severity ranges from a complete bony fusion to a bony bridge or even a fibrous band. Occipitalization occurs because of failure of segmentation between the fourth occipital sclerotome and the first spinal sclerotome.
The incidence has been reported to be 1.4 to 2.5 per 1000 children. It affects both sexes equally. and affects males and females equally.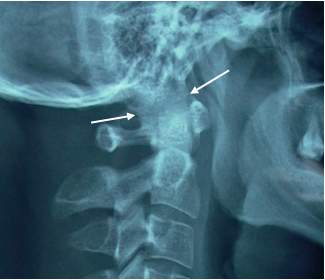 In 70% of the cases, atlanto-occipital fusion is associated with a congenital fusion between C2 and C3. Other associated congenital anomalies are
Kyphosis and scoliosis
Anomalies of the jaw
Incomplete cleft of the nasal cartilage
Cleft palate
External ear deformities
Cervical ribs
Urinary tract anomalies
Clinical Findings
These patients have
Low hairlines
Torticollis
Short necks
Restricted neck movement.
Dull, aching pain in the posterior occiput and the neck
Episodic neck stiffness
The symptoms are similar to Klippel-Feil syndrome, Neurological symptoms usually occur in third and fourth decades and vary depending on the area of spinal cord impingement. If it is anterior, pyramidal tract signs and symptoms predominate, if the impingement is posterior, posterior column signs and symptoms [Paresthesiae, numbness, impairment of 2 point discrimination and vibration and conscious proprioception impairment} predominate.
Nystagmus is a common finding.
Cranial nerve involvement can cause diplopia, dysphagia, and auditory disturbances.
Vertebral artery involvement may result in syncope, seizures, vertigo, and an unsteady gait.
Radiographic Findings
Routine radiographs usually are difficult to interpret, and CT scan or MRI may be needed to show the occipitocervical fusion.
Most commonly, the anterior arch of the atlas is assimilated into the occiput and displaced posteriorly relative to the occiput.
About half of patients have a relative basilar impression due to loss of height of the atlas.
Posterior fusion usually is a small bony fringe or a fibrous band that frequently is not evident on a radiograph.
Atlantoaxial instability should be looked for by flexion and extension views of the neck.
Myelography or MRI can detect areas of encroachment on the spinal cord or medulla
Treatment of Atlanto-Occipital Fusion
Patients who have minor symptoms or become symptomatic after minor trauma or infection can be treated conservatively with immobilization in plaster, traction, or a cervical orthosis.
When neurological symptoms occur, cervical spine fusion or decompression is indicated.
Anterior symptoms usually are caused by a hypermobile odontoid, therefore preliminary reduction of the odontoid with traction, followed by fusion from the occiput to C2, relieves the symptoms.
If the odontoid is irreducible, excision of the odontoid may be taken.
Posterior signs and symptoms usually are caused by bony compression or compression from a dural band. Removal of the dural band is indicated when a band is documented by CT or MRI. Posterior fusion may be added to prevent instability.