Bipartite patella is a congenital condition in which the patella is actually two separate bones instead of one and represents unfused or incompletely fused secondary ossification centers of the patella. Most of the people who have this condition are generally asymptomatic and most commonly. It may be confused with a fracture of the patella.
The incidence of occurrence of the bipartite patella is about 1% and is much more common in men than women [about 9 times]. It occurs bilaterally in about 50% of cases. Association with nail-patella syndrome has been noted.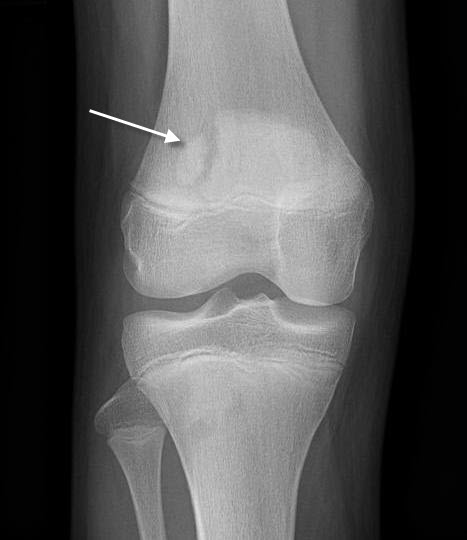 Relevant Anatomy
The patella is the largest sesamoid bone which starts ossifying at an age of 3-4.5 years. Accessory ossification center appears between 8-12 years and fuses by puberty. Failure of fusion leads to the presence of a separate fragment. This is termed as bipartite patella.
Classification of Bipartite Patella
Saupe Classification describes 3 types of bipartite patella depending on location of separate fragment.
Type I
Inferior pole
Type II
Lateral margin
Type III
Superolateral pole
How to Differentiate Fracture Patella and Bipartite Patella
When compared with patellar fracture, the bipartite patella is
Located superolaterally
Have rounded borders
Contralateral knee x-ray may have similar findings because bipartite patella is bilateral in 50% cases
Clinical presentation
A bipartite patella is usually an incidental finding. Only 2% of patients with the condition experience symptoms. It may cause anterior knee pain, especially after trauma, sports injury, or overuse. Direct trauma can occur due to fall or kick to the knee. Indirect trauma can occur due to repetitive injury as in cycling, hill climbing.
The pain gets aggravated by squatting, jumping or climbing stairs. A sensation of giving away may also be felt.
Causes of knee pain in bipartite patella are
Injury to the fibrocartilaginous zone between the main patella and accessory fragment
Fibrocartilaginous zone does not heal leading to persistent pain
Repeated vastus lateralis force applies to fragment resulting in separation and nonunion
Physical examination may reveal a larger than normal patella with localized tenderness over accessory fragment. A hematoma or patellar prominence may be felt.
Imaging
X-rays
AP knee radiograph is the best view to visualize. Another view that would reveal bipartite patella is skyline view. Xray of the opposite knee is done to check the presence of the condition in the other knee.
MRI
MRI can reveal if the pain is attributable to the bipartite patella. It may show edema around the fragment in symptomatic patients.
Bone scan
It is rarely needed in patients with suspicion for bipartite patella and inconclusive radiographs. Bone scan shows increased uptake along the fragment.
Treatment of Bipartite Patella
Symptomatic bipartite patella usually improves with nonoperative treatment. Nonoperative treatment includes rest, immobilization with the knee braced in 30° of flexion, NSAIDS, and physical therapy [isometric stretching exercises of the quadriceps muscle in extension].
Local corticosteroid injection also eases out the symptoms.
Operative treatment consists of excision of the accessory fragment and is indicated in
No improvement on nonoperative treatment even after six months.
The articular surface of the fragment is irregular.
Fixation may be required in large fragments.