Last Updated on October 30, 2023
Blood supply of neck of femur is derived from vessels supplying part of the femur. Blood supply of head of the femur is also contributed by these vessels. Blood supply of neck of femur is important to understand because disruption of the blood supply during trauma or surgery can lead to avascular necrosis of femoral head. It helps to gauge the risk of AVN and plan the surgical dissection so as blood supply could be preserved.
Retinacular Vessels
Ascending cervical vessels arise from the extracapsular ring of an anastomosis formed by the medial and lateral circumflex femoral artery at the base of the neck. Ascending Cervical Branches travel proximally under the hip capsule and continue proximally along neck deep to synovial membrane toward the femoral head.
These arteries are known as retinacular arteries and are divided into three groups
Posterior inferior & posterior superior (from the medial femoral circumflex artery)
Anterior (from the lateral femoral circumflex artery)
At the margin of articular cartilage on the surface of the neck of femur, these vessels form the second ring called subsynovial intra-articular ring from which arise epiphyseal arteries.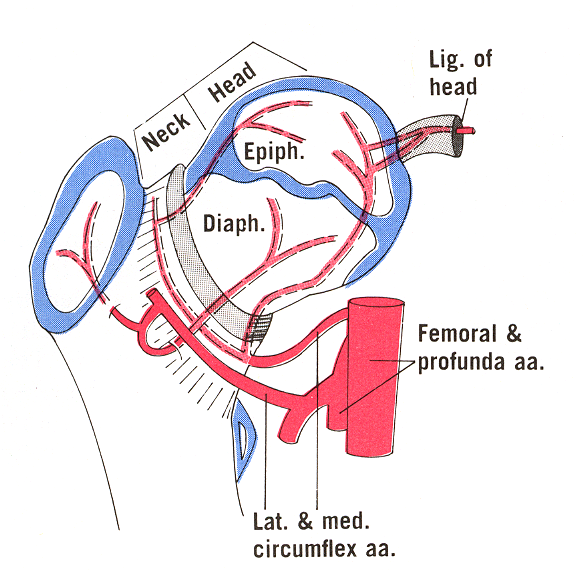 Intraosseous Blood Supply of Neck of Femur
The intramedullary branches of nutrient [arise from upper perforating arteries of the profunda femoris], metaphyseal [Arise from medial circumflex and extracapsular arterial ring and subsynovial ring] and epiphyseal vessels [Arise from subsynovial ring] feed both marrow and cortical bone. If the fracture of neck of femur is complete, this supply gets disrupted.
Artery of Ligamentum Teres
It is a branch of the medial circumflex femoral artery and supplies the head of the femur through ligamentum teres. It also forms the medial epiphyseal vessels. Only small & variable amount of the femoral head is supplied by the artery of ligamentum teres.
Note:
Medial femoral circumflex artery arises from posteromedial aspect of the deep femoral artery
Lateral femoral circumflex usually arises from lateral side of the deep femoral artery