Bone mineralization is the process of laying down minerals on a matrix of the bone. Normal bone is composed of 50 to 70% mineral, 20 to 40% organic matrix, 5 to 10% water, and <3% lipids. Calcium and phosphorus are chief minerals found in the bone along with small amount of carbonate, magnesium.
The mineral content of bone is mostly hydroxyapatite [Ca10(PO4)6(OH)2]. Bone mineralization is a well regulated process in which crystals of calcium phosphate are produced by bone-forming cells [osteoblasts] and are laid down in precise amounts within the fibrous matrix.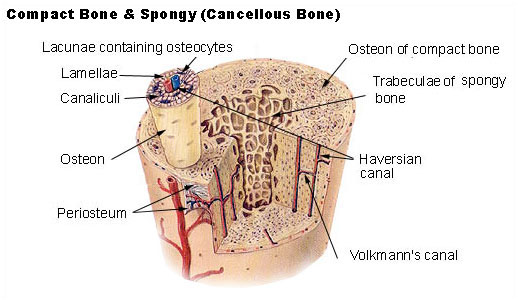 Any defect in the process at any level can lead to too little of the mineral or too much.
The process of mineralization [also called calcification] takes place throughout the entire life.
Osteoblasts form and secrete inorganic and organic constituents of the extracellular matrix. When matrix maturation occurs, there is an expression of alkaline phosphatase and several proteins, including osteocalcin, osteopontin, and bone sialoproteins.
These calcium and phosphate binding proteins are thought to regulate ordered deposition of mineral by regulating the amount and size of hydroxyapatite crystals formed.
Bone mineral is initially deposited in "hole" zones between the ends of collagen fibrils of the matrix. As bone matures, hydroxyapatite crystals enlarge and by crystal growth and aggregation.
Bone mineralization is controlled at three levels by delicate feedback loops
Systemic hormones – Vitamin D, Parathyroid etc
Bone cells (osteoblasts, osteoclasts, and osteocytes)
Cell products
The mineral ions Ca2+ and inorganic phosphate [Pi], and PPi play a central role in controlling bone mineralization process.
[Two molecules of inorganic phosphate join together to form pyrophosphate (PPi)]
An increase in extracellular PPi leads to decrease in hydroxyapatite whereas a decrease in PPi results in increased skeletal mineralization.
Bone mineralization is dependent on a tight local balance between extracellular levels of Pi and PPi which is controlled by different alkaline phosphatase enzymes.
Dentin matrix protein 1 and bone sialoprotein are known bone mineralization promoters.
Phosphoprotein kinases and alkaline phosphatase regulate the mineralization process. Bone alkaline phosphatase may increase local phosphorus concentrations, remove phosphate-containing inhibitors of hydroxyapatite crystal growth, or modify phosphoproteins to control their ability to act as nucleators.
Vitamin D plays an indirect role in stimulating mineralization of unmineralized bone matrix. It stimulates the intestinal absorption of calcium and phosphorus so as to achieve enough calcium concentration. It also promotes differentiation of osteoblasts and stimulates osteoblast expression of bone-specific alkaline phosphatase, osteocalcin, osteonectin etc.