Bone tumors can be benign or malignant. Following are some images and x-rays of  soft tissue and bone tumors. The images are of both benign and malignant tumors.
Image 1 – Xray of Fibrous Dysplasia of Humerus
Fibrous dysplasia is a benign tumor of the bone and can involve more than one bone. Following image shows an xray of right shoulder with humerus showing fibrous dysplasia. The x-ray is of a young girl, 23 years old who presented with pain in right arm for about one year.
The xray shows a large lytic lesion that is extending from just below the shoulder joint to middle of the humerus. Multiple septae are visible and outer cortical rim of the bone is maintained, suggesting a benign pathology.
Image 2 -Neglected Osteosarcoma of Upper End of Femur – Clinical Photograph
The picture shows swollen thigh of a 14 years old boy who had osteosarcoma of the upper end of the femur. By the time he presented to us, the disease had already progressed and lesion grew quite big.
The picture also shows a constriction mark that resulted from an earlier bandage that has been put as a part of treatment by a local osteopath.
The swelling is visible circumferentially and dilated veins can be found over the surface, a feature that points to malignancy.
Image 3 – Clinical Photograph of Massive Lipoma of Thigh
Lipoma is a soft tissue tumor.
This is an image of the thigh of a seven years old child who presented with a large swelling of the thigh that had been progressively increasing after its appearance about 3 years back. The tumor was quite large in size measuring 20 cms in length and involved the whole circumference of the thigh and posteriorly extended into popliteal fossa as well.
Peroperatively, the tumor was enclosed in a capsule and we were able to remove the tumor in toto. the tumor surrounded neurovascular structures as well but tissue planes separating them could be found.
The child is put on rehabilitation for gaining muscle strength. The histopathology reported the mass to be lipoma.
Image 4 – Enchondroma of Proximal Phalanx Of Ring Finger – Radiograph and MRI
Enchondromas are common tumors of hand.
The x-ray above is of a 17-year-old girl who presented with swelling of ring finger for past one year and progressively increasing. There was also a complaint of pain which increased on exertion.
The x-ray showed an expansile lytic lesion with the well-formed cortical rim in proximal phalanx in most of its distal part.
MRI showed a lesion of low signal intensity.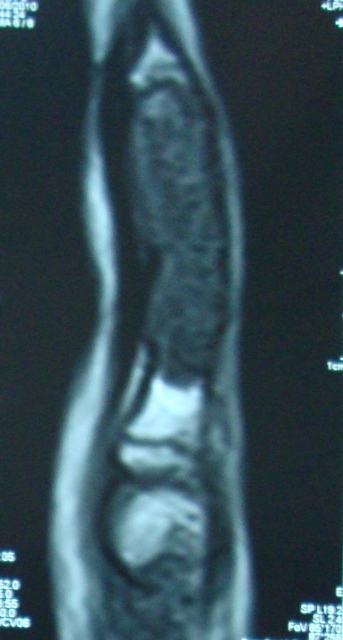 The patient was provisionally diagnosed as a case of enchondroma and treated by curettage and bone grafting.
Histopathology of the section confirmed it to be an enchondroma.
Image 5 – Clinical Photograph of Giant Cell Tumor of Radius In Advanced Stage
This is a clinical photograph of a 24 years old male farmer who presented after 8 months of the beginning of pain and 5 months of progressively increasing swelling.
The x-ray suggested a giant cell tumor-like picture involving radius along with breach of the cortices. The diagnosis was confirmed by FNAC and a biopsy.
Image 6 – Xray of Septate Lytic Lesion of Proximal Phalanx of Little Finger
Xray of a septate lytic lesion involving proximal phalanx of the little finger.
Associated details were not found with the file. So nature of lytic lesion cannot be said.
Image 7 – Aneurysmal Bone Cyst In Neck Of Femur – Xray
The aneurysmal bone cyst is also counted among benign bone tumors. The following x-ray is of a cystic lesion in the neck of femur in 11 years old male child which was later diagnosed as an aneurysmal bone cyst.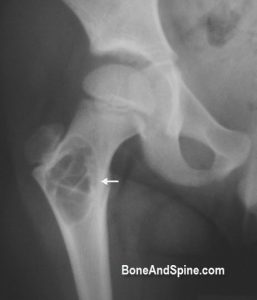 No other associated information could be found for the file. Note the multiple septae in the lesion which is one of the features of the aneurysmal bone cyst.
Image 8 – Xray of Giant Cell Tumor Treated By curettage and Bone Grafting
X-ray showing a giant cell tumor in 23 years old lady treated by curettage and bone grafting.
Bone graft was taken from iliac crest and fibula. A gap in the fibula is also visible in the x-ray.
Image 9 – Expansile Lytic Lesion In Upper End of Tibia in a 12-Year-Old Child
Xray showing lytic lesion in the upper end of Tibia in 12 years old child.
The lesion is expansile [results in expansion of the involved bone] and septae [lines that appear to subdivide the lesion further in compartments] are visible.
Image 10 – Xray of Lytic Lesion in Scaphoid Bone
Following x-ray of adult wrist showing a lytic lesion in the scaphoid
The arrow points to a well-demarcated lytic lesion which as per records is suggested to be of infective origin. The patient appears to be lost in follow up and hence complete information is not available.
Get more on Musculoskeletal Health

in your inbox
Subscribe to our Newsletter and get updates delivered to your email inbox.
Thank you for subscribing.
Something went wrong.