Cervical injury X-rays are important screening and diagnostic tools for cervical injuries. Following are few images of cervical injuries
Image 1 – Anteroposterior & Lateral Xrays Of Cervical Vertebrae Dislocation C5 Over C6
A young male of 34 years was brought to casualty with history of fall from a horse cart. He was quadriplegic [There was no power in any of the limbs]. On examination, he was found to be in spinal shock.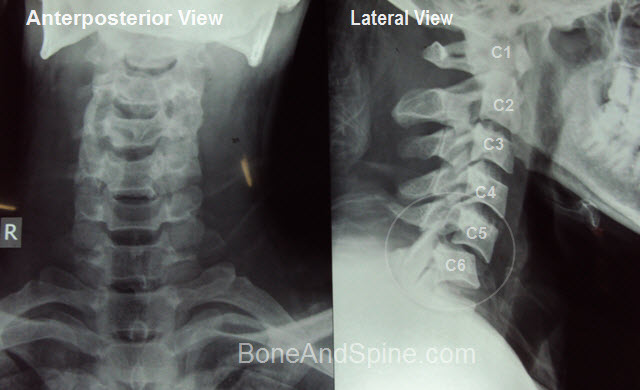 The x-ray showed dislocation of C5 over C6 vertebra. Vertebrae have been marked for better understanding.
The neck was stabilized with head halter traction and he was put on supportive treatment.
His MRI revealed a compression at the C5-C6 level along with cord edema.


Examination after spinal shock revealed that he had quadriparesis [Incomplete loss of power in all limbs]
Following his refusal for surgery, the patient was treated with cervical traction [Crutchfield tongs] and recovered fully.
Image 2-XRay and MRI Pictures Of Cervical Spine C4-C5 Level Dislocation
Xray and MRI pictures of dislocation of C4 vertebra over C5. Here is the lateral view of the injured spine on x-ray
MRI shows the dislocation and a disc compressing on the cord as well.
Such patients often present with weakness of all the four limbs following the injury.
Image 3- Fracture of C2 with anterolisthesis of C2 on C3
A case of motor vehicle injury and polytrauma, the Cervical X-rays done in the emergency revealed fracture of C2 and anterolisthesis on C3.
This is quite a serious injury and may cause respiratory distress due to the involvement of the phrenic nerve area and thus paralyzing the diaphragm.
The patients might need ventilatory support and aggressive resuscitation measures.
Image 4 – Fracture Dislocation of C4 and C5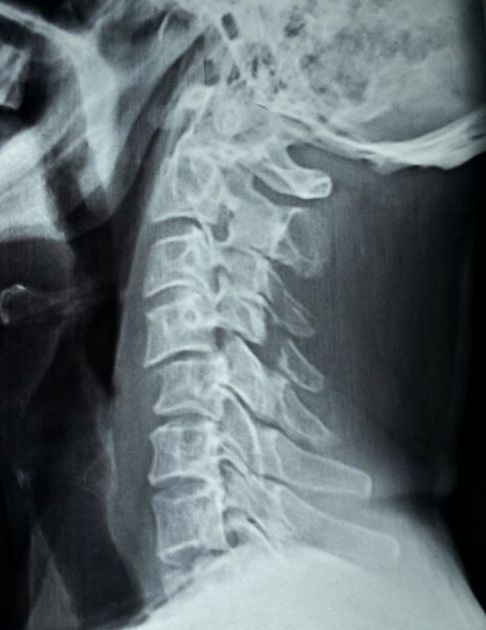 This x-ray is of 47 years old patient who suffered from cervical injury. The x-ray shows evaluation revealed fracture dislocation of C4 and 5.
This injury is lower than previous cervical injury x-ray and phrenic nerve involvement is rare. But still, these patients need to be watched for respiratory difficulties because edema can involve the higher segments.
Image – Xray of Dislocation of Cervical Spine At C5-C6 Level
The x-ray shows dislocation of C5 over C6 in a 34 years old man who sustained injury due to vehicular trauma.
The man also had quadriplegia.
Save