Osteomyelitis is an infection of the bone. It can be acute, which is of recent origin or chronic which means long standing.
Osteomyelitis mostly occurs in children and if the infection in the acute episode is not cured completely, it may lead to chronic osteomyelitis. The following x-ray shows chronic osteomyelitis of femur
The x-ray shows changes noted in chronic osteomyelitis. Chronic osteomyelitis is a condition that occurs as a sequel to acute osteomyelitis.
Osteomyelitis means an infection of the bone and bone marrow in the medullary cavity.
In the present film, on the left side is a lateral view of the lower end of the femur with the knee joint. On the right side is anteroposterior view.
The features that are seen in this x-ray pointing to a probable diagnosis of chronic osteomyelitis of femur are
Cortical thickening – There appears widening in the part of the femur that is 5 cm above the knee joint.
The irregularity of cortices- There is a difference in the outline of the femoral bone. In the lower part, it is very straight and smooth. After that it becomes zigzag.
Sclerosis- The affected part is more white than the rest of femur if you look carefully.
What else it could be?
In medical terminology, this is called differentials. If you just see the x-ray without seeing the patient, the first thing that comes into mind would be osteomyelitis.
The picture can be confused to some extent with hypertrophic callus in fracture but chances are less likely.
Author Note:
Chronic osteomyelitis classically shows the presence of sequestrum or dead bone which is not present in the present film of chronic osteomyelitis of femur. This was a patient who was just 25 years old and suffered acute osteomyelitis 8 years back. He had come for treatment of stiffness of knee which was present since he had this acute episode.
He did not have any discharging sinus and was not symptomatic for the involved region in the x-ray.
Xray of Osteomyelitis Tibia With Bowing of Tibia Following Tibial Fracture
45 years old male patient underwent plate fixation for fracture tibia in the lower third region. The plate got infected and was removed and tibia was fixed with an external fixator.
The fracture united eventually and the fixator was removed.
The following x-ray is after 5 years of surgery when the patient presented with discharging sinus.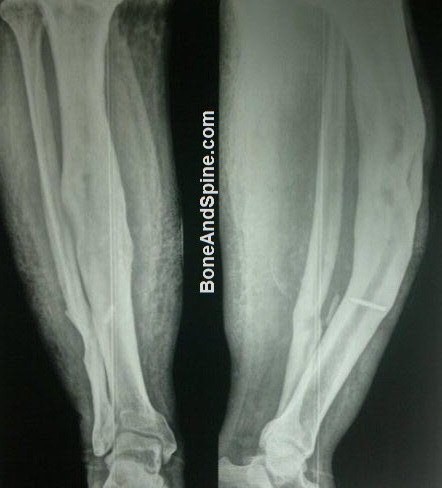 The x-ray shows a bowed tibia with the irregularly thickened shaft and multiple lytic lesion suggestive of cavities. There is also a defect in tibial cortex anteriorly which is remnant of saucerization surgery done two years back for osteomyelitis.
An analysis of previous x-rays showed that bowing was a result of malunion following fixator application.
A broken Schanz pin is also visible
The patient was advised saucerization again but he refused.