Color visual analog scale or color analog scale is a pain assessment tool that is built on the pattern of Visual Analog Scale.
The color analog scale is used in children and in patients with poor cognition such as Alzheimer disease.
What is Color Analog Scale?
Color analog scale is 10 cm in length. It is 20 mm wide at the bottom and white in color [see image].
The white color indicates no pain.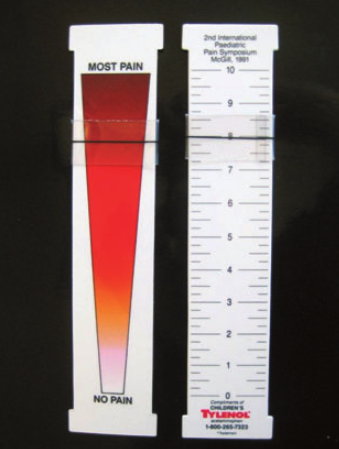 The scale further widens to 75 mm at the top and gradually changes in color to red. The top red color indicates the worst pain.
The reverse side of the scale is numbered from 0 to 10 in 1-cm increments, enabling investigators to quantify the children's responses.
How To Use Color Analog Scale?
The respondent is told something like following in his/ her language
"See this scale, it is like a thermometer. The bottom, where it is small and white means no pain and the top where it is wider and red means the most pain you can imagine" and the assessor points to each end while describing.
After explaining about the scale, the respondent is asked to do his/her part
"You slide the marker to the spot on the thermometer that shows how much pain you are having right now.
All measurements are recorded to the closest 0.25 cm.
Validity
Repeated studies have shown color analog scale to be a valid scale for evaluation of pain intensity in children.