Complex regional pain syndrome or CRPS is a chronic painful condition causing intense pain, usually in the arms, hands, legs, or feet. The cause of condition is poorly understood and there is no cure. The management involves control of symptoms by various modalities.
The condition It may happen after an injury to a nerve or other tissues.
In th past, it was known by many other names like reflex sympathetic dystrophy, Sudeck's atrophy, reflex neurovascular dystrophy or algoneurodystrophy.
Causalgia was the name given to a condition associated with nerve injury.
The condition involves dramatic changes in skin temperature, color, or texture, intense burning pain, swelling, extreme skin sensitivity and dysfunction of the affected body part.
Depending on the presence or absence of nerve involvement it can be on of the two types.
Type I [Reflex sympathetic dystrophy] – No demonstrable nerve lesions.

S

ymptoms < 2 months-

acute

>2 months – chronic.

Type II [causalgia]- Associated with nerve damage.
The incidence of CRPS type I is higher than that of CRPS type II.
CRPS affects all races and is more common in females. The ratio varies from 2:1 to 4:1.
Its peak incidence between 37 and 50 years.
CRPS is known to affect all age groups but occurrence in children is extremely rare.
Most often, CRPS involves extremities but locations like genitalia or the nose have been reported. The single limb is involved in most of the cases. Bilateral involvement is seen in about 5% cases. Rarely more than two limbs could be involved.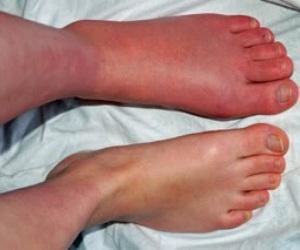 Causes of CRPS
As noted before, type II is associated with nerve injury.
Trauma to the limb is the most common cause of type I CRPS accounting for more than 90% of patients with CRPS type I.
Associated injuries are or injuries precipitating are
Sprain/strain
Surgical wounds
Fractures
Crush injury/contusion
Rarely in following injuries

Venous puncture
Lacerations
Burns
inflammatory Conditions
Electric shock

Cases with unknown causes occur in 5% [probably forgotten minor injuries]
Visceral lesions or CNS lesions [controversial]
Pathophysiology
The exact cause of the condition is not known.
It is believed persistent painful stimuli from an injured region causes peripheral and central sensitization.
Pain fibers have abnormally heightened sensation leading to pain and hyperalgesia.
There is also a central somatosensory misinterpretation of the nonpainful mechanical stimuli like a light touch. Plus there is an impairment of CNS processing leads to motor effects such as weakness or tremor in the affected area.
The disturbances within the sympathetic nervous system lead to sympathetic hyperactivity which affects the injured area adversely.
Also suggested is an augmented inflammatory response coupled with impaired healing. This makes the CRPS refractory.
Decreased use of an injured body by casting or splinting has been postulated as a cause in some patients with CRPS.
But all these are part of the hypothesis only.
Revised CRPS Clinical Diagnostic Criteria
[International Association for the Study of Pain]/
A clinical diagnosis of complex regional pain syndrome can be made when the following criteria are met:
A continuous pain which is disproportionate to any inciting event
At least 1 symptom reported in at least 3 of the following categories

Sensory

Hyperesthesia [Increased sensitivity]
Allodynia [pain due to non-painful stimuli due to central sensitization]

Vasomotor[compared to healthy limb]

Temperature asymmetry
Skin color changes
skin color asymmetry

Sudomotor/edema:
Motor/trophic

Decreased range of motion
Motor dysfunction ( weakness, tremor, dystonia etc)
Trophic changes in hair, nail, skin

At least 1 sign at the time of evaluation in at least 2 of the above categories
No other diagnosis explaining the signs and symptoms
It is important to note that there are no specific diagnostic tests and CRPS is diagnosed mainly clinically.
Clinical Features
The symptoms of CRPS I may begin immediately or even weeks after the initial injury.
Pain is the most common complaint. The pain is said to occur spontaneously and is not limited to region supplied by a single peripheral nerve. The pain is said to be burning, aching, throbbing, or tingling. The activity of the extremity worsens the pain.
The patient also complains of difficulty/inability to use the affected extremity.
The limb may feel as foreign [cognitive neglect] and required mental and visual attention to carry out the movement [motor neglect]. The limb also gets easily fatigued.
There is an asymmetry of the temperature of the skin when compared to the opposite limb.
The limb could be warmer [in two-thirds] or cooler than the opposite.
A physical examination may reveal
paresis, pseudoparalysis, or clumsiness, seen in 90% at some point in the disease
Limited range of motion
Tremors
Dystonia of affected hand or foot is seen in 10%
Muscle spasms [ 25% of patients]
Hypoesthesia [decreased sensation], Hypothermethsia [decreased sense of temperature]
Loss of proprioception in some cases.
Anesthesia dolorosa – Loss of sensitivity to touch and severe pain is present.
Allodynia (ie, pain to touch), hyperpathia (exaggerated response to painful stimuli) [70-80%]
Abnormal sweating
Edema
Altered skin color [vasomotor changes]
Atrophy of the soft tissues, muscles, and bones [disuse also contributes]
Altered skin temperature [ 40-45% a warmer affected extremity, and 40-45% have a colder]
Decreased hair in the affected area
Altered nail growth
Differential Diagnoses
Neuropathy like diabetic polyneuropathy
Posttraumatic neuralgia
Plexopathy
Vascular disorders like Raynaud phenomena
Psychological
Lab Studies
There is no specific confirmatory diagnostic test for the presence of CRPS.
But the role of investigations is to rule out other diagnostic considerations
Complete blood count
ESR
C-reactive protein
Antinuclear antibody
Rheumatoid factor
Complement fixation panel
Serum immunoelectrophoresis
Diabetes work up
Electromyography (EMG) and nerve conduction to determine nerve injury
Vascular studies of the affected limb(s)
Imaging
X-rays are suggestive of disuse and osteoporosis. These include Endosteal and intracortical excavation, subperiosteal resorption, demineralization of the region etc
3-phase bone scintigraphy is highly sensitive and specific in early CRPS that occurs after fracture and helps in differentiating it from other pain syndromes. The findings are
Characteristic homogeneous unilateral hypoperfusion [ perfusion phase, blood-pool phases]
Mineralization phase shows increased unilateral periarticular uptake. [highly sensitive and specific to CRPS
Other Tests
Quantitative sensory testing
Autonomic function testing

Infrared thermometry and thermography
Quantitative sudomotor axon reflex test
Thermoregulatory sweat test
Laser Doppler flowmetry.

Neurogenic inflammation markers [Interleukin-6, tumor necrosis factor-alpha, tryptase, and endothelin-1

Checked in fluid of artificially produced blisters

But may be present evidence after the CRPS improves

Skin and muscle biopsies to look for atrophic changes
Peripheral nerve biopsies to look for any neural degeneration
Treatment of CRPS
Objective of the treatment is to restore functional extremity. The treatment is multidisciplinary where pain control plays a major role. Treatment is more effective when started early.
Following are the various treatment modalities.
Drugs
Pain Removal drugs
No clear-cut evidence for opioids or NSAIDs but Opioids still considered are part of treatment.
Tricyclic antidepressant
Amitriptyline
Desipramine
Gamma-aminobutyric acid (GABA) agonist
Intrathecally administered baclofen for dystonia
Gabapentin – mildly beneficial for pain and sensory symptoms
Calcium-regulating drug
Intranasal calcitonin administered significantly reduce pain
IV clodronate and alendronate

improve pain, swelling, and range of movement
mechanism of action unknown
Corticosteroids
Pulsed steroids can be considered if inflammatory signs and symptoms predominate.
Sodium channel blockers
IV lidocaine
Topical 5% lidocaine patch
Interventional Procedures
Sympathetic ganglion nerve blocks
Injections of local anesthetic around the sympathetic paravertebral ganglia that project to the affected part.
Intravenous regional sympathetic block
Regional IV applications of the agent to an isolated extremity blocked with a tourniquet
Various agents used are

Guanethidine – works by depleting norepinephrine, also has serotonergic and anticholinergic activity.
Bretylium with or without lidocaine
Droperidol- an alpha-adrenergic antagonist
Ketanserin, a serotonin type-2 antagonist
Intravenous phentolamine infusion
Alpha-1 adrenergic antagonist also has serotonergic, histaminergic, and cholinergic activities
The systemic activity allows for the simultaneous treatment of multiple body regions
Doses vary in different persons
Ketamine infusion
Blocks NMDA receptors
Objective outcome yet not validated.
Could be hospital-based or outpatient based.
Intravenous immunoglobulin
IV immunoglobulin reported providing pain relief. It also suggests the role of the immune system in pain of CRPS.
Epidural clonidine
Reported to be effective but associated with severe side effects.
Surgical sympathectomy
The procedure is not widely recommended as it has been found to have limited efficacy.
Spinal cord stimulation/neuromodulation
Spinal cord stimulation has been found to be an effective short-term treatment for CRPS and improved quality of life.
Transcranial magnetic stimulation
It is a non-invasive procedure for the stimulation of the motor cortex but needs to be studied to explore the therapeutic role of magnetic stimulation in CRPS patients.
Physical Therapy
Most important component of treatment
Begin with the cautious mobilization of the part
Active isometric strengthening when resting pain subsides
Sensory desensitization programs
Patients who initially have less pain and better motor function are likely to benefit the most from physical therapy
Attentional training
Surgical Care
Surgical sympathectomy has been mentioned earlier
Surgical decompression in CRPS type II if there is a defined nerve [i.e. capral tunnel syndrome]
Amputation of the affected limb

Last resort
Rarely recommended
Prognosis
If the treatment is begun early good progress can be made. The prognosis is not always good in delayed cases. In extreme cases, amputation might be advised to get rid of the annoying and nonfunctional limb.
References
Rockett M. Diagnosis, mechanisms and treatment of complex regional pain syndrome. Curr Opin Anaesthesiol. 2014 Oct. 27(5):494-500.
Lee DH, Lee KJ, Cho KI, Noh EC, Jang JH, Kim YC, et al. Brain alterations and neurocognitive dysfunction in patients with complex regional pain syndrome. J Pain. 2015 Jun. 16 (6):580-6.
Drummond PD, Finch PM, Gibbins I. Innervation of hyperalgesic skin in patients with complex regional pain syndrome. Clin J Pain. 1996 Sep. 12(3):222-31.
Juottonen K, Gockel M, Silen T, Hurri H, Hari R, Forss N. Altered central sensorimotor processing in patients with complex regional pain syndrome. Pain. 2002 Aug. 98(3):315-23.
Veldman PH, Reynen HM, Arntz IE, Goris RJ. Signs and symptoms of reflex sympathetic dystrophy: prospective study of 829 patients. Lancet. 1993 Oct 23. 342(8878):1012-6.
Christensen K, Jensen EM, Noer I. The reflex dystrophy syndrome response to treatment with systemic corticosteroids. Acta Chir Scand. 1982. 148(8):653-5
Cepeda MS, Carr DB, Lau J. Local anesthetic sympathetic blockade for complex regional pain syndrome, Cochrane Database Syst Rev. 2005. 4:CD004598.