Compression fractures of the spine are fractures where there is a reduction of vertebral body height due to the collapse of the vertebra.
These are also called vertebral compression fractures.
Trauma, osteoporosis, malignancy and infection are common causes of vertebral compression fractures.
Most compression fractures are seen in lower thoracic and lumbar regions. Most nontraumatic fractures are osteoporotic fractures. In young and middle-aged adults, most lumbar fractures are traumatic in origin. High-velocity falls can cause burst fractures, and seat-belt injuries can cause wedge fractures.
Osteoporotic spinal fractures are unique in that they may occur without apparent trauma
About one-third of osteoporotic vertebral injuries are lumbar, one third are thoracolumbar, and one third are thoracic in origin.
Osteoporosis occurs primarily in postmenopausal women.
Women >50 years and men have osteoporosis.
Also, malignancy and infections like tuberculosis may also cause compression fractures.
Types of Fracture
A compression injury to vertebral body may lead to either a wedge fracture or burst fracture.
Wedge fracture is termed so because the fracture leads to the reduction of anterior vertebral height due to the collapse of the bone in the anterior part of the vertebral body but not affecting posterior height.
A wedge compression fracture is generally a mechanically stable fracture.
In contrast, when the fracture causes loss of the height anterior and posterior vertebral wall, it is termed as burst fracture because the pattern appears as if vertebra has burst.
Burst fractures are unstable fractures and can cause canal compromise and neural deficit. They occur because of compressive forces but are different from compression fractures.
This article continues with compression fractures of the spine.
Pathophysiology and Mechanism of Injury
Spine enables humans to walk upright. For it to occur effectively, proper posture needs to be maintained which is maintained by normal curvatures of different spinel regions.
Normally, cervical spine has lordosis, thoracic spine has kyphosis and lumbar spine has lordosis.
Any injury that changes the shape of a vertebra will alter the posture, changing the curve.
When it occurs in one region say lumbar, the body in an attempt to compensate the change, will tend to distort the curves of the thoracic and cervical spine.
In addition to being a source of pain, which often may not relent, the vertebral compression fractures, thus, can alter the mechanics of the posture.
For example, a patient of increased thoracic kyphosis, in trying to maintain their ability to walk, stress other joints of spine, sacroiliac joints, and hips and subject them to secondary pain.
Causes of Compression Fractures
The compression fractures of vertebrae can occur for the following reasons
Trauma in young patients
Osteoporotic fractures in elderly

occurring from minor trauma, such as a fall
Spontaneously

Pathological fractures

Malignancy – primary tumor or metastases*
Infections e.g. tuberculosis, bacterial spondylodiscitis
Renal disease
Renal cell carcinoma, prostate, breast, and lung are common cancers to metastasize. Multiple myeloma and lymphoma are two most common primary malignancies of bone.
Mechanism of Injury
Mechanism of traumatic compression can be understood by knowing Denis' 3-column anatomic theory. These columns are
Anterior column
Anterior longitudinal ligament
Anterior two-thirds of the vertebral body
Anterior two-thirds of the intervertebral disc
Middle column
Posterior one-third of the vertebral body
Posterior one-third of the intervertebral disc
Posterior longitudinal ligament
Posterior column [Everything posterior to the PLL]
Pedicles
Facet joints and articular processes
Ligamentum flavum
Neural arch
Interconnecting ligaments
The traumatic compression fractures involve one column only [involvement of middle column causes burst fracture].
According to Denis's system injury to single column is stable and injury to more than one is not.
Wedge fractures occur as a result of an axially directed central compressive force combined with an eccentric compressive force.
The middle column remains intact and acts as a hinge.
Wedge fractures are usually symmetric but about 8-14% of Wedge fractures are asymmetric [called lateral wedge fractures.]
Nontraumatic fractures occur in weakened bone when even a minor fall on the tailbone, causing an axial load or flexion, results in one or more compression fractures.
Spontaneous fractures under physiologic loads are also known.
Clinical Presentation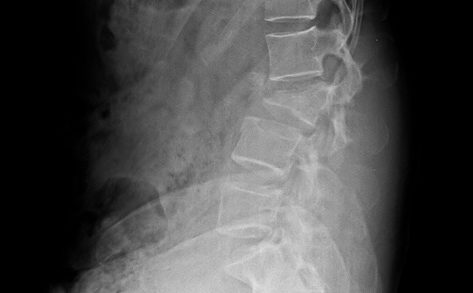 A nonradiating back pain in the midline in the region of injury is the main symptom. The pain could be a mild ache or severe and disabling.
Sometimes, though, there could be a radiating pain.
In osteoporotic fractures in the elderly, there could be no pain.
Young patients would often give a history of fall or motor vehicle accident.
Young adults may present with severe back pain following an accident, such as a fall or a motor vehicle accident. Lower extremity weakness or numbness are important symptoms of neurologic injury from the fracture.
A patient with pathological fracture due to malignancy or infection would have other systemic symptoms to suggest the presence of the pathology.
Fever, night sweats, weight loss, history of previous malignancy could be present in cases of compression fractures associated with malignancy Multiple myeloma and metastases are the most common malignancy. So an inquiry about the possible primary tumor in other systems should be made.
In endemic regions, tuberculosis of the spine is the major cause of wedge compression of the contiguous vertebra and a kyphotic deformity should alert the physician to look for the lesion, fresh or old.
Bacterial infection of the spine is not that common and more severe presentation when it occurs.
On examination, the patient typically has a kyphosis that cannot be corrected.
In a chronic case, flexion contractures due to iliopsoas shortening are typically present.
On palpation, moderate pain is usually present at the level of the fracture.
Apart from local examination of deformity and ascertaining its level clinically, a detailed neurologic examination is done.
Rectal examination is required to ascertain rectal tone and sensation, which establishes absence of neural deficit. [It is important to verify absence of neural deficit as procedures like vertebroplasty are contraindicated in presence of neural deficits.]
Differential Diagnoses
Low Back Pain
Osteoporosis
Lab Studies
Routine tests include
Complete blood count
Prostate-specific antigen test in middle-aged and older men\
ESR
Serum protein electrophoresis [for multiple myeloma]
Urine for Bence-Jones Proteins [for multiple myeloma]
Urine for markers of increased bone turnover [osteoporosis]
Imaging
X-rays
AP and lateral views of the thoracic and lumbar spine are the usual views needed. X-rays should evaluate the entire spine because multiple spine levels are affected in 20%.
Compression wedge fractures are typical by their appearance. There is a wedge-shaped vertebra visible because of decrease of the vertebral height anteriorly.
BurIn burst fractures, in contrast, have whole vertebral body fractured and therefore, the height of the whole vertebral body is decreased.
The anteroposterior view may sow increased interpedicular space in burst fractures.
CT Scanning
CT helps to evaluate fractures in detail and is able to reveal the fractures not readily seen on x-rays.
One is also able to visualize the amount of spinal canal compromise.
All patients with wedge fractures > 50% loss of vertebral height should undergo CT scanning to rule out middle column injury and burst fractures.
CT also allows good visualization of the posterior element and neural arch injuries.
MRI
MRI is indicated in presence of neurologic motor or sensory loss. It should also be done in presence of radicular pain and suspected canal compromise.
MRI allows the visualization of the neural structures of the spine and by using contrast can reveal hemorrhage, tumor, and infection with the greate sensitivity.
DEXA or DXA or DRA
Dual-energy x-ray absorptiometery or radiographic absorptiometry [DXA or DRA] is used to measure bone mineral density in cases of osteoporotic fractures.
It can also be used to assess the response to treatment.
Biopsy
It is indicated in the presence of malignancy.
When malignancy is strongly suspected, a vertebral biopsy is indicated
Treatment of Compression Fractures
Nonoperative Treatment
Nonoperative treatment consists of pain relief, bracing, and rehabilitation.
Traumatic, stable wedge compression fractures are treated by initial rest and pain relief and mobilization with a thoracic-lumbar-sacral orthosis as soon as the patient can tolerate.
Osteoporotic compression fractures are treated with similar brace and pain relief. Treatment for osteoporosis is also initiated.
Old patients do not tolerate the bracing and a less restrictive corset or abdominal binder may be used.
In these cases, too early mobilization is desirable.
Extensive rehabilitation therapy is required in both conditions which begin in an inpatient setting and then moves to an outpatient setting.
Weight-bearing and extension exercises are the are the main exercises.
Fractures need to be monitored over the course of the treatment as some fractures are known to worsen over the period.
Operative Treatment
The aim of surgical treatment is to reduce pain, decompress the spine if required and early mobilization.
For surgical treatment following things should be kept in mind
Traumatic compression fractures may have a neurologic deficit and issues like bladder dysfunction need to be addressed.
All nontraumatic fractures require a thorough workup to ascertain whether it has occurred because of some pathology i.e. malignancy
Elderly patients have concomitant medical illnesses which could later affect the outcome.
Elderly patients also require greater monitoring as the risk of complications like pneumonia, deep vein thrombosis, pulmonary embolism, skin breakdown, and gastric ulceration is more.
Indications for Surgery
Spinal instability
Clinical – Severe pain that does not improve or that worsens with time.
Radiological

Kyphotic deformity on plain radiographs
Disruption of the interspinous ligaments on MRI.
Movement of the fracture fragments on dynamic x-rays
Worsening of symptoms on Conservative treatment
Some patients who initially are braced may show gradual worsening of symptoms on radiographs, with findings of progressive kyphosis with loss of vertebral body height. These patients also require surgical intervention.
Unrelenting pain is another indication
Neural Deficit
Canal compromise occurs to a degree that neurologic symptoms are present is an indication for surgery.
Types of surgery
The surgical procedure used depends on the following factors
• Degree of bony canal compromise seen on axial images
• Angulation on sagittal views
• Level of fracture
• Neurologic examination findings
• Health status of patient
Traumatic fractures of lower thoracic and upper lumbar region are fixed by anterior approach whereas lower lumbar fractures can be accessed posteriorly or posterolaterally., followed by a brace in follow up period.
Vertebroplasty and kyphoplasty, are procedures for the selected patients who have pain despite aggressive conservative treatment, especially in osteoporotic fractures.
In vertebroplasty a form of cement polymer is injected into the fractured vertebral body. This provides a better resistance to physiologic loads when the patient is upright and therefore reduces pain.
Kyphoplasty is similar to vertebroplasty but a balloon is used to expand the volume of the fractured segment before introducing the cement polymer. This Extrusion of cement into the spinal canal is less likely with kyphoplasty as the cement is delivered into a closed balloon.
The procedures are contraindicated when canal compromise is present.
References
Denis F. The three column spine and its significance in the classification of acute thoracolumbar spinal injuries. Spine. 1983 Nov-Dec. 8(8):817-31.
Haczynski J, Jakimiuk A. Vertebral fractures: a hidden problem of osteoporosis. Med Sci Monit. 2001 Sep-Oct. 7(5):1108-17.
Goel VK, Pope MH. Biomechanics of fusion and stabilization. Spine. 1995 Dec 15. 20(24 Suppl):85S-99S.
Al-Sebai MW, Al-Khawashki H, Al-Arabi K, Khan F. Operative treatment of progressive deformity in spinal tuberculosis. Int Orthop. 2001. 25(5):322-5.
Stambough JL. Posterior instrumentation for thoracolumbar trauma. Clin Orthop. 1997 Feb. (335):73-8
Muijs SP, Nieuwenhuijse MJ, Van Erkel AR, Dijkstra PD. Percutaneous vertebroplasty for the treatment of osteoporotic vertebral compression fractures: evaluation after 36 months. J Bone Joint Surg Br. 2009 Mar. 91(3):379-84.