Congenital dislocation of the radial head was described by McFarland.
Congenital radial head dislocation is an unusual congenital dislocation in which there is dislocation of the radial head from its usual position. The direction of the displacement of the radial head may be anterior or posterior or lateral.
It is bilateral in most of the cases.
It is often accompanied by radial shortening and bowing. The radial head is hypoplastic. It is often associated with syndromes such as nail-patella syndrome.
In some cases, congenital dislocation of the radial head is genetically transmitted.
Presentation of Congenital Dislocation of Radial Head
Congenital dislocation of the radial head is often not noted until the child is 4 or 5 years old. Some cases are not diagnosed till adolescence. Painless limitation of motion and deformity are the most common complaints. Most of the dislocations are posterior, about 1/ 3 are anterior or lateral. Sometimes the abnormality is detected when the elbow is examined for some other reason such as minor injury.
The ulna is bowed, the direction of convexity depending on the type of dislocation
Anterior dislocation-ulnar bow is forward
Posterior dislocation-backward
Lateral dislocations the ulna will bend laterally.
In anterior dislocations the range of elbow flexion is limited and the radial head may be palpated in the cubital fossa. In posterior dislocations, the elbow will not extend fully and the prominent radial head may be palpated posteriorly.
Imaging
In a normal elbow, a line drawn through the longitudinal axis of the radial shaft bisects the capitellum of the humerus. This normal finding is absent in this condition and suggests a dislocation. The head of the radius is dome-shaped on its superior surface.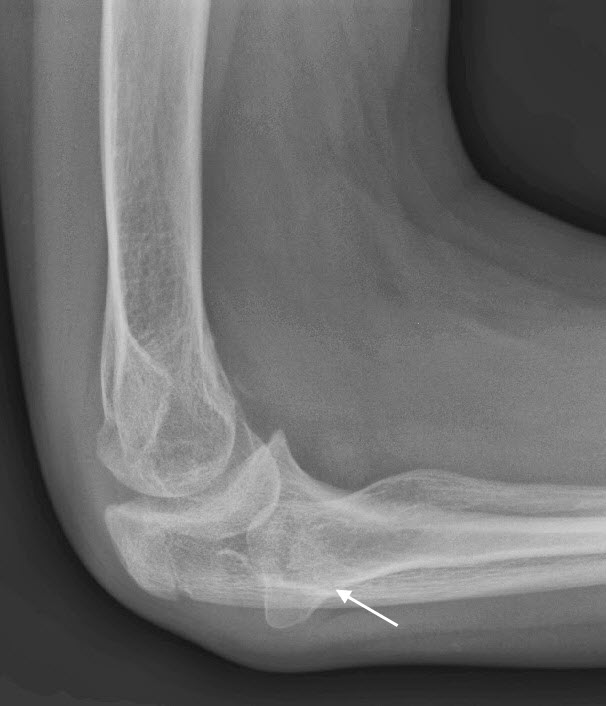 The radius is short and bowed. It is important to distinguish traumatic from congenital dislocations. The types of injury that cause traumatic dislocation of the radial head are missed Monteggia fracture dislocations, fracture of the radial neck, pulled elbow, and occasionally a primary traumatic dislocation of the radial head with other associated injury. In the newborn and infant, arthrography of the elbow is helpful in the definitive diagnosis of radial head dislocation.
Treatment
Any intervention is deferred till child attains skeletal maturity. Till that time, the child is put under observation. At skeletal maturity, if there is a pain, restricted motion or cosmetic concerns, radial head resection can improve the appearance. But the surgery does not affect the motion. Resection of the radial head in a child results in regrowth of the head.
Image Credit: Congenitalhand.wustl.edu
Save