In congenital radioulnar synostosis, there is congenital fusion of the proximal ends of the radius and ulna [a bony bridge between the proximal radius and ulna]. This results in the fixation of the forearm in varying degrees of pronation.
That means the upper end of both the bones, radius, and ulna are fused, making it impossible for the radius to move for pronation and supination movement.
In about 60 percent of cases, involvement is bilateral.
Male and female incidence is approximately equal. Roughly, the male-female ratio is 3:2.
Congenital radioulnar as an entity needs to be differentiated from posttraumatic radioulnar synostosis seen in high-energy comminuted open fractures, Monteggia fracture-dislocation, and proximal forearm fractures. Radioulnar synostosis can also occur after soft-tissue injury, reconstructive procedures.
Though the condition is present at birth, it is often not discovered until early adolescence.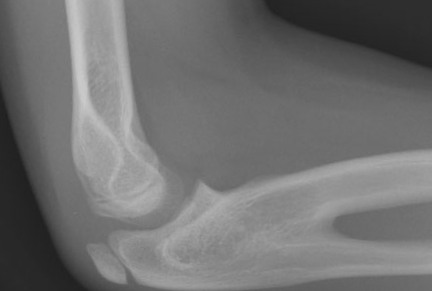 Pathophysiology
During development, the forearm begins as a single cartilaginous anlage [the rudimentary basis of a particular organ in fetus].
It divides from distal to proximal into the radius and ulna in the 7th week in utero. Abnormal events at the time of separation of anlage can lead to the failure of segmentation.
Thus, congenital radioulnar synostosis results from failure of segmentation between the radius and ulna.
This synostosis leads to loss of motion between two bones [pronation and supination].
The degree of fusion is variable in different persons and depends on the degree of the insult.
In severe cases, the fusion may involve the radial head as well. If the synostosis is fibrous, the slight motion may be allowed but bony synostosis results in the total loss of the motion, namely, supination and pronation.
There could be associated hypoplasia [less than normal size] and atrophy of brachioradialis, pronator teres, pronator quadratus, and supinator muscles.
Moreover, initially, the union may be cartilaginous, but the bony bridge is seen on x-ray as the skeleton matures.
Sixty percent of the cases are bilateral and about one-third of cases are associated with general skeletal abnormalities. These are
About 30% of congenital radioulnar synostosis is associated with other syndromes such as
Apert syndrome
Carpenter syndrome,
Mandibulofacial dysostosis
William syndrome
Klinefelter syndrome
Holt-Oram syndrome
Microcephaly
Multiple exostoses
Fetal alcohol syndrome
Positive family history is seen in about 20% of patients. Familial cases generally have an autosomal dominant inheritance
Types of Congenital Radioulnar Synostosis
Wilkie originally described two types of congenital radioulnar synostosis complete and partial synostosis.
Four types of congenital radioulnar synostosis are described now [Cleary and Omer]
Fibrous synostosis

No bony synostosis
Radial head reduced

Osseous synostosis

No bony synostosis
Radial head reduced

Synostosis associated posterior dislocation of the radius

Long bony synostosis
Hypoplastic radial head
Radial head posteriorly dislocated

Synostosis associated anterior dislocation of the radius

Short bony synostosis
Radial head appears mushroom-shaped
Radial head anteriorly dislocated
Clinical Presentation
The average age at diagnosis is about 6 years old. It is not a painful condition in childhood. Pain may be reported in teen years.
The condition can go unnoticed till adolescence.
Congenital radioulnar synostosis is without any symptoms mostly. It is painless and often the main complaint is deformity or limitation of motion. This is mostly noted by parents, caregivers, or teachers.
The patient has difficulty with specific tasks that involve pronation and supination.
For example, activities such as playing keyboard and tabletop activities require pronation whereas activities such as eating, washing face, catching a ball need supination.
On examination, the forearm is fixed in pronation usually 30 degrees of pronation. However, the flexion movement of the elbow is usually preserved.
There could be compensatory movements of the shoulder, [shoulder abduction for pronation and shoulder adduction – for supination compensation]. But severe cases may not be able to compensate.
There could be hypermobility of the wrist joint.
An abnormal carrying angle [[angle between arm and forearm axis] or forearm shortening observed.
Pain may be noted in the teenage years and often accompanies radial head subluxation may be noted.
The extension of the elbow may be limited.
Patients with unilateral congenital radioulnar synostosis have lesser limitations.
The involved forearm is thinner than normal and somewhat twisted in appearance.
Imaging
AP and lateral radiographs of forearm and elbow are able to diagnose congenital radioulnar synostosis.
Findings are
There is proximal synostosis
Radius is wide and bowed
Ulna is narrow and straight
Radial head may be dislocated/ malformed
Radiographic follow-up is required even in asymptomatic cases to note any progressive subluxation of the radial head.
Treatment
Nonoperative Treatment
Nonoperative treatment is the preferred treatment especially in asymptomatic patients with unilateral affliction. It consists of observation and monitoring of symptoms.
Each patient is individually evaluated to determine the treatment required.
Severe deformity and is bilateral involvement may be considered for surgery.
Following patients should not be considered for surgery
Patients with neutral rotation or mild pronation
Without many functional limitations
Operative Treatment
The actual decision for surgery is based on the limitation of functions rather than the absolute forearm position.
The patients with subluxation of head require excision of the head at skeletal maturity. The rest of the procedures should be performed in preschool age.
Indications for surgery are [first is absolute indication while rest are relative]
The deformity is limiting the ability to participate in specific activities (sports, hygiene, eating)
Severe pronation deformity [greater than 60 degrees]
Bilateral deformities
The surgical options include
Mobilization of the synostosis

Attempts to restore active forearm rotation

Rotational osteotomy

Changes forearm orientation to improve forearm and hand position
No effect on rotational movements
Mobilization Procedures
These surgeries aim at achieving and maintaining motion at the synostosis site. These involve the excision of synostosis and the interposition of inert tissue to prevent the reformation of synostosis.
The aim is to restore active forearm rotation.
The tissue interposed is vascularized fascio-fat graft which is said to be better than fat. Silicone or muscle have also been used.
The results are unsatisfactory in most cases. At best there is a slight improvement in motion and recurrence of synostosis is common.
Tendon transfers are also combined with mobilization procedures to achieve better supination.
Osteotomy and Derotation
It is the most preferred and successful procedure. It involves osteotomy, rotational correction, and fixation with transcutaneous pins.
The osteotomy is preferred through the synostosis but carries a greater risk of neurovascular compromise.
Other sites of osteotomy are
Radius and ulna diaphysis distal to synostosis

Different level of osteotomy for each bone
Less soft tissue tightness
Lesser risk of neurovascular compromise

Distal radial diaphysis
The correction can be done at the time of osteotomy or after about 10 days of the osteotomy. Gradual correction can be achieved by using a ring fixator.
In case of unilateral deformity, the affected forearm is placed in neutral rotation. In bilateral deformities, one side is placed in 20-30 degrees of pronation and the other, in 20-30 degrees of supination.
Prognosis
Overall, surgical treatment of congenital radioulnar synostosis has high failure rates. The use of postoperative indomethacin or low-dose limited field irradiation within the first 5 days after surgery has been shown to be effective in limiting the recurrence.
References
Sachar K, Akelman E, Ehrlich MG. Radioulnar synostosis. Hand Clin. 1994 Aug. 10 (3):399-404.
Liu L, Liu C, Rong YB, Bai F, Chen SL. Radial Pronation Angle: A Novel Radiological Evaluation Index of Congenital Proximal Radioulnar Synostosis. Ann Plast Surg. 2020 May. 84 (5S Suppl 3):S196-S201.
Sonderegger J, Gidwani S, Ross M. Preventing recurrence of radioulnar synostosis with pedicled adipofascial flaps. J Hand Surg Eur Vol. 2012 Mar. 37 (3):244-50.
Simcock X, Shah AS, Waters PM, Bae DS. Safety and Efficacy of Derotational Osteotomy for Congenital Radioulnar Synostosis. J Pediatr Orthop. 2015 Dec. 35 (8):838-43.
Hwang JH, Kim HW, Lee DH, Chung JH, Park H. One-stage rotational osteotomy for congenital radioulnar synostosis. J Hand Surg Eur Vol. 2015 Oct. 40 (8):855-61.
Bishay SN. Minimally invasive single-session double-level rotational osteotomy of the forearm bones to correct fixed pronation deformity in congenital proximal radioulnar synostosis. J Child Orthop. 2016 Aug. 10 (4):295-300.
Satake H, Kanauchi Y, Kashiwa H, Ishigaki D, Takahara M, Takagi M. Long-term results after simple rotational osteotomy of the radius shaft for congenital radioulnar synostosis. J Shoulder Elbow Surg. 2018 Aug. 27 (8):1373-1379.