In congenital radioulnar synostosis, there is a congenital fusion of the proximal ends of the radius and ulna, fixing the forearm in varying degrees of pronation. That means upper end of both the bones, radius, and ulna are fused, making it impossible for the radius to move for pronation and supination movement. In about 60 percent of cases, involvement is bilateral.
Synostosis stands for the osseous union of two adjacent bones can involve any part of the upper extremity. Congenital radioulnar synostosis results from failure of segmentation between the radius and ulna which leads to loss of motion between two bones [pronation and supination]. The synostosis occurs at the upper end of radius and ulna.
Male and female incidence is approximately equal.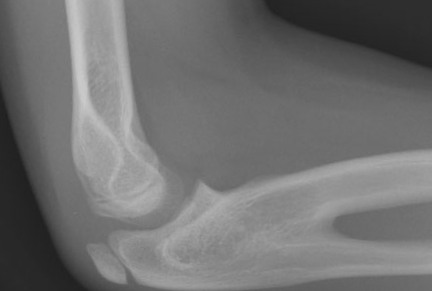 Types of Congenital Radioulnar Synostosis
Wilkie originally described two types of congenital radioulnar synostosis
Type 1 – Complete synostosis
Type 2 – Partial synostosis. Often associated with radial head dislocation.
Four types of congenital radioulnar synostosis are described now [Cleary and Omer]
Bony synostosis
Fibrous synostosis
Synostosis associated posterior dislocation of the radius
Synostosis associated anterior dislocation of the radius
Bony Synostosis
It is true congenital radioulnar synostosis where ulna and the upper end of the radius are closely fused together. The radial head may be fused to the ulna, or it may be completely absent.
The radial shaft is bowed to a greater degree than normal and is longer and thicker than the ulna.
Fibrous Synostosis
It is the rarest type. The ulna and radius may be attached, at a point just distal to their upper ends, by a short, thick, interosseous ligament that prevents any pronation or supination, just as if the bones were fused together. This is not a true synostosis.
Congenital Radioulnar Synostosis Associated with Dislocation of Radius
The second type is that in which the radial head is malformed and dislocated posteriorly or anteriorly. The proximal end of the radius is fused with the upper shaft of the ulna.
Congenital radioulnar synostosis is hereditary in some cases, appearing to be a dominant trait. It is caused by a developmental arrest of longitudinal segmentation.
Associated Anomalies
Hip dislocation
Knee anomalies
Clubfoot
Polydactyly
Syndactyly
Madelung deformity
Ligamentous laxity
Thumb hypoplasia
Carpal coalition
Cardiac Anomalies
Renal anomalies
Neurologic anomalies
Abnormalities of GI system
Acrocephalosyndactyly
Apert syndrome
Carpenter syndrome
Arthrogryposis
Mandibulofacial dysostosis
William syndrome
Klinefelter syndrome
Holt-Oram syndrome
Microcephaly
Multiple exostoses
Clinical Presentation
The average age at diagnosis is about 6 years old. It is not a painful condition in the childhood. Pain may be reported in teen years.
The main complaint is the functional deficit. The functional disability depends on the severity of the deformity and whether or not it is bilateral. The severity is determined by position of the forearm in pronation supination plane.
A forearm fixed in pronation is the severest form of the deformity as the patient is not able to compensate for the resulting loss of function by shoulder motion.
Midcarpal and radiocarpal joints can be hypermobile in an attempt to compensate or disguise the limitation. An abnormal carrying angle of the elbow [angle between arm and forearm axis. With age, as the child approaches teenage symptomatic radial head subluxation may develop.
Inability to supinate forearm is major complaints. The child may have difficulty with such activities as turning a doorknob, buttoning shirts, and handling eating utensils. The extension of the elbow may be limited.
Patients with unilateral problem have lesser limitations.
The involved forearm is thinner than normal and somewhat twisted in appearance.
Imaging
AP and lateral radiographs are able to diagnose congenital radioulnar synostosis. Radiographic follow-up is required even in asymptomatic cases to note any progressive subluxation of the radial head.
Treatment
Each patient should be individually evaluated to determine the treatment required. Surgical treatment may be considered on the severity of the deformity and if the condition is bilateral.
Patients with neutral rotation, mild pronation or without many functional limitations should not be subjected to surgery. The decision for surgery should base on functional limitations than on absolute forearm position.
Subluxated radial heads are excised at skeletal maturity. Other procedures should be performed in preschool age.
Mobilization Procedures
These surgeries aim at achieving and maintaining motion at the synostosis site. These involve excision of synostosis and interposition of inert tissue to prevent reformation of synostosis,
However, synostosis typically recurs inspite of the interposition of silicone, fat, or muscle. Recently, results with the interposition of vascularized fat graft have been encouraging.
Prosthesis
A swivel prosthesis that was placed in radius and aimed at motion restoration also yielded poor results and is not popular anymore.
Tendon Transfers
Tendon transfers are also combined with mobilization procedures. For example, flexor carpi ulnaris transfer dorsally around the ulna, and the extensor carpi radialis longus to the volar aspect to achieve better supination.
Osteotomy and Derotation
It is the most preferred and successful procedure. It involves osteotomy through the fusion mass and fixation with transcutaneous pins
In case of unilateral deformity, the affected forearm is placed in neutral rotation. In bilateral deformities, one side is placed in 20-30 degrees of pronation and the other, in 20-30 degrees of supination.
Prognosis of Congenital Radioulnar Synostosis
Overall, surgical treatment has high failure rates. The use of postoperative indomethacin or low-dose limited field irradiation within the first 5 days after surgery has been shown to be effective in limiting the recurrence.
Save