Earlier termed as congenital trigger thumb, stenosing tendovaginitis of the flexor pollicis longus, is a relatively rare deformity in which the fibrous tendon sheath is thickened and constricted. There is a palpable nodule on the volar aspect of the thumb in the region of the metacarpophalangeal joint (Notta's nodule).
Approximately 3 per 1,000 children are diagnosed by the age of 1 year. Pediatric trigger thumb is a separate entity than adult acquired trigger thumb. Male and females are affected equally. About 25% are bilateral.
The more favored term now is pediatric trigger thumb as the presentation is sometime after infancy.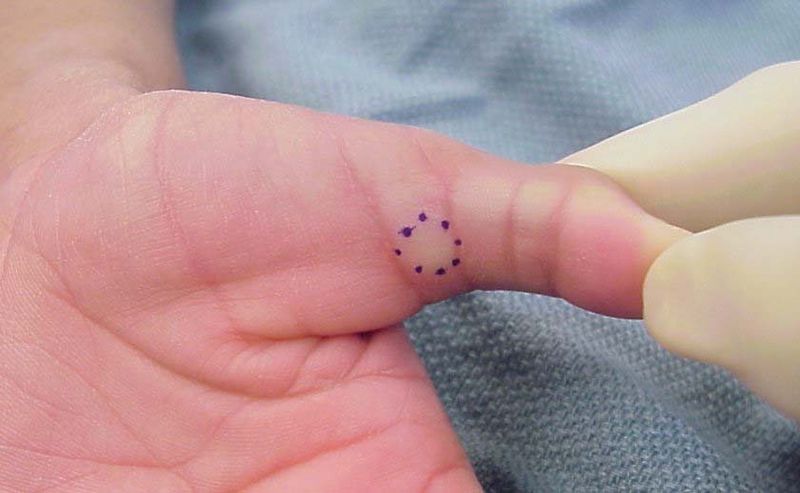 Pathophysiology of Congenital Trigger Thumb
The incongruity of the tendon's surface interferes with its normal gliding within its sheath. Snapping or triggering results from the blockage of the tendon prominence against the constricted sheath and the sudden release following application of passive force and passage past the obstruction.
Flexor pollicis longus tendon is thickened due to abnormal collagen degeneration and synovial proliferation. This causes an increase in flexor pollicis tendon diameter, compared to the A1 pulley, causes disruption of normal tendon gliding
Triggering, clicking or snapping is observed by flexion or extension of the interphalangeal joint. In the advanced stage, the extension is not possible and there is a fixed flexion deformity of the thumb in the interphalangeal joint.
The etiology is unknown.
The pediatric condition of the thumb that results in abnormal flexion at interphalangeal (IP) joint
Spontaneous resolution unlikely after the age of 2 years old
Presentation of Congenital Trigger Thumb
Children with are brought in for evaluation when aged 1-4 years with complaint flexed posture of the thumb.
In most cases, the thumb is locked in flexion, but occasionally it may be locked in extension. The nodule on thumb joint is not painful. The infant or child has no complaints. It is the infant or child has no complaints. It is the concern of the parents that bring the patient to the surgeon.
In about 25 percent of cases, the trigger thumb is noted at birth. This congenital form resolves spontaneously within 12 months in about 30 percent of cases.
Involvement is bilateral in about 50 percent of the cases noted at birth.
The childhood form develops later on, between 6 and 30 months of age, and has a spontaneous recovery rate of about 12 percent.
Differential Diagnoses of Congenital Trigger Thumb
The congenital trigger thumb must be differentiated from fracture, dislocation, congenital absence of the extensor, and, less commonly, cerebral palsy or arthrogryposis.
Imaging
Radiographs are usually normal. X-rays are also helpful to exclude osteoarthritis, fracture malunion, foreign body, or a large sesamoid bone that is affecting interphalangeal joint motion.
Treatment of Congenital Trigger Thumb
If trigger thumb is present at birth, approximately 30 % of children will recover spontaneously in one year. About  12 % of the trigger thumbs that develop at the age of 6- 30 months recover in six months.
Rest of them need a surgical release. A pediatric trigger thumb which develops in a child older than three years of age would almost always require surgery.
If the cases which do not resolve spontaneously are not treated by age of four years, 50%  of them may develop fixed flexion contractures.
In a younger child, the surgery should be considered if congenital trigger thumb is not resolved by 12 months of age. Most surgical procedures for congenital trigger thumb can be postponed until the age of 2 years but should be operated before  3 yrs because of possible flexion contractures.
The surgery involves a transverse incision  below metacarpophalangeal joint flexion crease and excision of the A1 pulley is required [a pulley in course of the tendon at that site]. Notta's flexion tendon nodule will dissipate with time.
After surgery, an active motion of the thumb is encouraged as soon as possible.
Complications after Surgery
Digital nerve injury
Infection
Scar contracture
Bow-stringing of flexor tendon
Save
Get more on Musculoskeletal Health

in your inbox
Subscribe to our Newsletter and get updates delivered to your email inbox.
Thank you for subscribing.
Something went wrong.