Constant-Murley Score [Also known as Constant Score or Constant-Murley Shoulder Outcome Score] is used for assessing the outcomes of the treatment of shoulder disorders.
It is the recommended scoring system of the European Society of Shoulder & Elbow Surgery.

First published in 1987, it offers the benefits of including
Pain score
Functional assessment
Range of motion
Strength measures
The score is not suitable for Shoulder Instability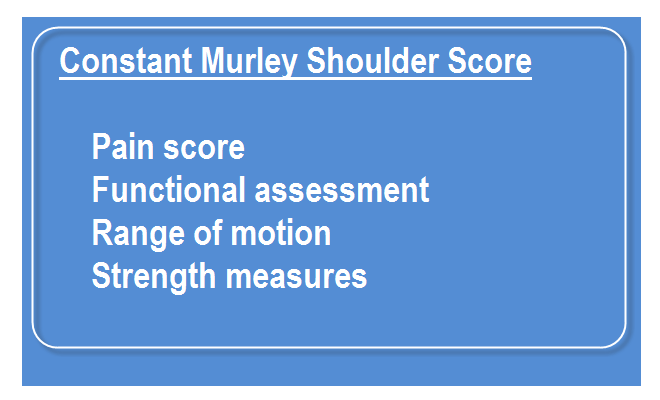 Constant Murley Score System
The score consists of four variables that are used to assess the function of the shoulder. The right and left shoulders are assessed separately.
Two variables are subjective [patient tells about the intensity of the variable and two are objective [Examiner examines the variable and notes the finding.
The subjective Variables [Maximum Score – 35]
Pain – Absence of pain gets maximum score of 15
Limitation of Activities of daily living (sleep, work, recreation/sport). No limitations get maximum score, 20
The subjective variables add to a maximum score of 35.
The objective Variables [Maximum Score – 65]

Range of motion – Maximum score 40
Strength – Maximum Score 25
Objective variables add to a total of 65.
Total Constant Score is calculated by adding the scores from subjective and objective variables.
The maximum possible total score is 100.
How To Calculate Constant Score For Shoulder?
The material needed for this test is the Constant-Murley scale, a goniometer, and a spring balance test. The subjective part of the test can be completed by the patient himself. The range of motion is measured by a goniometer. The strength is measured with a spring balance that is mounted around the forearm of the patient or by use of weights that have to be carried with the arm in a maximum of 90 ° abduction and in the plane of the scapula. For every pound that can be carried 1 point is assigned, with a maximum of 25 points.
For example, a spring balance is attached distally on the forearm and strength is measured with the arm in 90 degrees abduction, full extension of the elbow and the palm of the hand in pronation.
The patient is asked to maintain this position for 5 seconds, repeated 3 times, immediately after another. The average value in pounds is noted. The measurement should be pain-free. If the pain is involved the patient gets 0 points. Same for if the patient is unable to achieve 90 degrees of elevation.