Last Updated on November 29, 2018
The cubital fossa is the triangular area on the anterior of the elbow. It is also called the elbow pit or antecubital fossa. It lies anteriorly in standard anatomical position.
It signifies is an area of transition between the anatomical arm and the forearm and can be recognized as a depression on the anterior surface of the elbow joint.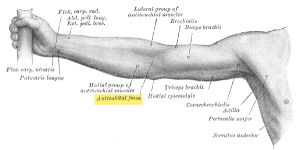 Anatomy of Cubital Fossa or Antecubital Fossa
Borders or Boundaries
The cubital fossa is triangular in shape, and has three borders:
Lateral border is formed by the medial border of the brachioradialis muscle.
Medial border is formed by the lateral border of the pronator teres muscle.
Superior border is by an imaginary line between the epicondyles of the humerus.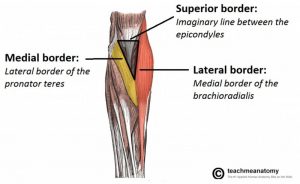 The floor is formed proximally by the brachialis, and distally by the supinator muscle.
The roof consists of skin and fascia, and is reinforced by the bicipital aponeurosis. Median cubital vein runs within the roof and can be accessed for venepuncture. The lateral cutaneous nerve of the forearm and the medial cutaneous nerve of the forearm also are present in the roof.
Apex is directed inferiorly, and is formed by the meeting point of the lateral and medial borders.
Contents
The cubital fossa contains four main vertical structures (from lateral to medial):
The radial nerve is in the vicinity of the cubital fossa, located between brachioradialis and brachialis muscles. It is not always considered part of the cubital fossa.
Biceps brachii tendon
Brachial artery – bifurcates near the apex into the radial artery and ulnar artery
Median nerve
Clinical Significance of Antecubital Fossa
Blood Pressure Measurement
During blood pressure measurements, the stethoscope is placed over the brachial artery in the antecubital fossa. The artery is usually medial to the bicipital tendon.
Palpation of the brachial artery may be done in the cubital fossa just medial to the tendon.
Phlebotomy
A number of superficial veins cross superficial to the antecubital fossa. These are often used for venous access in this region.
Supracondylar Fractures
A supracondylar fracture is a transverse fracture just above the condylar region.
The displaced fracture fragments may impinge and damage the contents of the antecubital fossa.
There also can be damage to the median or radial nerves or brachial artery.