Last Updated on July 31, 2019
De Quervain tenosynovitis is a tenosynovitis of the tendons within the first extensor compartment at the wrist resulting in pain during thumb motion.
Other names fo De Quervain tenosynovitis are De Quervain syndrome, BlackBerry thumb, gamer's thumb, washerwoman's sprain, radial styloid tenosynovitis, de Quervain disease, de Quervain's stenosing tenosynovitis, mother's wrist, or mommy's thumb. [1]
Extensor retinaculum, over the radial styloid makes a tunnel through which tendons of abductor pollicis longus and the extensor pollicis brevis pass. [First extensor compartment]. When tendons thicken from acute or repetitive injury, the gliding of tendons is restrained resulting in pain.
Though not exactly clear, De Quervain syndrome is thought to be a repetitive strain injury especially in repeated postures where the thumb is held in abduction and extension to be predisposing factors. Repeated pinching, grasping, pulling or pushing have been considered at increased risk. Intensive mouse/trackball use and typing have also been implicated. Bowling, golf and fly-fishing, piano-playing, and sewing and knitting have associated.
Women are affected more often than men especially during and after pregnancy. Hormonal changes, fluid retention, and baby lifting are also said to be contributory. more Mothers of infants, daycare workers and other persons who repetitively lift infants are said to be at risk.
Presentation of De Quervain Tenosynovitis
Patients generally complain of pain near the base of thumb which may or may not be accompanied by swelling. Grasping or pinching may be difficult. In untreated cases, the pain may spread to thumb, forearm or both.
There would be tenderness at the radial styloid. There may be thickening over the radial styloid making it more prominent. Tenderness is absent over the muscle bellies proximally.
Finkelstein test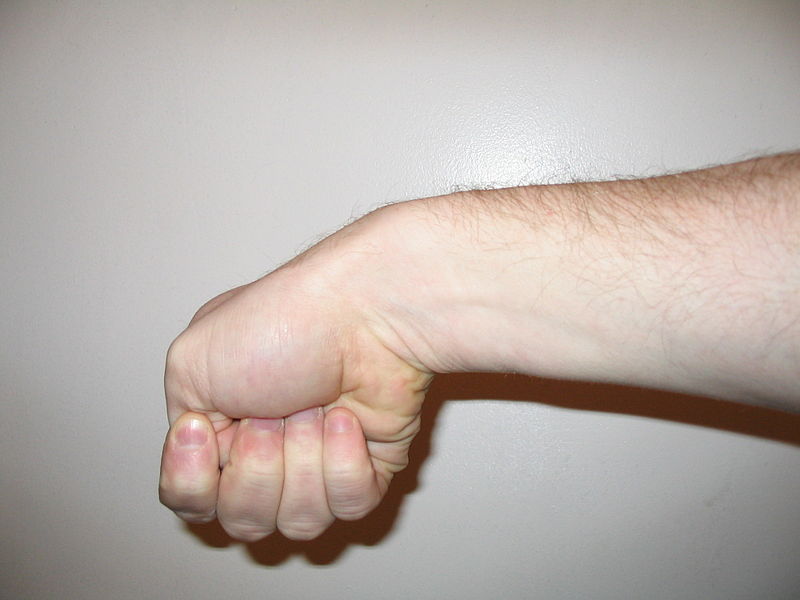 The patient is asked to make a fist with thumb flexed across the palm within the fist. The examiner then causes ulnar deviation of the wrist which leads to a stretch of tendons and causes sharp pain at the first dorsal compartment.
Here is a demonstration of the Finkelstein test.
Imaging
Radiographs are generally negative and are not necessary for diagnosis but should be obtained to rule out other conditions. Radiographs may be helpful in differentiating osteoarthritis at the thumb carpometacarpal joint or who is suffering from both conditions.
Treatment of De Quervain Tenosynovitis
Splints are effective but patients often do not tolerate restriction of activities. Thumb abduction splints work very well in De Quervain tenosynovitis.
Corticosteroid injection of into the sheath of the first dorsal compartment reduces tendon thickening and inflammation. Usually, one injection is enough but about 50% require a second one after about a month.
If these methods do not work, surgical release of the first dorsal compartment by cutting its sheath is very effective. After surgery light activities are encouraged.
Sometimes, the symptoms may persist even after the surgery. In such cases, a repeat steroid injection is administered. If it fails to help, exploration should be done to look for the probable unreleased tendon.
Relief is permanent following successful surgery.
References
1. De Quervain Syndrome.Wikipdeia