Last Updated on July 31, 2019
DEXA [Now abbreviated as DXA] or dual-energy x-ray absorptiometry is a technique used to measure bone density.
Dexa scan involves passing two X-ray beams with different energy levels are aimed at the patient's bones, and bone mineral density is determined from absorption of each bone after soft tissue absorption is subtracted out.
The test is also called bone density scanning or bone densitometry. Most commonly, the test is performed in hip and spine bones. However, in children and some adults, the whole body is sometimes may be scanned.
DEXA is the most widely used bone density measurement procedure.
A typical use of DEXA procedure is to diagnose and follow osteoporosis.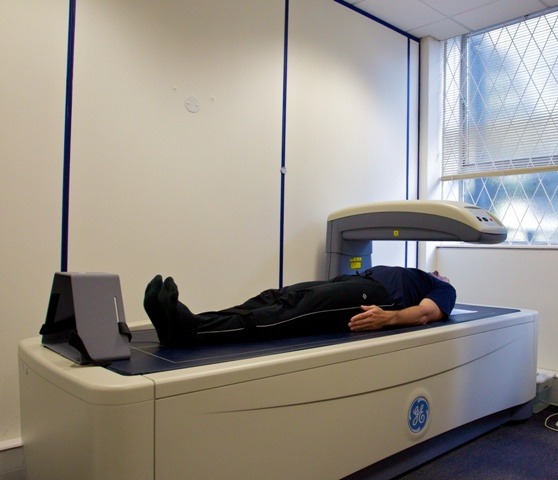 Indications For DEXA Scan
Females age 65 and above
Males age 70 and above
People over age 50 with previous bone fracture from trauma, rheumatoid arthritis, low body weight or a parent with a hip fracture
Individuals with vertebral abnormalities.
Individuals receiving or planning to receive, long-term steroid therapy.
Individuals with primary hyperparathyroidism.
To assess the response or efficacy of an approved osteoporosis drug therapy.
Individuals with a history of eating disorders
A fracture following a minor fall or injury.
An early menopause (aged less than 45).
The Test
One should not have undergone any radionuclide stud 0r barium contrast studies for 2 weeks before undergoing the test. It takes less than 15 minutes to complete the test.
A DEXA scan uses low-energy X-rays. A machine sends X-rays from two different sources through the bone being tested. Bone blocks a certain amount of the X-rays with denser bone blocking more that lighter bone. Two x-ray sources improve accuracy over one.
The amount of X-rays that comes through the bone from each of the two X-ray sources is measured by a detector. This information is sent to a computer for calculation.
There are two different types of DEXA scanning devices:
Central DEXA devices are large machines that can measure bone density in the center of your skeleton, such as hip and spine.
Peripheral DEXA devices are smaller, portable machines that are used to measure bone density on the periphery of skeletons, such as your wrist, heel or finger.
Interpretation
The images can be used to evaluate bone mineral content [calcium] of the bone. The amount of calcium correlates with bony content and with bone strength. In clinical practice, bone mineral density measurements are widely used to diagnose osteoporosis. This is done by calculating T and Z scores.
Instead, T score is calculated which is the difference between the measured bone mineral density and the mean value of young adults, expressed in standard deviations (SD) for a normal population of the same gender and ethnicity.
According to WHO diagnostic criteria for osteoporosis
T-score below 2.5 – osteoporosis
T-score is between -2.5 and -1 – osteopenia
T-score
T score is calculated as
T Score =(patient's BMD – young normal mean)/SD of young normal.
For example, if a patient has a BMD of 0.700 g/cm , the young normal mean is 1.000 g/cm², and the young normal standard deviation is 0.100 g/cm² then
T-score = (0.700 – 1.000)/0.100 = –0.300/0.100 = –3.0 and has osteoporosis.
Z-score
Z score is the DXA reports also provide Z-scores, which are calculated similarly to the T-score, except that the patient's BMD is compared with an age-matched (and race- and gender-matched) mean as comparing all patients to young adult data may lead to overdiagnosis of osteoporosis.
In children, comparing the bone mineral density of children to the reference data of adults ( T-score) would lead to an over-diagnosis of osteopenia for children. To avoid an overestimation of bone mineral deficits, Z score is calculated by comparing the patient to reference data for the same gender and age.
Because DEXA calculates BMD using area, it is not an accurate measurement of true bone mineral density, which is mass divided by a volume.
However, it is still a fairly accurate measure of bone mineral content and is, by far, the most widely used technique for bone measurements.
It is cheap, accessible, easy to use, and able to provide a fair estimation of bone mineral density in adults.
Image Credit: Wikipedia