A patient with fracture proximal radius and ulna was treated by dynamic compression Plate fixation.
Fractures of forearm bones [radius or ulna or both] require open reduction and internal fixation in most of the adult cases. While ulna is subcutaneous bone which you can palpate from elbow to wrist,the radius is deep situated.
The radius can be approached either from volar [on side of palm][Henry Approach] or from dorsal [side opposite to palm] side [Thompson approach].
In proximal region [near to elbow], Thompson approach is preferred though it is ultimately operating surgeon's choice.
One of the dangers of exposing the proximal third of the radius is the deep branch of the radial nerve (posterior interosseous) traverses it within the supinator muscle. This nerve can be injured during surgery if not exposed properly.
In the following images and text, I would take you through the dissection and fixation of a fracture of proximal shaft of radius which was opened using dorsal approach and fixed with dynamic compression plate. The patient also had ulna fracture which was also fixed with DCP.
Following is the x-ray of the fractured forearm after injury and application of plaster splint. At first look, it may seem to only be radius fracture because a fracture of the ulna is not that clearly visible. But it is fractured at the same level as the radius.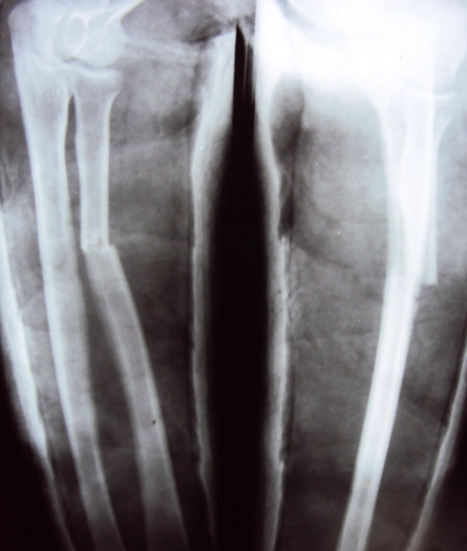 Skin incision over the proximal and middle thirds of the radius along a line drawn from the center of the dorsum of the wrist to a point 1.5 cm anterior to the lateral humeral epicondyle. It is called Thompson approach after the scientist who propagated it.
When the forearm is pronated, this line is nearly straight.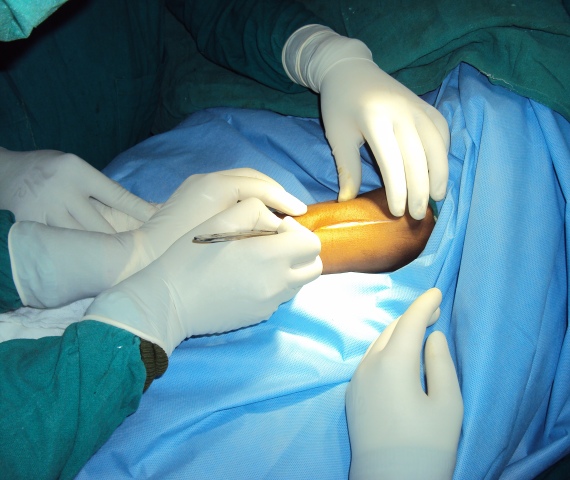 After the skin, the next layer is fascia. Beneath that is a layer of muscles of dorsal aspect. Interval for approaching the bone is developed between the extensor digitorum communis muscle and the extensor carpi radialis brevis, with each being retracted to the ulnar and radial sides.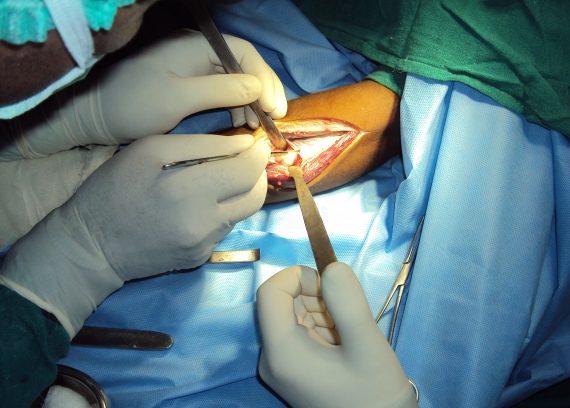 In the proximal third of the forearm, the supinator muscle would be exposed Here we have exposed shaft of radius after incising distal part of supinator muscle.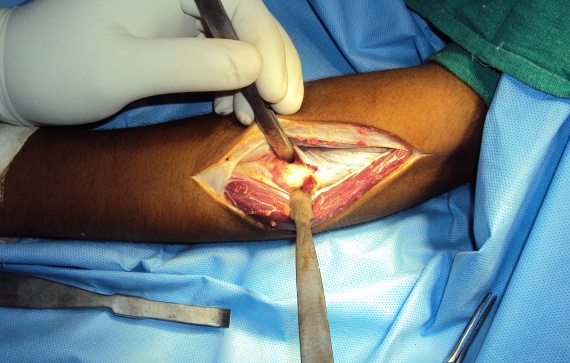 Careful dissection of this muscle would expose the deep branch of the radial nerve [posterior interosseous nerve]. The nerve is carefully retracted. The nerve is marked in the following diagram. Another method which does not involve exposure and retraction of the nerve is to lift the muscle free from the bone subperiosteally.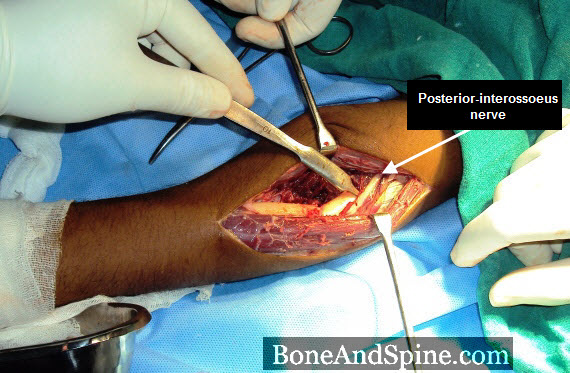 Fixation by compression plate and screws. The radial nerve is seen over the plate.
Following this fracture of the ulna was fixed with a dynamic compression plate as well.
Here is a postoperative x-ray. You would be able to appreciate ulna fracture in this x-ray.
The fracture united well after 8 weeks of surgery.