Enchondroma is a common intramedullary benign neoplasm composed of mature cartilage. It has limited growth potential, and a majority of enchondromas are small, asymptomatic lesions less than 3 cm in diameter. It is a type of chondroma that occurs within the medullary cavity.
Enchondroma accounts for 12% to 24% of the benign bone tumor and 3% to 10% of all bone tumors.
Though these lesions are distributed throughout all decades of life, the third and fourth decades are considered the peak age.
There is no sex predilection.
Most common sites of involvement are small bones of the hands and feet [60%]. The hands are more frequently involved than the feet.
Next, in frequency are long tubular bones [17%]. Most of the lesions are metaphyseal [near bone ends] and involvement of diaphysis [midshaft] is very rare.
In long bones, proximal humerus is the most common site involved. Other bones are involved less commonly.
Enchondromas are rare in axial skeleton [pelvis, ribs, scapulae, and vertebrae].
Enchondroma is highly unlikely in craniofacial bones.
Multiple enchondromas are known as Ollier disease, and Maffucci syndrome is characterized by multiple enchondromas with hemangiomas.
Pathophysiology
Enchondromas are the growth plate remnants that are not resorbed and persist or grow in the medullary canal. They are typically found on the metaphyseal side of the growth plate.
The cartilage in cortex could become cortical and juxtacortical chondromas. These isolated fragments of cartilage grow very slowly in a lobular configuration and demonstrate ossification at their periphery.
Approximately 60% of all enchondromas are located in small bones of hands and feet. These enchondromas are typically diaphyseal lesions that sometimes involve the bone ends. They regularly produce endosteal scalloping and expand the bone contour.
Enchondromas of the long tubular bones account for approximately 45% of cases and are ofen metaphyseal. The proximal humeral metaphysis and distal femoral metaphysis are most frequently involved.
Enchondromas of the pelvis, spine, ribs, and sternum are very rare.
Pathologic fracture and malignant transformation, which may be associated with pathologic fracture are main complications of enchondroma
When multiple enchondromas coexist, the diagnosis of enchondromatosis should be considered of which main are Ollier disease and Maffucci syndrome.
Enchondroma and Chondrosarcoma Differentiation
Enchondromas carry a risk of malignant transformation to chondrosarcoma. Added to that, a benign enchondroma may look and behave like low grade chondrosarcoma.
Therefore the differentiation is important. Different locations behave differently in this context.
Pain at the site, soft tissue mass, cortical breach, and endosteal scalloping are features suggestive of chondrosarcoma.
Enchondromas of short tubular bones like hands and feet

Expansion and scalloping can occur in benign cases too
Same features in long tubular and flat bones are highly suggestive of a low-grade malignant tumor.

Enchondromas of the long tubular bones

May be microscopically indistinguishable from low-grade chondrosarcomas
Benign lesions – typically asymptomatic, are incidentally discovered and usually measure less than 3cm.
The adjacent bone and the overlying cortex are normal.
Microscopically, the cellularity is low, the matrix is hyaline, and the lesion is well demarcated. Any deviation from this pattern should be considered suspicious for malignancy.

Enchondroma of trunk bones

Considered potentially clinically aggressive especially when they are bigger than 3cm in size.
A benign lesion is less common here and is represented by low cellularity, no nuclear atypia, and has mature hyaline matrix.
Any deviation, even minimal from this pattern suggests an aggressive lesion.
Gross and Microscopic Pathology of Enchondroma
Often the enchondroma is received as curetted material. An intact enchondroma after removal is seen as made of confluent lobules of cartilage varying in size from several millimeters to 1 cm. The color is ivory-white due to calcification or ossification or both.
Microscopically, enchondromas are composed of mature cartilage. The individual lobules can be separated by normal bone marrow spaces with hematopoietic elements or more frequently by fibrovascular septa.
Overall cellularity is low and occasional binucleated cells may be seen.
The chondroid matrix is typically of hyaline type and foci of fine or coarse calcifications and even of enchondral ossification can be present.
Immunohistochemically, the cells of enchondroma are positive for S-100 protein and vimentin.
Clinical Presentation
Most of the enchondromas are not symptomatic and are discovered incidentally on x-rays or radioisotope scans performed for other reasons.
In short tubular bones of hand and feet, enchondroma can cause bone expansion and may be felt as a palpable mass.
Pathologic fractures can also be a presenting feature in short tubular bones [phalanges, metacarpals, metatarsals].
Pain is not a feature. Pain signifies activity and should raise the suspicion of malignancy [if the pathological fracture is absent.
Lab Studies
Lab studies are not diagnostic as there are no specific tests.
Imaging
X-rays
In the small tubular bones, the lesion is usually diaphyseal, but epiphyseal extension is also frequently present. In the long tubular bones, enchondromas are most frequently located in the metaphysis. A midshaft or epiphyseal localization is extremely uncommon.
Enchondroma produces a localized, radiolucent defect with punctate or stippled calcifications. The lesion can vary from being sharply defined to the one with indefinite is sharply defined or has indefinite outlines.
The degree of radiographic calcification can vary considerably.
A classic pattern of calcifications is described as rings and arcs in the short bones, such as hand and is considered pathognomonic.
In the major long bones, the cortex and the bone contour are usually not altered, and there is no periosteal new bone formation.
Enchondromas that fill the medullary cavity of short tubular bones may show some cortical thinning. The contour of the small bones is typically expanded along with cortical thinning.
It is hard to differentiate between enchondroma and low-grade chondrosarcoma on x-ray.
[Therefore, in presence of pain, appearance notwithstanding, further investigation is warranted]
A predominantly lucent lesion or the one that is not uniform in calcification should be further evaluated.
Presence of cortical break, a soft-tissue mass, and deep endosteal scalloping of the cortex are associated more with chondrosarcoma but may not be so in hands and feet because of expansile nature of lesions in these locations.
Computed Tomography
Findings are similar to x-ray findings. CT may be able to show pathological fracture not visible on x-ray.
A uniformly mineralized lesion showing a lucent region indicates degeneration of the enchondroma to chondrosarcoma and biopsy is desired.
Again, differentiation of the enchondroma and chondrosarcoma is difficult on CT
Signs of malignant transformation are
Cortical erosion,
Soft tissue mass
Irregularity of tumor surface
Enchondromas are well circumscribed as compared to chondrosarcoma.
Extension into soft tissue with a completely disrupted cortex and the presence of reactive periosteal new bone formation should be regarded as indicators of malignancy.
Magnetic Resonance Imaging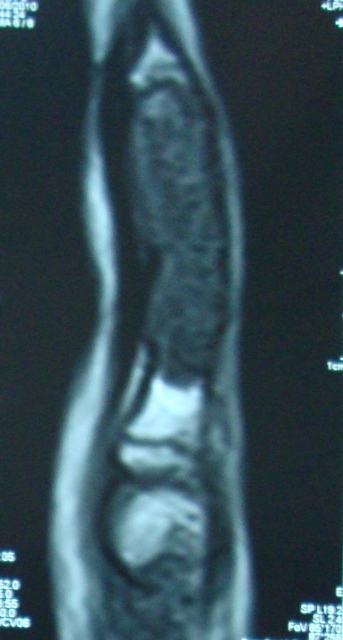 MRI is useful to investigate the noncalcified lesions within the marrow cavity and helps in distinguishing enchondromas in the long bones from bone infarcts
MRI can diagnose enchondroma with more certainty and is able to differentiate it from chondrosarcoma when correlated with the clinical picture.
Nuclear Imaging
With technetium-99m (99mTc) radionuclide bone scanning, findings are typically negative in uncomplicated enchondromas, but the presence of pathologic fracture results in intense activity at the fracture site.
If the bone scan results are negative, the possibility of malignancy (eg, chondrosarcoma) is extremely remote. If the scan results are positive, a biopsy is typically necessary.
Differential diagnosis
Low-grade chondrosarcomas
Chondroid differentiation in fibrous dysplasia
Treatment
Enchondromas of long bones that are small and asymptomatic require no treatment.
The patient is advised to keep a note of onset of pain and report. It should be followed by clinical evaluation and x-rays.
Lesions that are border-line in size, symptomatic, or predominantly lytic or which appear doubtful should undergo curettage. The material should be subjected to histopathological examination.
Enchondromas of the small tubular bones are frequently treated with curettage and bone grafting, especially if they expand the bone contour or disturb the function of the affected site in any way.
Lesions involving the ribs, sternum, scapula, or pelvis are best treated by wide local excision and tissue subjected to pathological studies. This treatment approach is carried as most of these lesions are aggressive.
Recurrence of enchondroma in long bones usually suggests malignancy.
In short tubular bones, recurrence could be due to incomplete removal and second curettage can sure.