Last Updated on September 12, 2023
Erythromelalgia is a rare disorder characterized by burning pain, warmth, and redness of the hands, feet, arms and legs.
The condition was described by Silas Weir Mitchell in 1872. Another scientist from Germany, Gerhardt also described the same disease. The disease had also been known by the names of their discoverers as Mitchell disease or Gerhardt's disease.
The condition gets its name derived from three Greek words:
erythros (red)+ melos (limb)+ algos (pain).
The mean age of onset is about 50 to 60 years.
Erythromelalgia is also called acromelalgia, red neuralgia, or erythermalgia.
It occurs in intermittent episodes in most of the individuals. The onset is often gradual and it may remain mild for many years.
However, varied presentation is known too and it could be acute onset and become severe within months or weeks.
The specific cause is not known though it is thought to result from disturbances in muscles functioning of the blood vessels [vasomotor abnormalities].
Types of Erythromelalgia
Primary
The severity of the disorder is variable within the family members suggesting autosomal dominant inheritance.
The primary form could be classified according to the age of onset
Early – when it appears in the first two decades of life [before 10 years of age]
Late – When it appears after the second decade
The age of onset of the symptoms has been correlated with Na+ channel voltage activation.
It is the main type of disease in children under 10 years of age.
It presents as recurrent painful bilateral limbs and arterial hypertension. Feet soles and hand palms are affected primarily. It can occur as frequently as daily and could cause incapacitation or compromise of the upper and lower limbs.
Secondary
In this type, there is an underlying cause. It could be present in children as well as in adults.
A list of causes of secondary erythromelalgia is given below in the table.
Collagenopathies

Lupus erythematosus
Rheumatoid arthritis
Mixed connective tissue diseases
Sj0gren syndrome
Leukocytoclastic vasculitis

Hematological Diseases

Polycythemia Vera
Essential thrombocytosis
Leukaemia
Spherocytic anemia
Pernicious anemia
Cryoglobulinemia
Systemic mastocytosis

Drug Reactions

Iodinated contrasts agents
Calcium channel blockers (Nicardipine, Nifedipine, Felodipine)
Cyclosporine
Rosuvastatin
Bromocriptine
Topical Isopropanolol
Pergolide
Norephedrine

Vascular diseases

Venous insufficiency
Thromboembolism
Arterial hypertension

Neuropathies

Neurofibromatosis
Multiple sclerosis
Riley-Day syndrome

Physical diseases
Intoxications

Mushrooms
Metals (plumb, mercury, arsenic)

Neoplasias

Paraneoplastic syndrome
Colon and breast cancer
Malignant thymoma
Astrocytoma
Subcutaneous panniculitis-like T-cell lymphoma

Miscellaneous

Influenza and hepatitis vaccine
Lichen sclerosis
Genetic diseases
HIV infection
Diabetes mellitus
Venous insufficiency
Most reported cases of secondary erythromelalgia are due to myeloproliferative disorders.
Pathophysiology
The pathophysiology is not clear though the understanding is evolving with new approaches in molecular biology.
The following things/events are thought to be contributory
Abnormal hyperaggregability of platelets
Dysfunction of sympathetic fibers
Hypersensitivity of C-fibers that carry pain sensation

May involve sodium channels

Arteriovenous shunting

imbalance of perfusion in the skin
Known Triggers
Following are the known triggers that can lead to erythromelalgia

Exposure to heat
Prolonged standing
Physical activity
Stress
Alcohol
Spicy food
Drugs that dilate vessels
Exposure to chronic vibration
Clinical Presentation of Erythromelalgia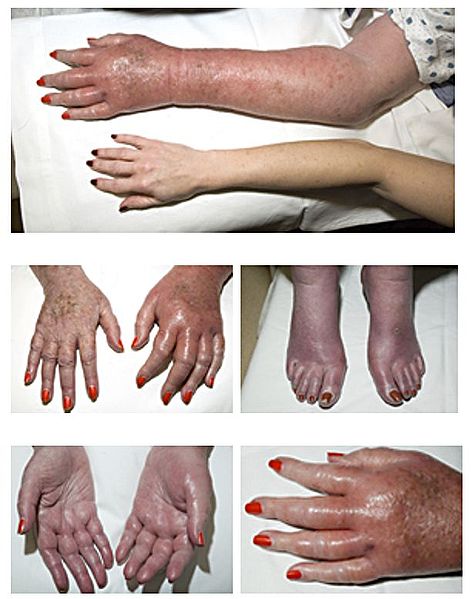 Both primary and secondary types of erythromelalgia are characterized by episodes of
Redness

varies from mild to moderate

Warmth
Burning sensation of the limbs.

Intense pain
May preclude waking
Lower limbs are affected more commonly than upper limbs.
The soles of feet and toes are most commonly involved. Rarely, the limb is involved as high as knees.
Involvement is usually bilateral but can occur in a single limb as well.
The warm environment can exacerbate symptoms whereas cooling and elevating the extremity can relieve symptoms.
A typical episode lasts about 2-3 hours. The limb may appear normal in between the episodes or may become blue [cyanosis] in some cases.
Anxiety and mental issues may develop due to repeated episodes. Walking long distances or playing may become difficult.
In adults, a secondary cause should always be looked for and clinical history should be obtained accordingly.
Examination during the episode may reveal
Bounding pulse
Warm tender limb
Dusky or red discoloration of the limb
Cyanosis
Swelling
Numbness
Dry skin due to lack of sweating
Patients should be examined in detail for myeloproliferative disorders as they are highly associated.
Differential Diagnoses
Work Up
The diagnosis is clinical mainly. Investigations are done to look for secondary causes
Blood counts

May suggest or rule out myeloproliferative disorders
High platelet count and hematocrit is suggestive

X-rays – often normal
Bone Scans – Indicated in unilateral cases to look for pathology if present
Treatment of Erythromelalgia
There is no curative or definitive treatment. Supportive treatment aims to alleviate symptoms. These measures can be
Cooling the limb
Elevation of limb
Drugs

Lidocaine, Mexiletine, Prostacyclin
Systemic steroids effective in subgroup of patients

Preventive Measures

Trigger avoidance – avoid warmth, smoking, stress
Non-impact exercise only
References
Davis MD, Sandroni P, Rooke TW, Low PA. Erythromelalgia: vasculopathy, neuropathy, or both? A prospective study of vascular and neurophysiologic studies in erythromelalgia. Arch Dermatol. 2003;139:1337–1343. [link]
Waxman SG, Dib-Hajj SD. Erythromelalgia: a hereditary pain syndrome enters the molecular era. Ann Neurol. 2005;57:785–788. [Link]