The Faces Pain Scale-Revised (FPS-R) is a scale used for a self-report measure of pain intensity. This scale was developed for children and has been adapted from the Faces Pain Scale.
It can also be used in adult people who are unable to use a numerical rating scale like visual analog scale. It is particularly recommended for use in younger children as numerical self-rating scales (0-10) can be used with most children over 8 years of age.
Interestingly, Faces pain scale-revised shows a close linear relationship with visual analog pain scales across the age range of 4-16 years.
Scale
The scale consists of six faces as shown below which vary in gestures. The left-most face shows no pain. The faces show more and more pain from left to right up and rightmost face shows extreme pain.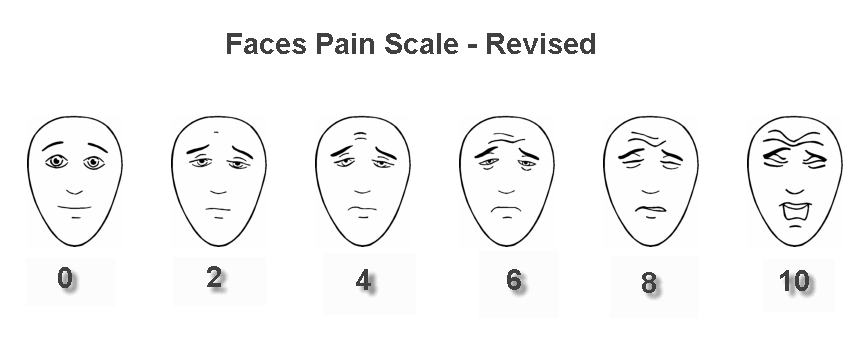 Following instructions are given to the child –
These faces show how much something can hurt. This face [the assessor point to left-most face] shows no pain. The faces show more and more pain [point to each from left to right] up to this one [point to right-most face] – it shows very much pain. Point to the face that shows how much you hurt [right now].
Beginning from left each face is given a score 0, 2, 4, 6, 8, or 10.
Thus score '0' = 'no pain' and score '10' = 'very much pain.'
This scale is intended to measure how children feel inside, not how their face looks.
Faces Pain Scale
It is the original scale from which Revised scale is derived. The revision was done so that scale could be accommodated on 0-10 metric.
Original Faces Pain scale consisted of seven faces instead of six and scores were 0,1,2,3,4,5,6.
Here is an image of the original Faces Pain Scale.

Score '0' signified no pain and score '6' signified maximum pain.
Wong-Baker Faces Pain Rating Scale
It is a similar scale, is named Wong-Baker FACES Pain Rating Scale and was developed by Donna Wong and Connie Baker.
This scale shows six faces in total.
The first face is a happy face is at 0 which represents "no hurt".
The last face is a crying face with tears at 10 which means hurt worst.
The incremental value of 2 is added for each face as the scale moves from 0-10.
Wong-Baker scale is a useful pain scale for children and is also appropriate for certain patients with inability to count and impaired brain function.