Femoral neck fractures or fractures of the neck of the femur are fractures of the proximal femur in the region between head of femur and intertrochanteric line. This region is called neck of femur.
These injuries are common in two distinct populations – young and elderly
In young patients, femoral neck fractures are also caused by high-energy trauma whereas in the elderly population, the fractures occur with insufficient trauma.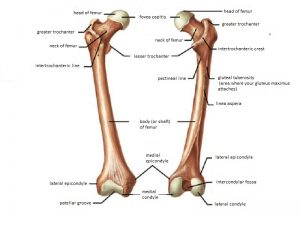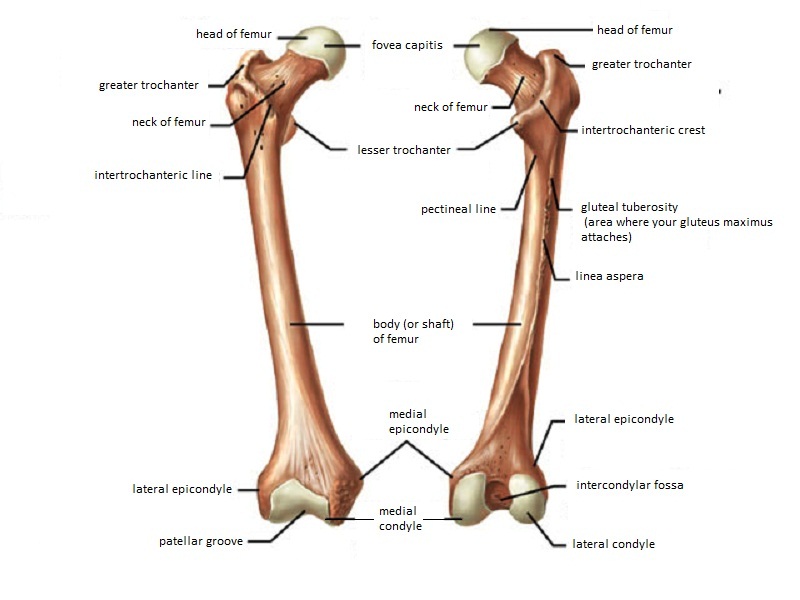 Stress fractures of the femoral neck are uncommon and occur in active individuals with unaccustomed strenuous activity or changes in activity, such as runners or endurance athletes, and elderly individuals with osteoporosis.
Long-distance runners who suddenly change or add activities have a higher prevalence of femoral neck stress fractures.
Insufficiency fractures are more common in females secondary to osteoporosis.
One of the unique features of femoral neck fractures is limited healing potential because the femoral neck is intracapsular, bathes in synovial fluid and lacks a periosteal layer. All these fractures contribute to poor healing.
Causes of Femoral Neck Fractures
Traumatic Fractures
Seen with significant trauma, usually seen in young people
Osteoporotic Fractures
Seen in elderly, osteoporosis a contributory factor
Stress fractures
Usually seen in athletes
A sudden increase in the quantity or intensity of training
Introduction of a new activity
Contributory Factors

Low bone density
Dietary deficiencies
Biomechanical abnormalities
Menstrual irregularities.
Exercise-induced endocrine abnormalities
Gluteus medius fatigue – Decreases shock absorbing capacity resulting in higher stresses on femoral neck
Malalignment syndrome- Femoral neck anteversion, genu valgum, increased Q-angle, tibia vara, and compensatory foot pronation

an unequal distribution of stress and tension across the hip joint.
Relevant Anatomy and Biomechanics
Read more about the anatomy of hip joint and proximal femur
The femoral neck is part of the proximal femur and is a participant in the formation of the hip joint. It functions to connect the articular head of the femur to shaft.
The synovial membrane incorporates the entire femoral head and the anterior neck, but only the proximal half of the posterior neck. The shape and size of the femoral neck vary widely.
Normal neck shaft-angle 130 +/- 7 degrees and normal anteversion 10 +/- 7 degrees.
Read more about anteversion and retroversion
The blood supply to the proximal end of the femur is divided into 3 major groups. The first is the extracapsular arterial ring located at the base of the femoral neck. The second is the ascending cervical branches of the arterial ring on the surface of the femoral neck. The third is the arteries of the ligamentum teres.
The medial femoral circumflex artery is a major contributor (lateral epiphyseal artery). Contribution to the anterior and inferior head comes from the lateral femoral circumflex artery along with some contribution from the inferior gluteal artery
Artery of ligamentum teres provides small and insignificant supply.
Displacement of femoral neck fracture disrupts the blood supply and may put the femoral head at risk of osteonecrosis.
Osteonecrosis of the femoral head is the most dreaded complication of femoral neck fractures and is reported to occur in 9% to 35% of displaced femoral neck fractures.
The degree of fracture displacement determines the severity of damage to the major blood supply, the lateral epiphyseal artery system.
Intracapsular hematoma may elevate the capsular pressure which has an adverse effect on femoral head blood flow and may induce cellular death.
Anatomical reduction of femoral neck fractures has been shown to lower the risk of femoral head osteonecrosis. Second, stable fracture fixation allows revascularization to proceed in an optimal mechanical environment.
During walking or running, the load on the femoral neck can exceed 3-5 times the body weight when an individual is walking or running. Gluteus medius and minor muscles counterbalance the force of gravity on the hip joint.
These forces on the femoral head are transmitted through the femoral neck to the shaft, resulting in a significant amount of stress on the femoral neck as a result of compression and bending.
The inferior aspect of the femoral neck faces these forces of compression leaving superior aspect with minimal effect.
However, on bending forward, stress is induced on the superior aspect of the femoral head.
Classification of Femoral Neck Fractures
Garden Classification
(based on AP radiographs and does not consider lateral or sagittal plane alignment)
Type I
Incomplete, ie. valgus impacted
Type II
Complete fracture but nondisplaced
Type III
Complete, partially displaced
Type IV
Complete, fully displaced
It was found that clinically differentiating the 4 grades of fractures is difficult. Hence, classifying femoral neck fractures as nondisplaced (Garden grades I or II) or displaced (Garden grades III or IV) is more accurate..
Simplified Garden Classification
Nondisplaced
Includes Garden I and II
Displaced
Includes Garden III and IV
Pauwels Classification
(based on the vertical orientation of the fracture line)
Type I
< 30 deg from horizontal
Type II
30 to 50 deg from horizontal
Type III
> 50 deg from horizontal (most unstable with the highest risk of nonunion and avascular necrosis)
Devas Classification of Stress Fractures
Tension-type stress fracture
A transverse fracture directed perpendicular to the line of force transmitted in the femoral neck
Originates at the superior surface of the femoral neck
Has risk of displacement
Compression type of femoral neck stress fracture,
Located at the inferior margin of the femoral neck

Visualized as a haze of internal callus
Eventually, a small fracture line appears in this area, and gradually scleroses.

No cortical discontinuity.
Mechanically stable
Younger patients
Fullerton and Snowdy added displaced type as the third group of femoral neck stress fracture classification
Clinical Presentation of Femoral Neck Fractures
Impacted and stress fractures may present as a slight pain in the groin or pain referred along the medial side of the thigh and knee. Displaced fractures present as pain in the entire hip region.
Displaced fractures would also show the inability to bear weight on the affected extremity and deformity of the lower limb.
On examination, impacted and stress fractures would show no obvious clinical deformity. Minor discomfort with active or passive hip range of motion may be noted. Muscle spasms occur at extremes of motion.
Percussion over greater trochanter may reveal pain.
Displaced fractures have a leg in external rotation and abduction, with shortening
For the evaluation of stress fractures, a careful history is obtained to ascertain the cause.
If a person is an athlete, there may be a recent change in training or equipment. It could be an increase in mileage or intensity, change of the terrain, or running shoes.
Features common to all stress fractures include the following:
Participation in repetitive cyclic activity
Insidious onset of pain
A recent change in activity or equipment
No history of significant trauma
Pain with weight bearing
Relief of pain with rest
Menstrual irregularities
Predisposing osteopenia
Hop Test
This test involves the patient hopping on the affected leg to reproduce symptoms. Other maneuvers that can place a stress on the femur also may reproduce pain. It is found to be positive in approximately 70% of patients with stress fractures of the femoral neck.
Lab Studies
Not required for the diagnosis of traumatic fractures. May be required in case of evaluation of causes of stress fractures.
Imaging Studies
X-rays
Following are recommended x-ray views
AP pelvis
Cross-table lateral, and full-length femur film
Traction-internal rotation AP hip
X-rays help to determine the site and extent of the fracture. However, a plain radiograph may appear normal in a patient with a femoral neck stress fracture.
If a femoral neck fracture is suggested, an internal rotation view of the hip may be done to identify nondisplaced or impacted fractures.
CT
CT is helpful in determining the displacement and degree of comminution in some patients. It can also define bone lesions better than MRI in case of pathological fractures
MRI
MRI is helpful to rule out an occult fracture but cannot be relied upon for assessing the viability of femoral head after fracture.
Bone scan
It is also helpful to rule out occult fracture and when a stress fracture, tumor, or infection is suggested.
Treatment of Femoral Neck Fractures
Treatment Approach
Undisplaced Fractures/Stress Fractures
If the stress fractures are identified early and fracture is uncomplicated fractures rest and reversal any training errors may help to prevent progression of the fracture.
Compression stress fractures are more stable can be treated nonoperatively.
These undisplaced fractures are treated with bed rest and/or the use of crutches. The treatment is continued until passive hip movement is pain-free and there is an evidence of callus formation.
Close radiographic monitoring is required as the risk of displacement of the fracture is high. The clinician should obtain an x-ray film every 2-3 days the first week to detect any extension or widening of the fracture line. If pain does not resolve or if evidence of fracture line expansion is noted, internal fixation is indicated.
Immediate open reduction and internal fixation is indicated if the fracture starts widening.
Tension fractures are potentially unstable and may require operative stabilization.
In elderly patients, observation alone may be considered in some patients who are non-ambulators, have minimal pain, and who are at high risk for surgical intervention
Displaced Fractures
The treatment of a displaced fracture is based on the person's age and activity level.
In the elderly population, cognitive function, walking ability, and independence in activities of daily living should be considered to arrive at an optimal method of surgical repair.
A displaced fracture in a young patient is an orthopedic emergency, and early open reduction and internal fixation is necessary. In elderly patients, treatment options include open reduction and internal fixation or prosthetic replacement.
Surgical Procedures
Closed/Open Reduction and Internal Fixation
Closed or open reduction and internal fixation are indicated in displaced fractures in young or physiologically young patients [for most patients <65 years of age]. It is the most common surgical procedure performed in fracture of neck of the femur.
Following options are available in fracture fixation.
Cannulated screw fixation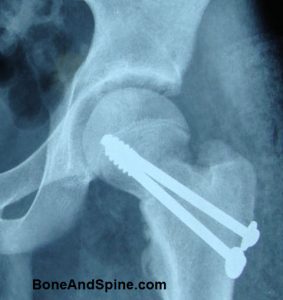 Garden I and II fracture patterns in the physiologically elderly
Displaced transcervical fracture in a young patient
A surgical emergency
Anatomic reduction is warranted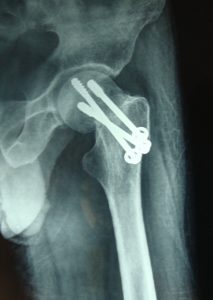 Sliding hip screw or cephalomedullary nail
These are biomechanically superior to cannulated screws and is indicated in
Basicervical fracture
Vertical fracture pattern in a young patient
When associated with femoral shaft fracture
Placement of additional cannulated screw above sliding hip screw prevents rotation
Hip Replacement
This is done in elderly patients.
Hemiarthroplasty [ Replacement of femoral part of hip-joint only] – in the hip with without arthritis.
Total hip arthroplasty is considered in patients with preexisting hip osteoarthritis. It provides better pain relief and a better functional outcome than hemiarthroplasty in arthritis hips.
Complications of Femoral Neck Fractures
Osteonecrosis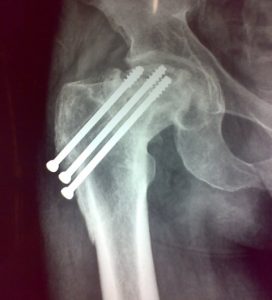 The incidence of osteonecrosis is 10-45%. The risk increases with initial displacement.
In young patients,> 50% involvement is treated with free vascularized fibular graft or total hip arthroplasty.
In older patients, hemiarthroplasty or total hip arthroplasty is considered.
Nonunion
Nonunion has an incidence of 5 to 30%. Displaced fractures have increased incidence in displaced fractures. There is no correlation between age, gender, and rate of nonunion
Varus malreduction most closely correlates with failure of fixation after reduction and cannulated screw fixation.
Treatment options in nonunion are
Dislocation
The higher rate of dislocation with total hip arthroplasty than hemiarthroplasty
Special Situations
Parkinson's Disease
Patients with Parkinson disease who sustain a femoral neck fracture, present a special challenge as morbidity and mortality rates are much higher.
To decide on an appropriate treatment plan, it is essential to consider the status of the disease and view cases individually.
In cases of nondisplaced or impacted fracture, a patient of any age or disease severity should be treated with multiple-screw fixation and early mobilization.
Young and active with displaced femoral neck fractures with the well-controlled disease should be treated by anatomic reduction and internal fixation.
Older patients with displaced fractures or younger patients with the poorly controlled disease are treated by cemented prosthetic replacement.
Paget's Disease
Delayed union and nonunion are common sequelae of fractures in Paget's disease.
The treatment of choice for displaced femoral neck fractures in Paget's disease is a primary prosthetic replacement.
If acetabular involvement is minimal and minimal preinjury symptoms, then a hemiarthroplasty should be performed.
If there are significant preinjury symptoms and/or extensive acetabular involvement with secondary degenerative change, total hip replacement is indicated.
Spastic Hemiplegia
Treatment of these patients may be problematic because of osteopenia, spasticity, and/or contracture.
Nondisplaced fractures in ambulatory patients with minimal spasticity – internal fixation.
Displaced fractures in ambulatory patients with minimal spasticity – appropriate treatment for age and fracture.
Severe spasticity and contracture – primary prosthetic replacement combined with muscle and tendon releases to correct the contracture, irrespective of displacement.
Chronic Renal Failure
Because of the high rate of nonunion, primary prosthetic replacement appears to be the treatment of choice for femoral neck fractures in patients with chronic renal failure.