Flexion-extension x-rays of cervical spine are Dynamic motion studies of the neck.  These x-rays of the cervical spine are helpful in eliciting less than the obvious instability of the cervical spine and assessing the healing results of the cervical spine following trauma and other pathologies.
Flexion-extension x-rays of the cervical spine are taken in different positions of neck i.e. flexion and extension. This is called dynamic radiography. The x-rays are then studied for relations of vertebral bodies and the preservation or loss of anatomical alignment which may be indicated by
Development of deformity in a particular position
Inability to maintain normal relationships of vertebrae on change of position.
More than desired motion of a vertebral segment on movement.
Any of the above indicates an imbalance of ligamentous structure.
Sometimes, in dynamic radiography, additional distraction forces may be applied by putting traction and the displacement may be studied. Any abnormal displacement indicates insufficiency.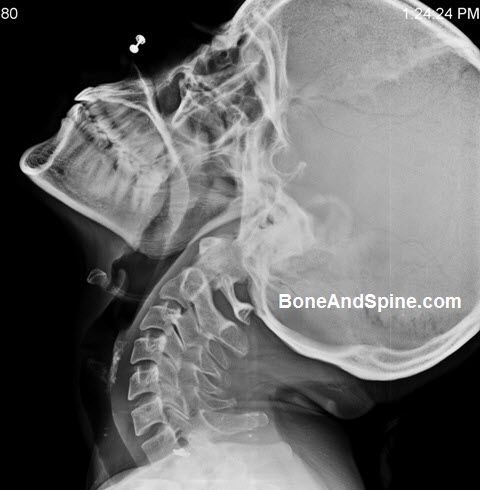 The x-ray above and below are of 38 years old lady who suffered from chronic neck pain. Her routine x-ray of the cervical spine revealed a kyphotic deformity at C4-C5 level. Flexion-extension x-rays of cervical spine views were done. While the deformity got corrected in extension view, it got exaggerated in the flexion suggesting dynamic instability. [Images above and below]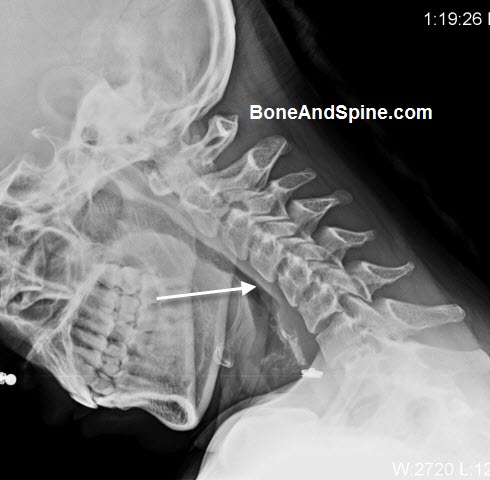 When Flexion Extension Xrays of Cervical Spine are Done?
Flexion-extension x-rays of the cervical spine are done when initial investigations suggest near the normal spine or reveal a deformity which needs to be determined as fixed or correctable. Flexion-extension x-rays of the cervical spine are also done when there is enough evidence to suggest instability.
The problem can be as a result of trauma or some other disease. In trauma, however, flexion-extension x-rays of the cervical spine are usually contraindicated for patients with known acute cervical spine fractures and dislocations.  They are deferred until a patient has documented the absence of cognitive impairment, has overcome the acute post-injury state and has no obvious signs of spinal trauma.
In fact, better imaging modalities like CT or MRI obviate the need for flexion-extension X-rays of the cervical spine in cases of patients with trauma.
Get more on Musculoskeletal Health

in your inbox
Subscribe to our Newsletter and get updates delivered to your email inbox.
Thank you for subscribing.
Something went wrong.