Fracture reduction treatment has evolved from its earlier days and now includes many modalities. This article describes the basic terms of reduction and fixation.
Closed Reduction
Closed reduction of the fracture means reducing the fracture fragments into acceptable anatomical position. After reduction has been achieved by manipulation and maneuvers, the alignment is generally maintained by plaster cast or implant.
Open Reduction
This means the fracture fragments are surgically opened, accessed and reduced. This opens the fracture hematoma and therefore term open is used for this kind of reduction.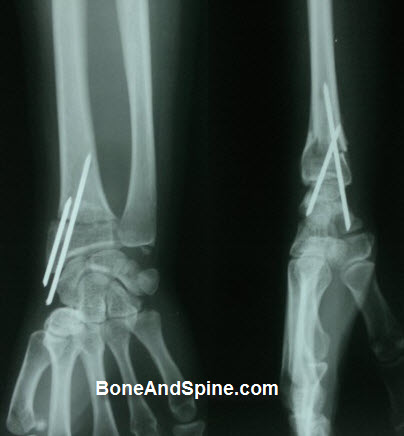 Internal Fixation
It is a type of fracture fixation where the fragments are fixed by a gadget that is buried beneath the soft tissues and is not visible externally. Plating is a type of internal fixation.
External Fixation
In this kind of fixation, the fixing gadget is outside the soft tissue envelope and is visible to the naked eye. A tubular external fixator or Ilizarov external fixator is a type of external fixator.
Open Reduction and Internal Fixation
This term is used when reduction of the fracture is done by surgically exposing the fracture and then fixing the fracture with the required gadget. A compression plating is a typical example of open reduction and internal fixation.
Closed Fracture Reduction and Internal Fixation
This term is easier to understand if we understand the fact that the terms open or closed fracture reduction is in relation to the exposure of the fracture site.
So if a fracture can be reduced by manipulation and a gadget can be introduced and fixed without disturbing the fracture site, it would be called closed reduction and internal fixation.
Closed reduction because the fracture site was not opened to reduce the fracture and internal fixation because the gadget is buried under the soft tissue coverage.
This has been made possible by use of image intensifier which allows a view of structures during surgery.
A closed interlock nail is an example of closed reduction and internal fixation.