« Back to Glossary Index
A plica is a fold of synovial membrane found most commonly in the anteromedial aspect of the knee. Plica are thought to be the remnants of embryonic connective tissue that failed to fully resorb during fetal development.
Plica are present in about 50% of the population and are mostly asymptomatic.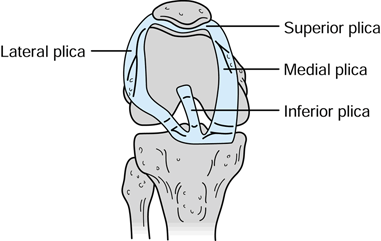 Knee potentially can have up to four plicae and it is the medial plica that is most likely to be symptomatic. Medial plica runs parallel to medial side of patella just below medial retinaculum. It inserts into infrapatellar fat pad.
You can read more about plica at Anatomy of Plica
« Back to Glossary Index