A heel spur is a small bony outgrowth or osteophyte on the underside of the heel. The heel spur is generally seen in middle-aged persons but can be found in other age groups too.
The heel spur is commonly believed to be a cause of heel pain which is not true as heel spur is commonly found in persons who don't have any heel pain. It is the related condition called plantar fasciitis which causes the pain.
Many people have bone spurs without ever knowing it. Because heel spur is present on x-ray in many cases of plantar fasciitis, attribution has been wrongly assigned.
Plantar fasciitis or fascioisis, is the reason for pain and degeneration. It is the associated is the reason for heel spur too.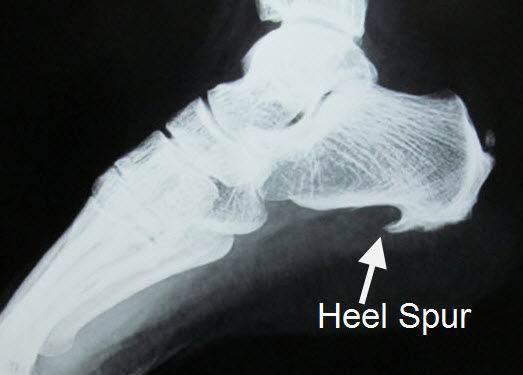 Most commonly, a heel spur is found in the inferior region of the calcaneum. Some spurs are also found in the posterior aspect of the calcaneum.
How does Heel Spur Form?
The heel spur is as a result of abnormal stresses and not the cause of stress across the plantar fascia, which is a connective tissue connecting the heel and ball of the foot. Presence of heel spur indicates the presence of stresses for more than six months.
Excessive walking, running or jumping, poorly fitting footwear are the common causes of formation of spur and runners and other players, persons with flat feet, pregnant women, obese persons, people who wear high heels are at risk of prone to developing spurs (and plantar fasciitis).
What are the Symptoms of Heel spur?
Heel spur on its own do not produce symptoms. Very large bone spurs can be thought of causing pressure effect on neighboring structures and cause pain but it is extremely rare.
The symptoms are due to plantar fasciitis and are related to tightening and inflammatory and degenerative changes. Early morning pain with the first few steps is the classical symptom. Walking around for a while often helps reduce the pain, turning it into a dull ache. However, sports, running or walking long distance makes the condition worse.
Pain becomes worse on walking on the forefoot.
Treatment of Heel Spur
It is important to understand that the heel spur is not the cause of the problem. Instead is one of the manifestations of the problem.
Therefore the spur does not need the treatment.
In symptomatic cases, the treatment is aimed at plantar fasciitis which involves rest, ice packs, NSAIDs, change of footwear, splints and stretch exercises.
For more on plantar fasciitis and its treatment please go to the following article.
Plantar Fasciitis – Causes and Treatment