Hyperextension cast or hyperextension body cast is applied with patient's vertebral column in the position of hyperextension. Hyperextension cast extends from symphysis pubis to suprasternal notch in the front and from tip of coccyx to scapulae behind. This is done so as to prevent the even smallest degree of forwarding flexion of the spine.
Hyperextension has more of historical value than any active therapeutic. In the past, it was used to treat compression fractures of the spine or in some cases surgery of the spine.
In modern medical treatment, hyperextension cast has very limited usefulness.
How to Apply Hyperextension Cast?
The hyperextension cast was usually used in the nonoperative treatment of some compression and stable burst fractures. It is performed via the following steps
1. The patient is placed on a modified fracture table as shown in the figure. All the standard measures should be followed while shifting a fracture spine patient.
2. The patient is suspended on a narrow, midline, taut canvas support. The arms should be to the side, knees flexed, and feet resting on the support to give the patient a sense of balance.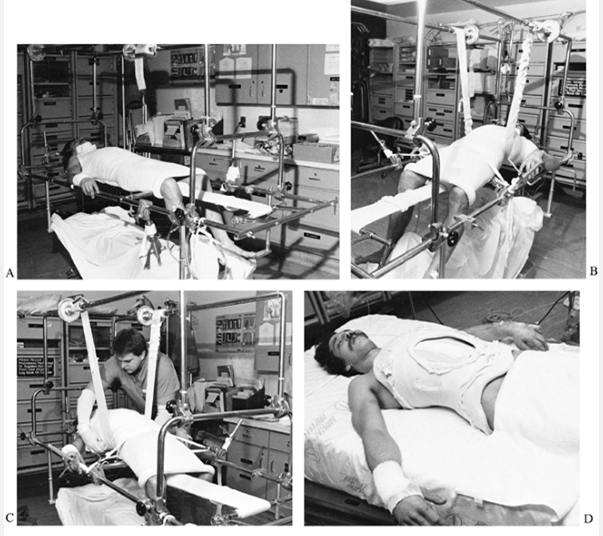 3. Hyperextension is achieved at the fracture site by applying a vertically directed force that will achieve.
4. Once maximum hyperextension is achieved, relax the horizontal canvas support and place additional traction on the iliac crests.
5. After satisfactorily positioning the patient on the table, wrap the torso with soft padding
6. Pad the bony prominences additionally with foam and apply the cast.
7. Make a large anterior abdominal hole.
Following image shows the posterior extent.
Check radiographs should be obtained and reduction should be checked for.
The patient can be allowed to ambulate if satisfactory alignment has been achieved.
Following video does not demonstrate step by step application of hyperextension cast but gives a good idea about the procedure.
The video also shows patient ambulating after the cast.
Attribution
Image Credit Chapman's operative orthopaedics, 2nd ed. Philadelphia: JB Lippincott Co., 2001