Ischial bursitis or ischiogluteal bursitis is inflammation of ischiogluteal bursa and is a cause of pain in the buttock. Ischiogluteal bursa is located between the ischial tuberosity and tendon of hamstring muscles at ischial tuberosity.
Hamstring muscles during activity produce tension to the hamstring tendon causing friction on the ischiogluteal bursa. During sitting the weight is borne by ischial tuberosity and this also puts pressure on the bursa. Ischial bursitis is also known as Weaver's bottom and is a rare condition.
Relevant Anatomy
The Ischial bursa is a deep located bursa over the bony prominence of the ischium and lies between the inferior part of the gluteus maximus and posteroinferior part of the ischial tuberosity. It also lies medial to the common tendon of the hamstrings muscles.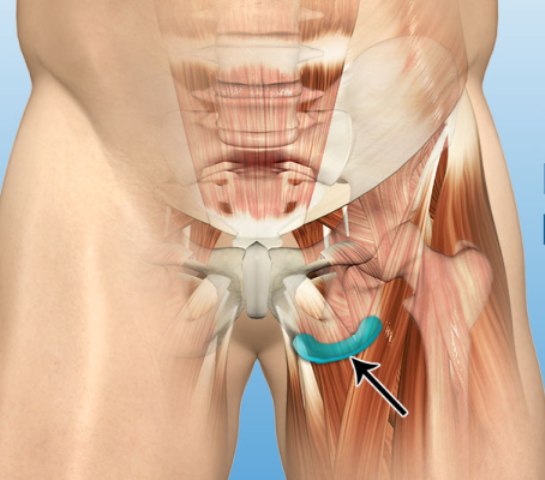 Hamstring muscles take origin from the inferolateral surface of the ischial tuberosity, cross the hip and knee to insert on upper tibia and fibula. The hamstring muscles namely are semimembranosus, semitendinosus, and rectus femoris.
Their function is to cause knee flexion and straightening the hip.
Causes of Ischiogluteal or Ischial bursitis
Injury or trauma, infection or crystal deposits are three major causes of bursitis. Trauma could be acute or repetitive. In the case of ischiogluteal bursa, repetitive injury caused by constant posture or prolonged activities is the major cause. Following causes are known to be associated with ischial bursitis.
Prolonged sitting on hard surfaces
Running, jumping or kicking activities [strains hamstring]
Direct trauma
Contributing factors
Apart from the direct causes mentioned above, there could be some factors which may contribute to the occurrence of ischial bursitis. In presence of these factors, one becomes more prone to develop the condition.
These are
Hip joint stiffness
Tight or weak hamstrings and/or gluteal muscles
Training issues

Inappropriate training
Excessive training
Inadequate warm up and stretch

Leg length discrepancy
A weakness of core muscles
Presentation of Ischial or Ischiogluteal Bursitis
Patients with ischiogluteal bursitis typically experience pain in the lower buttock. Some patients complaint sensation of warmth. The cases with less severity may complain of ache or stiffness in the buttock that increases with activities like sitting on hard surfaces, walking, running, jumping, kicking or climbing stairs, hill running, bending forwards and standing on tiptoes. The pain may sometimes radiate to the thigh or lower leg.
As the condition progresses, patients may experience sharper or more severe symptoms.
The patient also may complain of inability to sleep on the affected hip, inability to use the affected limb to its full capacity due to pain and limited mobility.
The pain is worse when sitting or lying on the back than standing.
On examination, there is tenderness on the ischial prominence. A soft tissue mass in the gluteal region which is non-mobile and tender may be palpable.
Active resisted hamstring movements also reproduce pain. Flexion and extension of the hip may be painful.-
Differential Diagnoses
Hamstring tendonitis
Pigmented villonodular synovitis
Synovial chondromatosis
Synovial hemangioma
Lipoma
Synovial sarcoma.
Lab Studies
Not required generally. Maybe needed to rule out infection
Imaging
Xrays could be entirely normal or may reveal calcification of bursa and other structures suggesting chronic inflammation.
MRI is able to tell the anatomy better and shows fluid-filled sac.
Treatment of Ischial Bursitis
Rest and Activity Modification
The treatment begins with rest. Rest in the meaning of keep on doing your daily activities and sporting but at a lower intensity. The recommendation is to stay within your pain threshold.
Ice
Ice application with cold packs is done about 3-4 times a day for 15-20 minutes per sitting. Ice application reduces inflammation.
Drugs
NSAIDs are used to control the inflammation and they reduce pain and swelling.
Intrabursal corticosteroid injection involves direct instillation of the steroid drug in the lesion. Steroids are potent anti-inflammatory agents and work to decrease the inflammation.
Physiotherapy
Physiotherapy treatment works towards the correction of abnormal biomechanics. Soft tissue massage, Ultrasound therapy are useful adjuncts to the treatment.
Exercises
Stretching exercises are used in the rehabilitation period to increase the flexibility of tight hamstrings muscle and thus reducing pressure on the bursa.
Following stretch-exercises are included in therapy
Gluteus stretch
Piriformis stretch
Hamstring stretch
These are followed by strengthening exercises including a strengthening of core muscles strengthening exercises.