Iselin disease is osteochondrosis or epiphysitis of the base of the fifth metatarsal. It is also known as traction apophysitis or epiphysitis of the fifth metatarsal base.
It was described by Iselin in 1912 as occurring in young adolescents at the time of appearance of the proximal epiphysis [growth plate] of the fifth metatarsal.
The affected epiphysis is a small, shell-shaped fleck of bone is located on the lateral plantar aspect of the tuberosity of the fifth metatarsal. It is not visible on anteroposterior or lateral radiographs and can be seen in the oblique view.
Peroneus brevis muscle insertion is in the vicinity of this epiphysis.
The epiphysis appears in girls at about age 10 years and in boys at about age 12 years and is fused about 2 years later.
Pathophysiology of Iselin Disease
Iselin disease is thought to be due to overuse injury repetitive pressure during athletic activities and the traction by the inserted muscle is thought to contribute to the pathophysiology.
The disease is very rare. Till 1999 only nine known cases of this conditions were reported.
It is thought that misdiagnosis might have contributed to the rarity.
With the growth of organized sports especially in younger age groups, overuse injuries are becoming more frequent.
The traction apophyses of the fifth metatarsal, a site of active growth might be injured as a result of either a single episode of macrotrauma or from repetitive microtrauma.
This might result in pain, swelling, and occasional bony and cartilaginous overgrowths referred to as apophysitis.
In addition, rapid growth periods in a child or adolescent can cause muscle-tendon tightness and can lead to a potential for tiny avulsion fractures at the weak apophyseal growth cartilage. When this occurs at the bases of the fifth metatarsal, Iselin Disease occurs.
Presentation and Diagnosis
Pain at the outer aspect of the foot that worsen with activity is the usual presentation. There is a visible prominence of the proximal part of the fifth metatarsal. Weight-bearing produces pain over the lateral aspect of the foot.
The affected area over the tuberosity is larger on the involved side, with soft-tissue edema and local erythema.
On palpation the area is tender. Resisted eversion, extreme plantar flexion, and dorsiflexion of the foot cause pain.
The diagnosis of Iselin Disease should be considered in adolescents presenting who are active in sports and present with symptoms.
Differential diagnoses are Jones' fracture [fracture of base of the fifth metatarsal, stress fractures of the fifth metatarsal]
Imaging in Iselin Disease
Xrays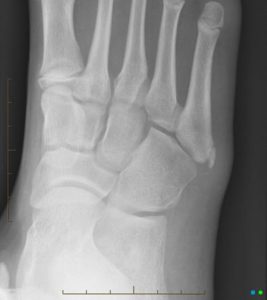 Routine foot x-rays include AP, lateral and oblique views. In Iselin disease, oblique radiographs show enlargement and often fragmentation of the epiphysis and widening of the cartilaginous-osseous junction.
On x-rays, a normal variant which appears as a small fleck of bone that is oblique to the fifth metatarsal shaft and on the lateral aspect of the tuberosity is found in most children. However, there would not have any clinical symptoms.
For diagnosis of Iselin disease, the radiographic finding must correlate with clinical symptoms
On x-rays, in addition to above-mentioned differentials, another entity that needs to be diagnosed is Os Vesalianum, an accessory bone found proximal to the base of the fifth metatarsal.
There would be an absence of symptoms in Os Vesalianum.
Bone Scan
Technetium-99m bone scanning shows increased uptake over the epiphysis.
Treatment of Iselin Disease
The treatment of Iselin disease ranges from conservative to operative.
Rest to part, Ice fomentation help in decreasing inflammation in mild cases. If tenderness and inflammation do not resolve, oral nonsteroidal anti-inflammatories (NSAIDs) can be added.
If symptoms return on discontinuation of medication, or symptoms are moderate to severe, immobi­lization with air cast or plaster cast may be used and the patient is kept nonweight bearing. After 2-4 weeks a range of motion exercises can be initiated.
If conservative treatment fails, there is a risk of fragment going into nonunion and surgical intervention like resection of the fragment or fixation at the nonunion site.
Excision is recommended only if the excised bone does not interfere with the function of the peroneus brevis tendon or stability of gait
Return to sports activity should be gradual and supervised.
Image credits: For both images orthobullets.com
Get more stuff on Musculoskeltal Health
Subscribe to our Newsletter and get latest publications on Musculoskeletal Health your email inbox.
Thank you for subscribing.