Kirschner wire or K wire was invented by Martin Kirschner in 1909. They have a great role in the management of orthopedic trauma and correction of deformities. Kirschner wire is also known as K pin.
Kirschner wire is sharpened, smooth stainless steel pins available in different diameters and lengths.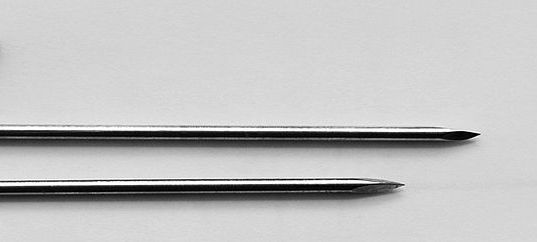 They are used both in the surgical and conservative management of fractures. In surgery, they are either used to hold the fracture fragments temporarily before the definitive implant is put or are used for definitive treatment o fractures too.
These wires can be drilled through the bone to hold the fragments in place. Kirschner wire comes in different sizes, and as it increases in size, it becomes less flexible.
One of the advantages of k wire is easy percutaneous placement. That means the bone can be reached without exposing with a surgical incision.
Most of the K wires are smooth but threaded Kirschner wire(Has threads at one end) is also manufactured. They are used when there is a danger of undesirable back out. These threaded pins are weaker though.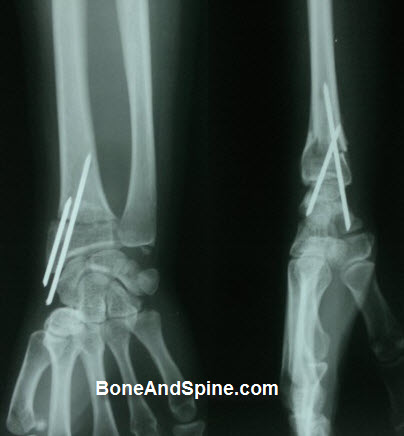 Potential Problems With Kirschner Wire
Pin Tract Infection
Kirschner Wire often passes through the skin into bone and thus form a potential passage for bacteria from the skin to migrate into the bone and cause an infection.
In such cases, the area around the pin becomes red and swollen and may start to drain pus. Usually, this infection clears up after removal of the pin.
Breakage or Bending

K wires may bend or break, especially if the fracture does not heal.
Loss of fixation or Backing Out
Smooth K wire may back out of the bone losing the fixation.
Migration
K wires can migrate forward instead of backing out. This has the potential to cause injury to vital structures. For example, Kirschner wire placed in clavicle bone has been found in the thorax.