Last Updated on June 18, 2023
Kirschner wire or K wire was invented by Martin Kirschner in 1909. They have a great role in the management of orthopedic trauma and the correction of deformities. Kirschner wire is also known as K pin.
Kirschner wires are pointed stainless steel wires that can be used in multiple roles during internal fixation.
These can be
Temporary alignment of fracture fragments before definitive fixation is carried
Definitive fixation especially in smaller bones and fractures of children
In combination with other forms of fixations like plates and screws for complex fractures.
To assist traction setup in smaller bone fractures where conservative treatment is chosen
As a guide for other implants like cannulated screws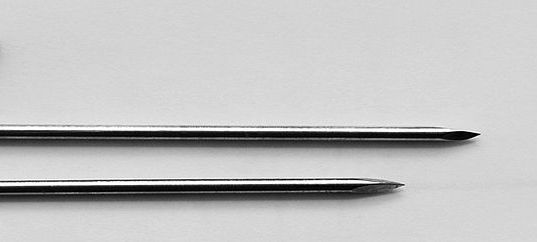 K wires can be drilled through the bone to hold the fragments in place. They come in different sizes, and as it increases in thickness, it becomes less flexible.
One of the advantages of k wire is easy percutaneous placement. That means the bone can be reached without exposing with a surgical incision.
Most of the K wires are smooth but threaded Kirschner wire (which has threads at one end) is also manufactured. They are used when there is a danger of undesirable backout due to bone quality. These threaded pins are weaker though.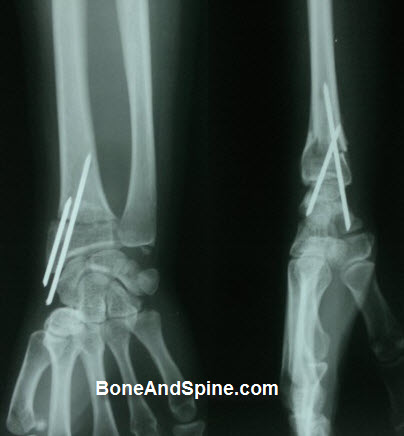 Indications for Use
Fractures in epiphysis
Fractures of metaphyseal region
Fractures of small bones like hand and foot
As additional fixation aid in complex fractures
Principles of Use of Kirschner Wires
Size
Proper size should be chosen for the given bone and fragment. A phalanx fracture requires thinner wire whereas a distal radius fracture requires a thicker one. A younger child requires a smaller size wire.
Factors that affect size of the wire are
Patient age and weight

1.6 mm for fractures around shoulder, elbow and knee and ankle in children less than 6 years

Location of the fracture

Metaphyses – 1.6 mm
Smaller bones – 1-1.6 mm
AN increased number of Kwires may compensate sightly to the smaller size [for example, if two larger wires are used, three may be needed in case of smaller wires

Size of the fragment

Smaller fragments may be tackled with smaller wires whereas larger ones need large wire fixation.

K-wire trajectory

Parallel wires need to be thicker than the ones that cross [see below] and fix.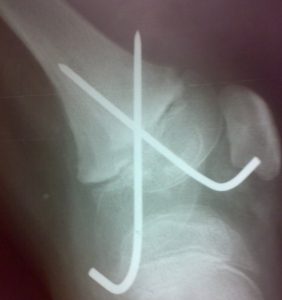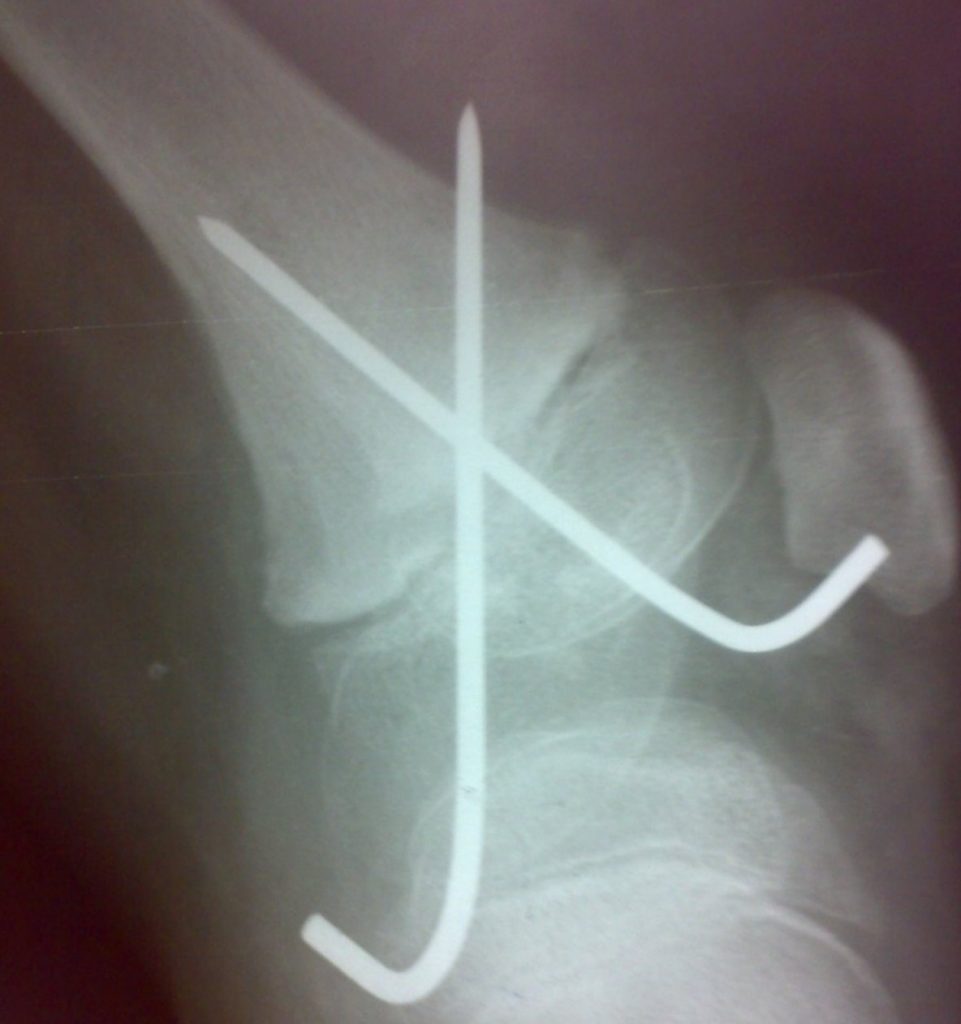 The procedure of Kirschner wire Insertion
Entry and exit points [if required] are crucial and key to optimal fixation. 2-3 wires are sufficient for most simple fractures. As the wires are not very strong implants and the main aim is to keep the fracture aligned, most of the cases require external support in the form of plaster or brace.
Entry Point
The K-wire is most often inserted from the free fragment into the main fragment. This also provides the advantage of using it as a joystick to manipulate and align the free fragment.
In some cases like the proximal shaft of humerus fracture, the wires are inserted from a distal larger fragment to a proximal smaller fragment.
The K-wires entry should be planned in such a way that they cross the fracture site as far as maximum as feasible from each other. This provides better rotational stability.
Ideally, the wires should be perpendicular to the fracture site but this may always be not attainable.
A crossed K-wire assembly may also not be always feasible, especially in oblique fractures. Here, divergent Kwires from a single side insertion [as compared to crossed one where these are inserted from either side] is a good assembly.
Insertion of Kirschner wire
A small stab is given on the desired entry level
K-wire is loaded over a hand drill or oscillating drill ideally but a standard drill can be used with slow rotation.
A drill sleeve may be used to prevent misdirection and bending of the wire.
The wires should not protrude too long out from the drill otherwise whipping of wire can occur and trajectory may be lost
It is a good idea to make a perpendicular shallow purchase first on the surface before the wire is directed in the intended direction. This avoids skidding of the wire.
The wire is drilled while bony resistance is felt. If not the wire may be soft tissue.
The direction and fracture reduction can be checked under image intensifier
When an increased resistance is felt, it indicates the wire is in far cortex of the bone. The far cortex may be pierced but the wire should not protrude more than 2-3 mm
The free end on the insertion site is bent 180 degrees and the extra length is cut.
The end is left protruding from the skin and dressed with soft gauze
Potential Problems with Kirschner Wire
Pin Tract Infection
Kirschner Wire often passes through the skin into the bone and thus forms a potential passage for bacteria from the skin to migrate into the bone and cause an infection.
In such cases, the area around the pin becomes red and swollen and may start to drain pus. Usually, this infection clears up after the removal of the pin.
Breakage or Bending

K wires may bend or break, especially if the fracture does not heal.
Loss of fixation or Backing Out
Smooth K wire may back out of the bone losing the fixation.
Migration
K wires can migrate forward instead of backing out. This has the potential to cause injury to vital structures. For example, Kirschner wire placed in clavicle bone has been found in the thorax.
Kirschner Wire Removal
K-wire is a temporary device and needs to be removed at the appropriate time. That is generally 3-4 weeks though individual variations may occur.
For K-wire removal, after cleaning the insertion site, the K-wire is grabbed with a suitable plyer and just pulled.
Suitable sedation may be used in anxious children.
If the K-wire is buried under the skin, an incision needs to be made to locate the K-wire. This might require short anesthesia.
References
Hsu LP, Schwartz EG, Kalainov DM, et al. Complications of K-wire fixation in procedures involving the hand and wrist. J Hand Surg Am. 2011;36:610–616. [Link]
Das De S, Bae DS, Waters PM. Displaced humeral lateral condyle fractures in children: should we bury the pins? J Pediatr Orthop. 2012;32:573–578. [Link]