Last Updated on August 2, 2019
Lateral patellar compression syndrome is a disorder where there is an overload and increased pressure on the lateral facet of the patella due to tight lateral soft-tissue restraints. This results in the improper tracking of the patella and leads to excessive lateral tilt without excessive patellar mobility
Earlier it was known as patellar compression syndrome or excessive lateral pressure syndrome.
It causes anterior knee pain that limits daily functional activities because of constant pain.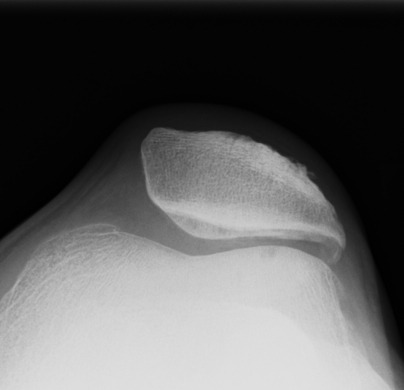 Because contact pressure over the lateral patellar facet is increased as knee flexion progresses, a more specific term to identify the pathologic process would be lateral pressure in the flexion.
Triad of femoral anteversion, genu valgum, and external tibial torsion / pronated feet leads to increased Q angle and an exacerbation of patellofemoral dysplasia.
[Read about knee anatomy]
Pathophysiology of Lateral Patellar Compression Syndrome
In a normal knee, medial and lateral forces are balanced, and the patella glides appropriately in the femoral trochlea. Alteration in this mediolateral balance may lead to lead to pain and instability.
The patella lies laterally with the knee extended, but in early flexion, the patella moves medially as it engages in the trochlea. As the knee continues to flex, the patella flexes and translates distally.
By 45°, the patella is fully engaged in the trochlear groove. With deeper flexion, the patella moves laterally as progressive increases in patellofemoral joint contact area with greater lateral facet contact area compared with the medial facet contact area at each knee flexion angle.
In addition to the tight lateral retinaculum, the position of the tibial tubercle contributes to overloading the cartilage on the lateral facet of the patella and result in pain.
Excessive lateralization of the tibial tubercle may make lateral retinacular release ineffective, and a tibial tubercle osteotomy is performed
Clinical Presentation
The usual presentation is f constant anterior knee pain localized to the inferomedial patella and anteromedial joint line. There is a complaint of pain on climbing the stairs stair climbing and on sitting for long periods of time [called theater sign]
Knee extension is painful and limited. Focal tenderness is present at the inferomedial patella and/or the anteromedial joint line.
On examination, there is no effusion or crepitus, and the patella is stable in both flexion and extension.
The patient is examined under anesthesia to verify the diagnosis of lateral patellar pressure in flexion.
There is a pain with compression of the patella. Lateral facet tenderness could be seen.
The clinician would not be able to inability to evert the lateral edge of the patella.
Test for Lateral Patellar Compression Syndrome
With the patient in the seated position, the patient is asked to move his leg through the range of motion. Pain will limit extension and will increase as the knee approaches 90° of flexion.
Now, the examiner pushes the patella medially in an attempt to center it. This maneuver provides immediate relief of the inferomedial patellar and anteromedial joint line pain by reducing tension on the medial patellotibial ligament.
With centering of the patella, full extension is usually possible. A greater pain-free arc of motion, particularly in extension, suggests lateral Patellar Compression Syndrome is likely.
Lab Studies
Not required for diagnosis.
Radiographs
Patellar tilt is observed in the lateral direction
Treatment of Lateral Patellar Compression Syndrome
Non-operative measures are the mainstay of the treatment. It consists of
NSAIDs
Activity modification
Physical therapy

Vastus medialis strengthening
Quadriceps exercises
Operative treatment is indicated in pain refractory to extensive rehabilitation.
The surgical option can be either arthroscopic release of lateral retinaculum or patellar realignment surgery. Combination of both can be used in selected cases.
The arthroscopic release is indicated
There is objective evidence of lateral tilting
Inability to evert the lateral edge of the patella
Medial patellar glide is less than one quadrant
The lateral patellar glide of fewer than three quadrants
Patellar realignment surgery
This involves tibial tubercle anteriorization or/and medialization). It is indicated in lateral and distal pole lesions and increased Q angle
References
Chen Y.-J., Powers C.M. The dynamic quadriceps angle: A comparison of persons with and without patellofemoral pain. J Orthop Sports Phys Ther. 2010;40:A24–A25.
Ramappa A.J., Apreleva M., Harrold F.R., Fitzgibbons P.G., Wilson D.R., Gill T.J. The effects of medialization and anteromedialization of the tibial tubercle on patellofemoral mechanics and kinematics. Am J Sports Med. 2006;34:749–756.
Elias J.J., Kilambi S., Goerke D.R., Cosgarea A.J. Improving vastus medialis obliquus function reduces pressure applied to lateral patellofemoral cartilage. J Orthop Res. 2009;27:578–583.
Saranathan A., Kirkpatrick M.S., Mani S. The effect of tibial tuberosity realignment procedures on the patellofemoral pressure distribution. Knee Surg Sports Traumatol Arthrosc. 2011;20:2054–2061.
Sanchis-Alfonso V. Springer; London: 2006. Anterior knee pain and patellar instability.
Post W.R. Anterior knee pain: Diagnosis and treatment. J Am Acad Orthop Surg. 2005;13:534–543.
Larson R.L., Cabaud H.E., Slocum D.B., James S.L., Keenan T., Hutchinson T. The patellar compression syndrome: Surgical treatment by lateral retinacular release. Clin Orthop Relat Res. 1978;134:158–167.
Fulkerson J.P. Patellofemoral pain disorders: Evaluation and management. J Am Acad Orthop Surg. 1994;2:124–132.
Bentley G., Dowd G. Current concepts of etiology and treatment of chondromalacia patellae. Clin Orthop Relat Res. 1984;189:209–228.