Legg Calve Perthes disease is an idiopathic avascular necrosis of the proximal femoral epiphysis in children resulting from compromise of the tenuous blood supply to this area.
Legg Calve Perthes disease usually occurs in children aged 4-10 years. Mean age is 7 years. Mostly, the disorder is unilateral.
It affects 1 in 10,000 children with a male to female ratio being 5:1. The disease is more commonly seen in less densely populated areas and lower socioeconomic class
Both hips are involved in fewer than 10% of cases in a successive manner. That means both hips are never at the same stage of disease)
The condition is also known by names like coxa plana, Legg-Perthes' disease, Perthes disease, osteochondritis deformans coxa juvenilis, and pseudocoxalgia.
Risk factors
Risk factors for Legg Calve Perthes disease are
Positive family history
Low birth weight
Abnormal birth presentation
Second-hand smoke
Asian, and Central European descent
Pathophysiology of Legg Calve Perthes Disease

The cause is not yet established but appears to be multifactorial. Following factors could be responsible
Disruption in Blood Supply
Disruption in vascular supply with subsequent revascularization
Thrombophilia has been reported to be present in 50% of patients
Trauma/Overload (multiple-infarction theory)
Repetitive trauma or overload
Epiphyseal bone resorption, collapse, and the effect of subsequent repair
Basically, there is a compromise of the blood supply of the secondary ossification centers in the epiphyses, resulting in necrosis, removal of the necrotic tissue, and its replacement with new bone.
Sometimes the bone replacement is complete resulting in normal bone.
The adequacy of bone replacement depends on
Age of the patient
Presence of associated infection
Joint congruity and other physiomechanical factors.
Children with Legg Calve Perthes Disease have been noted to have following associations
Maternal active/ passive smoking
ADHD [33%]
Delayed bone age [noted in about 90%]
Disproportionate growth
Mild shortening of the stature
Legg Calve Perthes disease can also result in following conditions of the hip
Slipped capital femoral epiphysis
Trauma
Steroid use
Sickle-cell crisis
Congenital dislocation of the hip.
Pathological Changes Observed in Legg Calve Perthes Disease
Normally, the growth plate receives its nutrition from vessels on its epiphyseal side. Interruption of these vessels causes infarction with necrosis of the proliferative zone of the growth plate.
Ossification of the metaphysis is interrupted and so the plate becomes thinner. Metaphyseal changes of widening and 'cyst' formation are seen commonly.
Bone resorption and trabecular fragmentation is seen in the apex of the head.
The articular cartilage shows increased thickness early in the disease because the deeper layer which ultimately forms the epiphyseal bone is deprived of its nutrition. The superficial layer, nourished from the synovial fluid, remains alive and thus appears relatively thick. The death of this deepest zone is not usually complete because recovery occurs and the head continues to grow subsequently.
Changes in adjoining structures
Neck of the femur
Deformity of the neck can develop very early in the disease
Upper part of the neck is expanded
Metaphyseal end becomes rounded off.
Shortening
Acetabulum
Increased distance between the medial pole of the head and the floor of the socket.
Shadows of the head and the ischial bone longer leave a gap between them
Ligamentum is swollen and congested.
Acetabular floor loses the usual contour and adapts to the shape of the head. It is a late sign
Classification of Legg-Calves-Perthes Disease
Waldenström Stages
Initial
Infarction produces a smaller, sclerotic epiphysis with medial joint space widening
Radiographs may remain normal for 3 to 6 mos
Fragmentation
Femoral head appears to fragment or dissolve

Revascularization process and bone resorption produces collapse and subsequent increased density

Hip related symptoms are most prevalent
Herring's Lateral pillar classification based on this stage
Reossification
Ossific nucleus undergoes reossification as new bone appears as necrotic bone is resorbed
May last up to 18 months
Healing or remodeling
Femoral head remodels until skeletal maturity
Begins once ossific nucleus is completely reossified trabecular patterns returns
Lateral Pillar Classification of Herring

Determined at the beginning of the fragmentation stage usually after 6 months after the onset of symptoms. It is based on the height of the lateral pillar of the capital femoral epiphysis on AP view of x-ray of the pelvis. It has the best interobserver agreement and provides good prognostic information.
However, the classification is limited to the fragmentation stage and cannot be applied in a patient who is yet to enter the stage of fragmentation.
A
Lateral pillar maintains full height
No density changes identified
uniformly good outcome
B
>50% height
Poor outcome in the patient of age > 6 years
B/C Border
Lateral pillar is narrowed (2-3mm)
or poorly ossified with approximately 50% height
Group C
<50% of lateral pillar height is maintained
poor outcome
Catterall Classification
It is based on the degree of head involvement as seen on x-ray
I
Involvement of the anterior epiphysis only
II
Involvement of the anterior epiphysis with a clear sequestrum
III
Only a small part of the epiphysis is not involved
IV
Total head involvement
Head at-risk signs
These indicate a more severe course of the disease
Gage sign

V-shaped radiolucency in the lateral portion of the epiphysis and/or adjacent metaphysis

Calcification lateral to the epiphysis
Lateral subluxation of the femoral head
Horizontal proximal femoral physis
Metaphyseal cyst
Salter-Thompson classification
It is based on the radiographic crescent sign [which represent a fracture]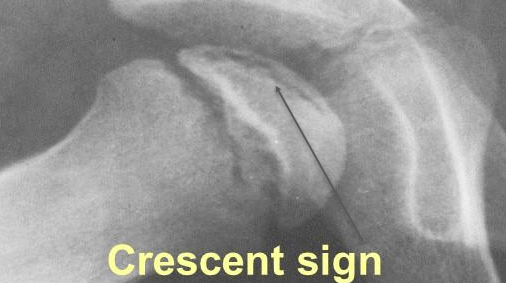 A
Crescent sign involves < 1/2 of the femoral head
B
Crescent sign involves > 1/2 of femoral head [as in the picture above]
Clinical Presentation of Legg Calve Perthes Disease
The earliest sign of Legg Calve Perthes disease is limp, also called abductor lurch, especially after exertion. The limp could be painless or there could be mild or intermittent pain in the anterior part of the thigh.
There may intermittent period without limp. The pain sometimes may be felt in the knee also.
Sometimes the patients are discovered incidentally at x-ray examination for some other reason.
On examination, the hip motion is limited. Internal rotation is often markedly limited. It is accompanied by hip flexion contracture.
There is sometimes tenderness, both anteriorly and posteriorly over the hip joint area.
Thigh may reveal atrophy, and buttock atrophy may be apparent.
Limb length discrepancy is a late finding.
Differential Diagnoses
osteomyelitis
pyogenic arthritis
Transient synovitis
Psoas abscess
juvenile rheumatoid arthritis
hemophilia
slipped capital femoral epiphysis
Radiographic differential diagnosis
multiple epiphyseal dysplasia
spondyloepiphyseal dysplasia
sickle cell disease
Gaucher disease
hypothyroidism
Meyers dysplasia
Laboratory Studies
Complete blood count
Differential and measurement
Erythrocyte sedimentation rate
Findings may be normal.
Imaging
X-rays
AP of pelvis and frog leg laterals
Early findings [1-2 weeks]
Effusion of the joint
medial joint space widening
Metaphyseal demineralization (decreased bone density around the joint),
Periarticular swelling (bulging capsule).
Advanced Disease [3-8 weeks]
the joint space between the ossified head and acetabulum widens
Narrowing or collapse of the femoral head causes it to appear widened and flattened (coxa plana).
Varus deformity of the femoral neck

Damage to the femoral head growth center
Overgrowth of the greater trochanteric apophysis.

the irregularity of femoral head ossification
Crescent sign (represents a subchondral fracture)
Late Signs [12-40 months]
Collapse of the femoral head
Increase in the width of the neck,
demineralization of the femoral head. The final shape of this area depends on the extent of necrosis and the degree of collapse. All of the findings are correlated with disease progression and the extent of necrosis. This is the active phase, and it can last 12-40 months.
Another x-ray of Perthes disease with advanced features. First AP view
Here is the lateral view
Bone scan
Can confirm a suspected case
Decreased uptake can predate changes on radiographs
Contrast-enhanced MRI
Early diagnosis
More sensitive
Treatment of Legg Calve Perthes Disease
Nonoperative Treatment
Goals of the treatment are
Eliminate hip irritability
Good range of motion in the hip
Prevent femoral epiphyseal collapse
Attain a spherical femoral head when the hip heals
Therapy includes
Minimal weight bearing
Protection of the joint by containment of the head

Keep femur abducted and internally rotated
Braces can be used if needed
Limits deformity and minimizes loss of sphericity
Lessen subsequent degenerative changes

Drugs for pain as needed
Periodic clinical and radiographic follow-up until completion of the disease process
Physical therapy (Range of Motion exercises)
Indications for nonoperative treatment are
< 8 years of age
Lateral pillar A type disease
About 60% of the cases would not require operative intervention. Good outcomes are achieved by nonoperative treatment in cases of lateral pillar A and Catterall I groups [see classifications].
Operative Treatment
Surgical management typically involves either femoral osteotomy to redirect the involved portion within the acetabulum or innominate osteotomy. The two procedures yield equivalent results, but femoral osteotomy may cause shortening of the limb, leading to a chronic limp.
Femoral and/or pelvic osteotomy
These are considered in children > 8 years of age, especially lateral pillar B and B/C type. Surgery done before femoral head deformity provides best results.
Surgery does not improve outcome in lateral pillar C type disease.
Osteotomies done are
pelvic osteotomy

Salter, triple innominate, Dega or Pemberton osteotomy
Shelf arthroplasty may be added to prevent lateral subluxation and resultant lateral epiphyseal overgrowth

valgus and shelf osteotomies

Indications

Lateral extrusion of the capital femoral epiphysis producing a painful hinge effect on the lateral acetabulum during the abduction

osteotomies

Reposition the hinge segment away from the acetabular margin
Correct shortening
improve abductor mechanism

Shelf or Chiari osteotomies

When the femoral head is no longer containable
Complications
Legg Calve Perthes disease is a is a local self-healing disorder and treatment aims to prevent the following:
Irregular contouring, flattening or mushrooming of the head
Shortening and broadening of the neck
Flattening of the vertical wall of the acetabulum
The development of any of these conditions can result in osteoarthritis at an early age.
Prognosis
The prognosis depends on the severity of involvement, its subsequent healing, and joint space preservation. Overall, the prognosis for recovery and sports participation is very good for most individuals.
Following risk factors may cause worsened prognosis
Older age of onset
Extensive epiphyseal involvement
Reduced range of motion in the hip
Premature closure of the growth plate
Female sex
The long-term prognosis is related to the potential for osteoarthritis of the hip as an adult.
Long-term studies show that most patients do well until the fifth or sixth decade of life in which degenerative changes of the hip become present
Approximately half of the patients develop premature osteoarthritis secondary to an aspherical femoral head.
References
Heesakkers N, van Kempen R, Feith R, Hendriks J, Schreurs W. The long-term prognosis of Legg-Calve-Perthes disease: a historical prospective study with a median follow-up of forty-one years. Int Orthop. 2015 May. 39 (5):859-63.
Poul J. Diagnosis of Legg-Calvé-Perthes disease. Ortop Traumatol Rehabil. 2004 Oct 30. 6(5):604-6.
Canavese F, Dimeglio A. Perthes' disease: prognosis in children under six years of age. J Bone Joint Surg Br. 2008 Jul. 90(7):940-5.
Myers GJ, Mathur K, O'Hara J. Valgus osteotomy: a solution for late presentation of hinge abduction in Legg-Calvé-Perthes disease. J Pediatr Orthop. 2008 Mar. 28(2):169-72.
Zarzycka M, Zarzycki D, Kacki W, Jasiewicz B, Ridan T. Long-term results of conservative treatment in Perthes' disease. Ortop Traumatol Rehabil. 2004 Oct 30. 6(5):595-603.
Karimi MT, McGarry T. A comparison of the effectiveness of surgical and nonsurgical treatment of Legg-calve-Perthes disease: a review of the literature. Adv Orthop. 2012. 2012:490806.