Meniscal cysts are characterized by a local collection of synovial fluid within or adjacent to the meniscus. They could be within the meniscus [perimeniscal cysts] or extend beyond the margins of the meniscus when they are they are termed parameniscal cysts.
Meniscal cysts were first described by Ebner in 1904.
Though there are no studies on the epidemiology in general population, radiological studies [MRI] reports them to be in the range of 1-4 %.
These are most commonly associated with a meniscal tear.
Perimeniscal cysts are small lesions of fluid within the meniscus. There is a conflicting data whether these are more in medial meniscus or in lateral. Some studies quote them to be of equal occurrence in both menisci.
Medial cysts are usually in posterior horn whereas lateral cysts are in anterior horn or mid-portion.
Parameniscal cysts like baker cysts are due to extruded fluid outside the meniscus. These are usually located between semimembranosus and medial head of gastrocnemius.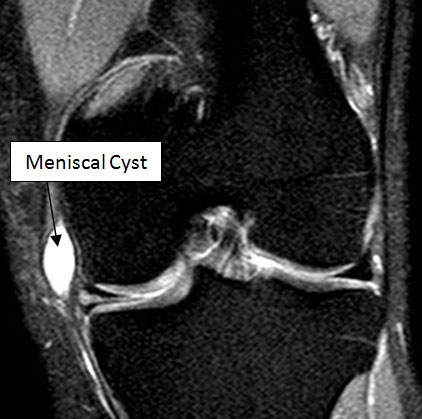 Causes of Meniscal Cysts
Meniscal cysts are often seen with meniscal tears, mainly degenerative. Through association with traumatic meniscus tears is known, associated cysts are uncommon.
Risk factors are
Twisting injuries in which the menisci can be torn
Previous knee injury
Associated knee injury, particularly ligament injuries
Age, in which degenerative meniscus tears increase in frequency
Pathophysiology
There is an injury causing meniscal tear previously. This tear functions as a one-way valve through which synovial fluid extrudes and then concentrates to form a gel-like material.
Horizontal and complex tears usually lead to parameniscal cysts whereas radial or vertical tears usually lead to perimeniscal cysts.
There could be an associated articular cartilage injury or anterior cruciate ligament tear. Discoid meniscus is found to be associated too.
The cyst alone is of little consequence but bigger cyst can cause discomfort.
Relevant Anatomy
The meniscus is a fibroelastic cartilage formed by interlacing network of collagen, proteoglycan, glycoproteins, and cellular elements. It has 65-75% water. Type I collagen dominates [90%]
The medial meniscus is C-shaped with a triangular cross-section whereas the lateral meniscus is more circular in shape
Blood supply of menisci is by medial inferior genicular artery which supplies peripheral 20-30% of medial meniscus, lateral inferior genicular artery which supplies peripheral 10-25% of the lateral meniscus
Central 75% portion of both the menisci receives nutrition through diffusion from synovial fluid.
[Read more about knee anatomy]
Clinical Presentation of Meniscal Cysts
There could be a history of preceding trauma. The patient may be completely asymptomatic and the cyst is found on MRI of the knee for some other reason.
The symptomatic patient may complain of pain localized to medial/lateral joint line or back of the knee. Complaint of locking and clicking may be present.
The patient may give a history of delayed or intermittent knee swelling
The examination would reveal a popliteal mass, best visualized with the knee in extension. Joint line tenderness can be noted.
Lab Studies
Usually not required.
Imaging
X-rays are normal. MRI is the most sensitive diagnostic test for meniscal cyst and meniscal tear. MRI reveals cyst with a bright T2 signal.
Diagnosis is confirmed by MRI, which shows both the cyst and the associated meniscus tear.
Ultrasound can also help to visualize the cyst, and guide aspiration. High-resolution musculoskeletal ultrasound can be highly sensitive and usually shows anechoic or more commonly hypoechoic lesion in keeping with the cystic nature of the lesion.
Diagnostic arthroscopy is an important adjunct to diagnostic workup but MRI is considered a more sensitive investigation
Treatment of Meniscal Cysts
Nonoperative Treatment
If incidental or minimally symptomatic, treatment may require rest, icing and/or anti-inflammatory medicine. This nonoperative treatment is indicated as the first line of treatment for small perimeniscal cysts and parameniscal cysts especially in people with degenerative tears.
Aspiration and steroid injection
The cyst may be aspirated using local anesthetic and a small needle to remove the cysts' contents. Some authors advocate instilling a small amount of steroid into the cyst. Ultrasound-guided needle placement increases the accuracy of the procedure.
Surgery
Arthroscopic surgery is preferred when there is a communicating meniscal tear.
If a noncommunicating meniscal tear is present, open surgery required.
The surgery requires debridement, cyst decompression, and meniscal resection.
Incomplete meniscal resection may lead to recurrence.