Muscle power grading is a frequent and important part of the neurological examination. The neurological examination consists of sensory and motor examination. Muscle power grading is part of motor system examination.
Before muscle power grading is done, limbs or trunk are examined for the tone of the muscles, the bulk of the muscles.
The limbs are inspected for their resting posture, deformity or clawing and whether they are symmetrical. Is there any wasting or hypertrophy. Any involuntary movements, jerks etc should be noted.
Muscle fasciculation is a sign of lower motor neuron disease process. Muscle fasciculations are subcutaneous twitches over a muscle belly at rest.
Muscle tone is checked by moving the joints passively. A loss of tone suggests lower motor neuron lesion and hypertonia suggests upper motor neuron lesions.
After this comes the turn of muscle power grading. In muscle power grading individual muscle can be tested as in hand or feet. But in large joints like hip or knee joint, group of muscles like flexors, extensors or abductors are tested.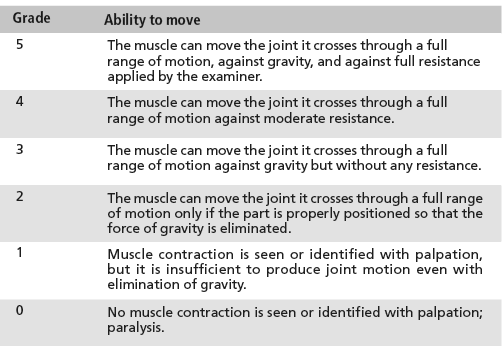 The patient is asked to contract the muscle group being tested and then examiner resists the movement of that muscle group. Muscle power grading is done as per the following chart.
Here are the grades of muscle power as examined clinically
Grade 0– complete paralysis
Grade 1 -flicker of contraction present
Grade 2– active movement with gravity eliminated
Grade 3-Active movement against gravity
Grade 4-Active movement against gravity and some resistance described as poor, fair, moderate strength.
Grade 5– Normal power.
Muscle power grading is useful in localizing the lesion and to differentiate the groups of muscles affected so that treatment can be affected.
Muscle power grading can give false results in case of very weak muscles, joint contractures, and exhaustion from repeated testing for muscle power grading.
Muscle power grading is not entirely objective and subjective errors can creep in especially in very extreme grades. For example, it may be difficult to differentiate between grade 0 and 1 or 4 and 5.