Last Updated on December 20, 2019
Musculoskeletal tumors are a rare and diverse group of tumors. Benign bone and soft tissue tumors are 100 times more common than malignant tumors.
The musculoskeletal system is made of skin and subcutaneous tissue, lymphatic tissue, vascular structures, musculoaponeurotic tissue, neurological structures, bone, and joints.
Musculoskeletal tumors of different histological types can present with similar radiographic appearance.
The musculoskeletal tumors have two peaks. One between ages of 15 and 20 years [ due to primary malignancies of bone], and after this, there is a steady secondary peak from the age of 30 years onwards to about 75 years of age [due to malignant neoplasia in such pre-existing conditions as Paget's disease].
The evaluation of a patient with musculoskeletal tumors begins in the out-patient clinic with history and clinical examination and moves to the next stages on an individual basis. The goal of the evaluation is to identify the tumor to prompt diagnosis and treatment. In diagnosis, we look for

In diagnosis, one has three primary aims
To assess the extent of the primary tumor.
To assess the extent or presence of metastases.
To delineate the histological type
A musculoskeletal tumor could be primary – originating in the tissue itself or secondary or metastatic tumor which spreads from other parts of the body.
Breast, lung, thyroid, kidney, and prostate are the most common organs responsible for metastatic tumors.
With new chemotherapeutic drugs and regimens and as a result of advances in imaging and surgical techniques has improved the outcome for musculoskeletal tumors.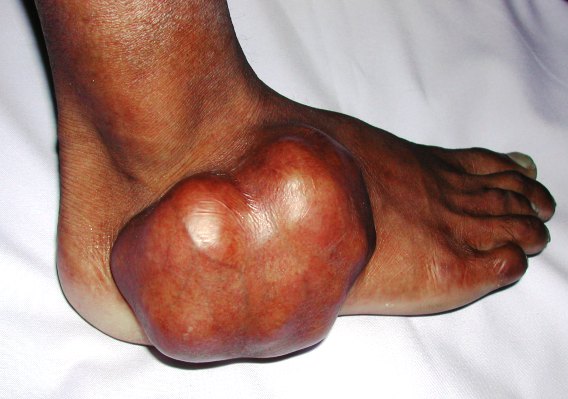 Classification of Musculoskeletal Tumors
Bone develops from primitive mesenchyme. From this, by differentiation, there develops a common immediate precursor to the fibroblast, the chondroblast, the osteoclast, and the fibroblast, to produce bone, cartilage, the absorption of bone or collagen.
Therefore, within the same tumor widely different histological pictures are observed.
In order to classify and to characterize particular tumor types it is important:
To define the cell of origin
To identify the cytology of the tumor cell and its stroma as well as their degree of differentiation.
To observe the behavior and growth of the tumor
Musculoskeletal Tumors are classified as
True bone tumors- Arising from cells of mesenchymal origin, derived from a common ancestry and whose function is primarily skeletal bone formation
Tumors arising from tissues normally in bone but not participating in bone formation.
Tumors arising from included tissue – chordoma and adamantinoma.
Metastatic tumors of bone.
True bone tumors
These are classified by predominating cell type.
Predominating cell type
Properties
Benign tumor
Malignant tumor
Osteoblast

Osteoma
Primary Osteosarcoma
Active Osteoid formation
Osteoid osteoma
Parosteal
Chondroblast
Primary Chondrosarcoma
Tumor cells show active cartilage
Benign chondrablastoma

Chondromyxoid fibroma

Secondary chondrosarcoma
Fibroblast
Fibroblast
Desmoid sarcoma
Active collage formation
Solitary bone cyst

Nonosteogenic fibroma

Fibrous dysplasia

Malignant fibrous histiocytoma
Osteoclast
Osteoclastoma
Malignant osteoclastoma
Osteoclast probably arises from the coalescence of stromal cells which in turn arise from the non-bone forming supportive connective tissue
Aneurysmal bone cyst

Adamantinoma

chordoma
Tumors arising from tissue normally found in bone, but not participating in the bone formation
Tumors arising from the fibrous tissue of the fascia of the periosteum
Periosteal fibroma
Periosteal fibrosarcoma
Malignant fibrous histiocytoma
Tumors arising from bone marrow
Myeloma
Reticulum cell sarcoma
Hodgkin's disease of bone
Lymphosarcoma
Ewing's sarcoma
Tumors from blood vessels
Haemangioma
Haemangioblastoma
Aneurysmal bone cyst
Angiosarcoma
Tumors arising from adipose tissue
Tumors arising from nerves
Neurilemmoma
Neurofibroma
Tumors of synovium
Tumors of striated muscle
Clinical Presentation of Musculoskeletal Tumors
A mass or pain are the usual complaints. A number of patients are incidentally found on a radiograph taken for unrelated reasons.
The pain is usually a deep constant pain which is not particularly associated with exercise. The pain may be present for only a few weeks or as long as 3—4 years. Characteristically, the pain becomes progressively worse over the weeks, month or years.
The discomfort is usually poorly localized. Initially, the pain can be controlled by low—grade analgesics but eventually, they become ineffective due to worsening of the pain. The pain may be associated with an antalgic limp or complaints of muscle wasting or weakness.
Night pain is often present.
There is no history of trauma that could explain the pain. If there is then other entities as myositis ossificans and stress fractures should be considered. ]
[Osteomyelitis, fungal or tuberculosis musculoskeletal disease can mimic musculoskeletal neoplasm]
Mass can be either painless or painful. The rate of enlargement is important. The occurrence and location of other masses in other parts of the body should be questioned.
Patients with spinal tumors most often present with axial pain and some with radicular pain or cauda equina syndrome, a condition more often seen in metastatic disease and in rapidly growing primary tumors. About a third present with a motor deficit. A small percent have bowel/bladder sphincter dysfunction.
Pelvic tumors may present with unexplained swelling of the lower extremity.
A history of recent weight loss or a previously diagnosed neoplasm should be asked.
The patient should be questioned concerning industrial exposure to carcinogens or a previous history of radiation.
A general physical examination may suggest the site of primary in cases of metastases or signs like café au lait spots in cases of neurofibroma.
Inspection of the site may reveal a mass or could be normal if the tumor is in bone only. Large tumors can produce small dilated superficial veins overlying the mass.
The mass, when present may alter normal contours. In the case of limbs, a comparison with opposite extremity may help.
On palpation, the skin over a tumor may exhibit increased warmth.
The mass is examined for the shape, size, consistency and mobility, and its adherence to the skin or underlying structures. If the skin is not freely movable, then it must be assumed that it is involved with or closely approximates the neoplastic process.
The neurovascular examination is carried out to ascertain or rule out nerve or vessel involvement/pressure effects by the tumor.
The joints at either end of the involved bone or muscular compartment are evaluated The muscle in the vicinity of the tumor and their associated aponeurotic structure is carefully examined.
The regional lymph nodes in the involved extremity are carefully palpated [Though musculoskeletal tumors characteristically produce hematogenous pulmonary metastases, all of them can involve regional lymph nodes.]
Lab Studies
Complete blood count and basic chemistry panel generally normal [compare with infection]
ESR may be elevated.
Tumors involving the bone and causing bone destruction may cause elevation of serum alkaline phosphatase. [Other causes include bone injuries, recent surgery, and in Paget's disease of the bone.]
Blood tests particularly serum electrophoresis is can also be useful in the diagnosis of multiple myeloma.
Imaging of Musculoskeletal Tumors

Two x-ray projections usually and lateral are required for adequate evaluation of a bone neoplasm. Additional views such as oblique and tangential views are occasionally helpful in demonstrating a lesion in profile. The joint nearest the bone tumor should always be included.
Analysis of plain radiographs for periosteal reaction, junction of the lesion with the host bone, cortical disruption, matrix of the lesion and site, and the number of the lesion(s) in skeleton can further direct the diagnosis.
Xrays are studied for the shape of lesion and location. Some lesions can be identified by their peculiar location and shape. Age of the patient greatly affects the type of lesion one could have.
Regionwise location of tumors in bone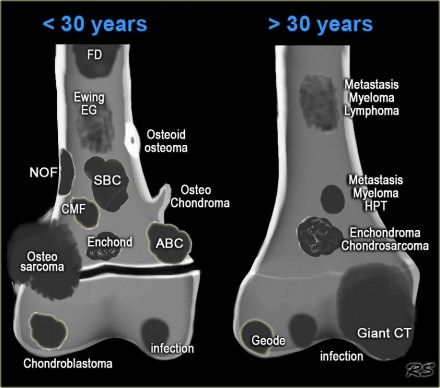 In the transverse plane

Central
Enchondroma
Eccentric
Giant Cell Tumor

Osteosarcoma,

chondromyxoid fibroma

Cortical
Non-ossifying fibroma

Osteoid Osteoma

Parosteal
Parosteal osteosarcoma

Osteochondroma

In the longitudinal plane

Diaphyseal
Ewings sarcoma

Osteoid Osteoma

Adamantinoma

Fibrous Dysplasia

Epiphyseal
Chondroblastoma

Giant cell tumor

Ganglion of Bone

Metaphyseal
nonossified fibroma

aneurysmal bone cysts

Unicameral bone cyst

Osteoblastoma). Osteosarcomas
Site Predilection of Some tumors
Chondroblastoma
Epiphyses
Giant Cell Tumor
Simple bone cyst
Proximal Humerus
Adamantinoma, chondromyxoid fibroma
Tibia
Chordoma, metastases
Sacrum
Osteoblastoma
Posterior element of the spine
Chondrosarcoma
Pelvis
Parosteal osteosarcoma
Posterior aspect of the distal femur
Metastases, hemangioma, and myeloma
Vertebral body
Osteoid osteoma, osteoblastoma, and aneurysmal bone cyst
Posterior elements of the spine
Some benign lesions have characteristic features that almost clinch the diagnosis. Examples include fibrous cortical defects, bone islands, simple bone cysts, bone infarcts, and typical variants, such as pseudocysts of the humerus and calcaneus.
Radiographic features can also help in distinguishing malignant from benign bone lesions in many patients.
Lodwick and colleagues established a radiographic grading based on following
The pattern of destruction – Geographic or not geographic, the appearance of the marginal interface zone
Penetration of the cortex by the lesion
Absence or presence of a sclerotic rim
Absence or presence of the expanded cortical shell, as well as its extent
The grading system is
Grade 1A, 1B, and 1C – Benign lesions with edge characteristics ranging from well defined to poorly defined
Grade 2 – Low-grade malignant lesions with invasive features[ particularly to lesions demonstrating total penetration of the cortex]
Grade 3 – High-grade malignant lesions with invasive, permeative, and destructive features
Another grading system divides bone lesions into 4 groups with management suggestions on each group
Group 1 – Radiographically benign lesions. Do not require further investigation or treatment
Group 2 – High likelihood of being benign. But should be confirmed by clinical or radiographic follow-up
Group 3 – Benign lesions that require surgical resection because of aggressive behavior or a risk of pathologic fracture
Group 4 – Aggressive-appearing lesions that should be considered malignant. Biopsy should be performed to confirm the diagnosis and histologic grade.
In case of conditions which affect multiple bones, a skeletal survey can be obtained an should include at least one projection of the bones of the upper and lower extremities, the pelvis., the ribs, and a lateral view of the skull. [radiographic skeletal survey]
Tumors with Polyostotic Involvement
Osteochondromatosis
fibrous dysplasia
Langerhans cell histiocytosis
Ollier and Maffucci diseases
Lymphoma
Metastases
Multiple Myeloma
Plain radiographs are not as helpful in the diagnosis of soft tissue tumors as in bone tumors.
CT Scan
CT scanning complements x-rays for local evaluation as it can assess the disease in areas not easily visualized on x-rays such as spine and pelvis.
CT offers the following advantage
Determining the type of cortical destruction better
Identifies matrix mineralization is present
May show the internal contents of some lesions
Determine intramedullary and extramedullary extension of disease
Helps to localize the lesion in a cross-sectional display
Defines the relationship between tumor and vital structures.
The entire length of the tumor must be visualized so that at least one normal scan above and one below the lesions are obtained. If the lesion involves the end of the bone, scans through the adjacent joints should be obtained.
Multiplanar reconstruction of CT scans and direct longitudinal scanning of a lesion provides better details.
Computed tomography is the procedure of choice for detecting pulmonary metastases
MRI
Magnetic resonance imaging delineates the extent of the tumor within the bone and also any extension into the soft tissue. It is very helpful in defining the size, contents, and relationship of the lesion to adjacent neurovascular structures and helps in planning the biopsy and tumor resection.
MRI is highly reliable for planning limb salvage or an amputation
An MRI of the whole length of the involved bone allows visualization of the entire length for skip metastases.
Bone Scans
Radionuclide bone scans are commonly obtained by using technetium-99m (99mTc)–labeled diphosphonate to stage bone tumors.
This identifies other sites of involvement or even identify another location that may be an easier site for obtaining a biopsy.
However, the bone scan has a limited role in differentiation between a benign and malignant tumor.
Bone scans are helpful in detecting metastases, skip lesions.
Ultrasonography
Soft-tissue masses and the soft-tissue components of bony tumors may be visualized by using ultrasonography. It confirms the presence of a lesion and can determine if the lesion is cystic or solid.
It is also helpful to assess the relationship of the mass to the surrounding structures, to evaluate the vascularity of the mass, and to guide interventional procedures if indicated.
Angiography
Angiography is used less frequently since MRI quality has improved significantly. Currently, angiography is used only occasionally to evaluate neurovascular bundle involvement. It is used for embolization procedure of the feeder vessel of the tumor.
Positron Emission Tomography Scanning
PET scanning is used to image tumor metabolism by detecting photons emitted from the tissue after the intravenous injection 2-[fluorine 18]-fluoro-2-deoxy-D-glucose (FDG).
Based on photon detection, a 3-dimensional image is constructed. As tumor metabolism is higher than that of normal tissue, it shows higher FDG uptake. Alone, it cannot reliably differentiate benign from malignant but a combined FDG-PET-CT reliably differentiates soft tissue and bone tumors from benign lesions.
Biopsy
The biopsy is the single most important step in the staging of a musculoskeletal tumor, to determine the histology diagnosis of the tumor and the type and extent of the treatment.
The biopsy can be needle biopsy or open biopsy.
Needle biopsy includes a fine-needle aspiration or core biopsy with a larger needle.
The open biopsy can be incisional [ a piece of tissue is removed after giving incision] or excisional [the tumor is excised with margins]
Although open biopsy is still considered a gold standard, many centers have moved toward percutaneous needle biopsy.
Percutaneous biopsy is less invasive, causes minimal bleeding and biopsy tract contamination, and can be accurately performed under imaging.
But percutaneous is less reliable in obtaining an adequate representative specimen for grading and further special studies.
The biopsy site should be located where the needle tract will be excised in future surgery, because of possible tumor seeding along the needle track. Fluoroscopy with C-arm guidance, CT scanning, and MRI can be used to locate the most appropriate biopsy site. The primary advantage to fluoroscopy is its ability to create dynamic images.
CT-guided biopsy is usually employed if the lesion is located in a complicated part of the anatomy, such as the upper thoracic spine or pelvis.
If the tumor is located within a bone a cortical window is carefully made and the tumor sample removed.
Frozen sections can be made when required.
After the biopsy, the cortical window is filled with acrylic bone cement to prevent bone bleeding as bleeding increases the risk of spread of tumor cells.
Staging of Musculoskeletal Tumors
For staging a musculoskeletal neoplasm, the grade and site of the tumor and the presence or absence of metastasis are considered. The grade of the tumor reflects biological aggressiveness,
Staging is important to determine the nature of resection required for the tumor.
Read more on the staging of tumor and types of resection of the tumor.
If a malignant tumor is responsive to chemotherapy, smaller resection margins may be acceptable.
Treatment of Musculoskeletal Tumors
Factors Affecting the Treatment Decisions
Age of the patient
Susceptibility of the tumor to adjuvant chemotherapy/radiotherapy
The expected function of the extremity
Presence of pathological fractures [makes salvage difficult]
Minimally Invasive Procedures
Image-guided minimally invasive procedures are better tolerated by these patients, resulting in less soft tissue trauma, minimal blood loss, and shorter hospitalization. These methods rarely interfere with the adjuvant treatments, and their overall morbidity is considerably lower compared with conventional surgery.
These are considered when conventional surgery may result in higher morbidity.
Minimally invasive procedures can also be considered in the patient with metastatic disease, who cannot tolerate the conventional surgical methods because of immunocompromised status due to ongoing chemotherapy, poor nutrition, and comorbid medical conditions.
Examples of their uses are
Radiofrequency ablation of the osteoid osteoma.
Percutaneous vertebral augmentation with cement for painful vertebral hemangiomas or metastatic lesions or to augment bone quality in an instrumented spinal fusion.
Preoperative embolization of the lesion for hypervascular tumors such as an aneurysmal bone cyst, giant cell tumor, angiosarcoma, leiomyosarcoma etc
Embolization is also used as a palliative treatment in painful bone metastasis
Sequential embolization as a primary treatment alternative for hypervascular bone tumors, such as aneurysmal bone cyst and giant cell tumor [ Inoperable tumor or surgery is technically difficult]
Surgical Procedures
Limb-Saving Procedures

Surgery is the removal of the tumor and some surrounding healthy tissue during an operation. Skeletal reconstruction is frequently necessary after tumor resection to achieve the best functional results. In recent years there have been great improvements in the equipment and techniques used in skeletal reconstruction, thus decreasing the need for amputation.
Resection of certain bones or anatomical sites requires no reconstruction because the functional loss is slight such as scapula distal to the scapular spine, pubis, ischium, parts of the ilium excluding the acetabulum, and the proximal two-thirds of the fibula.
No soft tissue reconstruction is necessary after resection of the triceps, gluteus maximus, hip abductors, hamstring of the abductors of the thigh.
Bone cement, bone grafts [allo and autograft both] or bone graft substitutes could be used to reconstruct the bone defects.
Endoprosthesis can be used for constructing a functional limb.
Limb salvage surgeries are indicated if the following conditions are satisfied:
The tumor is situated in the extremities and/or the axial skeleton.
The tumor margins are amenable to surgery.
Only moderate soft-tissue extension is present.
The neurovascular bundles are intact.
Metastases are absent or amenable to curative treatment.
Good general health.
Amputation
Amputation is surgery to remove all or part of an arm or leg. It is usually used when a tumor is large and/or nerves and blood vessels are involved. A prosthetic limb can aid function after amputation.
The site and extent of the amputation would depend on the location and spread of the tumor.
Surgical Debulking
Surgical debulking of tumors is a procedure whereby a surgically incurable malignant neoplasm is partially removed to make subsequent therapy/ nursing more effective. This procedure is not used with without curative intent and aims to improve the length of survival only
Chemotherapy and Radiation Therapy
Chemotherapy and radiation therapy have greatly improved survival rates and local recurrence rates. Chemotherapy finds its greatest use in the treatment of systemic disease while radiation therapy is primarily concerned with the local control of the disease either in combination with surgery or less frequently as the sole modality. The treatment of metastatic carcinomas of the skeleton depends to a great extent on radiation therapy.
Chemotherapy
Chemotherapy is the use of drugs to destroy cancer cells,
Chemotherapy is used to treat the tumors not amenable to surgery [multiple myeloma] or in addition to the surgical procedure, as an adjuvant. This type of chemotherapy is called adjuvant chemotherapy.
Chemotherapy could be preoperative chemotherapy [before surgery] or can also be given after surgery.
The specific chemotherapy drugs used depend on the type of tumor. Not all tumors are susceptible to chemotherapy.
The side effects of chemotherapy depend on the individual and the dose used, but they can include fatigue, the risk of infection, nausea and vomiting, hair loss, loss of appetite, and diarrhea. These side effects usually go away after treatment is finished.
Radiation therapy
Radiation therapy is the use of high-energy x-rays or other particles to destroy cancer cells.
It could be external-beam radiation therapy, which is radiation given from a machine outside the body or s called internal radiation therapy [ brachytherapy] when radiation is given by implants placed in the body..
Radiation therapy is most often used for patients who have a tumor that cannot be removed with surgery. Preoperative radiation also can be used to shrink the tumor so that surgery becomes less extensive.
Postoperative radiation can also be given.
Few Images of Musculoskeletal Tumors
Bone tumors can be benign or malignant. Following are some images and x-rays of soft tissue and bone tumors. The images are of both benign and malignant tumors.
Fibrous Dysplasia of Humerus
Image 2 -Neglected Osteosarcoma of Upper End of Femur
The picture shows swollen thigh of a 14 years old boy who had osteosarcoma of the upper end of the femur.
The swelling is visible circumferentially and dilated veins can be found over the surface, a feature that points to malignancy.
Massive Lipoma of Thigh
Lipoma is a soft tissue tumor.
This is an image of the thigh of a seven years old child who presented with a large swelling of the thigh that had been progressively increasing after its appearance about 3 years back. The tumor was quite large in size measuring 20 cms in length and involved the whole circumference of the thigh and posteriorly extended into popliteal fossa as well.
Peroperatively, the tumor was enclosed in a capsule and we were able to remove the tumor in toto. the tumor surrounded neurovascular structures as well but tissue planes separating them could be found.
The child is put on rehabilitation for gaining muscle strength. The histopathology reported the mass to be lipoma.
Enchondroma of Proximal Phalanx Of Ring Finger
Enchondromas are common tumors of hand.
The x-ray above is of a 17-year-old girl who presented with swelling of ring finger for past one year and progressively increasing. There was also a complaint of pain which increased on exertion.
The x-ray showed an expansile lytic lesion with the well-formed cortical rim in proximal phalanx in most of its distal part.
MRI showed a lesion of low signal intensity.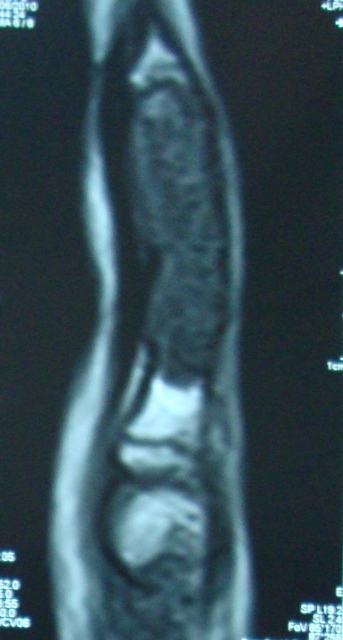 The patient was provisionally diagnosed as a case of enchondroma and treated by curettage and bone grafting.
Histopathology of the section confirmed it to be an enchondroma.
Giant Cell Tumor of Radius
This is a clinical photograph of a 24 years old male farmer who presented after 8 months of the beginning of pain and 5 months of progressively increasing swelling.
Image 6 – Xray of Septate Lytic Lesion of Proximal Phalanx of Little Finger
Xray of a septate lytic lesion involving proximal phalanx of the little finger.
Associated details were not found with the file. So nature of lytic lesion cannot be said.
Aneurysmal Bone Cyst In Neck Of Femur
The aneurysmal bone cyst is also counted among benign bone tumors. The following x-ray is of a cystic lesion in the neck of femur in 11 years old male child which was later diagnosed as an aneurysmal bone cyst.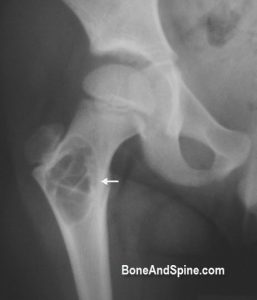 No other associated information could be found for the file. Note the multiple septae in the lesion which is one of the features of the aneurysmal bone cyst.
Xray of Giant Cell Tumor Treated By curettage and Bone Grafting
X-ray showing a giant cell tumor in 23 years old lady treated by curettage and bone grafting.
Bone graft was taken from iliac crest and fibula. A gap in the fibula is also visible in the x-ray.
Expansile Lytic Lesion In Upper End of Tibia in a 12-Year-Old Child
Xray showing lytic lesion in the upper end of Tibia in 12 years old child.
The lesion is expansile [results in expansion of the involved bone] and septae [lines that appear to subdivide the lesion further in compartments] are visible.
Image 10 – Xray of Lytic Lesion in Scaphoid Bone
Following x-ray of adult wrist showing a lytic lesion in the scaphoid
The arrow points to a well-demarcated lytic lesion which as per records is suggested to be of infective origin. The patient appears to be lost in follow up and hence complete information is not available.
References
Letson G D, Greenfield G B, Heinrich S D. Evaluation of the child with a bone or soft-tissue neoplasm. Orthop Clin North Am. 1996;27:431–451.
Olson PN, Everson LI, Griffiths HJ. Staging of musculoskeletal tumors. Radiol Clin North Am. 1994 Jan. 32(1):151-62. [Medline].
Peh WC. The role of imaging in the staging of bone tumors. Crit Rev Oncol Hematol. 1999 Jul. 31(2):147-67.
Peh WC, Gilula LA. Plain film approach to tumours and tumour-like conditions of bone. Br J Hosp Med. 1995 Dec 13-1996 Jan 16. 54(11):549-57.
Peh WC, Shek TW, Wang SC, et al. Osteogenic sarcoma with skeletal muscle metastases. Skeletal Radiol. 1999 May. 28(5):298-304.
van der Woude HJ, Bloem JL, Hogendoorn PC. Preoperative evaluation and monitoring chemotherapy in patients with high-grade osteogenic and Ewing's sarcoma: review of current imaging modalities. Skeletal Radiol. 1998 Feb. 27(2):57-71.
Skrzynski MC, Biermann JS, Montag A, Simon M A. Diagnostic accuracy and charge-savings of outpatient core needle biopsy compared with open biopsy of musculoskeletal tumors. J Bone Joint Surg Am. 1996;78:644–649.
Wolf R E, Enneking W F. The staging and surgery of musculoskeletal neoplasms. Orthop Clin North Am. 1996;27:473–481.
Rosenthal D I. Percutaneous radiofrequency treatment of osteoid osteomas. Semin Musculoskelet Radiol. 1997;1:265–272.
Lindner N J, Ozaki T, Roedl R, Gosheger G, Winkelmann W, Wortler K. Percutaneous radiofrequency ablation in osteoid osteoma. J Bone Joint Surg Br. 2001;83:391–396.
Sabharwal T, Salter R, Adam A, Gangi A. Image-guided therapies in orthopedic oncology. Orthop Clin North Am. 2006;37:105–112.