An open mouth view x-ray is a special view to visualize upper cervical spine problems especially C1 and C2 vertebrae. Routine anteroposterior cervical spine view shows the spine from C3 segment and is usually less helpful in diagnosing acute injuries. Open mouth view x-ray is not done routinely and is ordered when a problem is suspected in upper cervical spine.
The open mouth view is essential for excluding a C1 arch or odontoid process fracture. Odontoid process is part of the second cervical vertebra that projects upward to articulate with C1 vertebra.
The open mouth view x-ray is also called Odontoid view or odontoid peg view.
It is a very useful view in traumatic injuries of upper cervical spine and whiplash injury of the cervical spine.
How is Open Mouth View X-ray Taken
The position is same as for an anteroposterior view. The patient lies in supine position i.e. on his back and has to open her mouth widely. The x-ray beam is projected through the open mouth from anterior to posterior direction.
It is important that the patient opens the mouth as widely as possible to visualize the structures properly. If the patient does not open her mouth widely, the structures we intend to see may get obscured by jawbones and teeth.

What Is Looked For in Open Mouth View X-ray?
Anatomy of C1-C2 vertebrae
Dens or Odontoid process
Lateral masses of C1 vertebra
Malalignment or fracture of the vertebra
It must be noted that open mouth vertebra is seen in conjunction with other projections of cervical spine namely anteroposterior and lateral views.
How Does Normal Open Mouth View X-ray Look Like
Here is an example of open mouth view x-ray showing C2 and C1 anatomy which includes C2 vertebra, odontoid process, the joint between C1 and C2 and facets.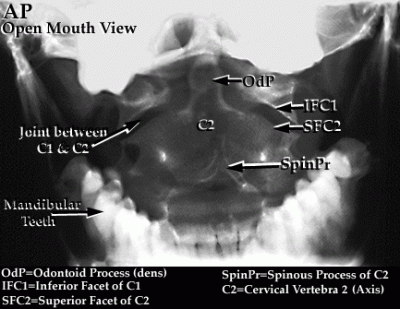 Image Credit: KMLIAU