Last Updated on July 30, 2019
What is Os Vesalianum
Os vesalianum pedis is an accessory bone of the foot located proximal to the fifth metatarsal and found within the peroneus brevis tendon. It is a rare occurrence. The reported incidence is between 0.1% and 0.4%.
This ossicle is without any symptoms generally but often can become painful.
It is often discovered incidentally when foot is x-rayed for some other condition.
It is important to know about its occurrence as it can be very well confused with fracture of base of the fifth metatarsal and Iselin disease.
Other things that the Os Vesalianum should be differentiated apart from the fifth metatarsal avulsion fracture and Iselin's disease are
Ossifying apophysis of the fifth metatarsal base
Ununited apophysis of the fifth metatarsal base
Nonunion of a tuberosity fracture of the fifth metatarsal
Os peroneum.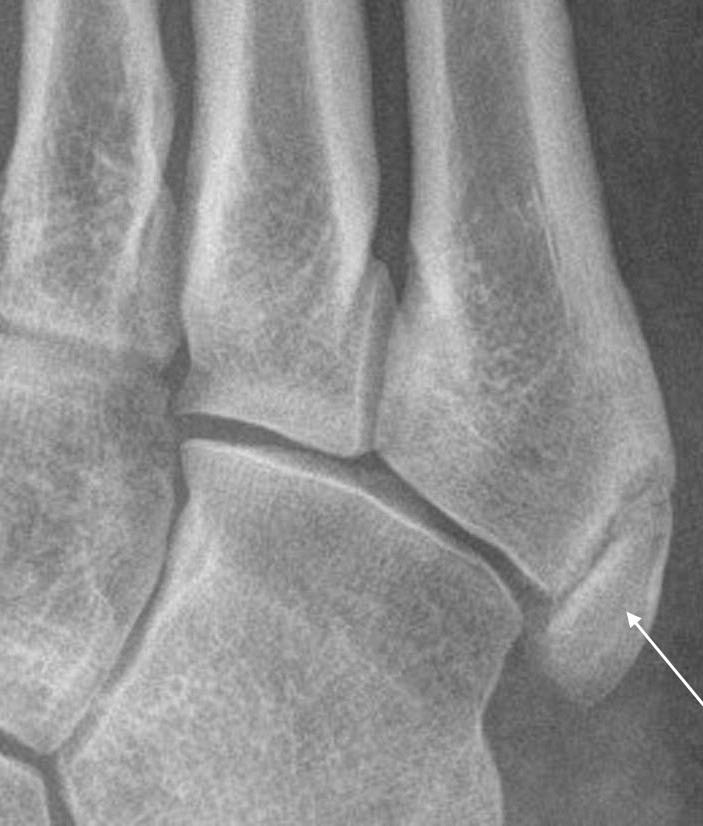 Differentiating Features of Entities That Look Similar to Os Vesalianum
Normal ossification center at the fifth metatarsal tuberosity
Normal ossification canter of fifth metatarsal tuberosity is parallel to the metatarsal shaft.
Os Vesalinum is oblique [see image]
The ossification center appears at age 12 for boys and 10 for girls. The fusion to the metatarsal base usually occurs within the following 2-4 years
Avulsion fracture of the apophysis of the fifth metatarsal
This entity is transverse to the metatarsal shaft rather than oblique. There would be a history of ankle twisting.
It is traction apophysitis at the base of the fifth metatarsal bone. It is a rare entity. There is a history of pain on activity which is relieved by rest. There is no history of trauma.
Iselin disease is thought to be due to overuse injury repetitive pressure during athletic activities and the traction by the inserted muscle is thought to contribute to the pathophysiology.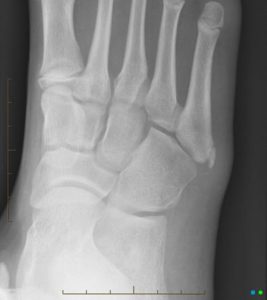 Trauma to Os Vesalianum
Sometimes, os vesalianum may become symptomatic due to trauma.
It is treated by rest, limited weight bearing, and symptomatic treatment.
Some patients may require a short-leg cast application.
A painful Os Vesalanium which does not get better with conservative treatment can be excised.
While carrying the excision the peroneus brevis tendon insertion should be spared carefully.