Osteochondral lesions of talus represent approximately 4% of all cases of osteochondral lesions. Previously terms like osteochondritis dessicans, transchondral talus fracture, and osteochondral talus fracture have been used to describe these lesions which involve cartilage as well as the bone of the talus.
A history of trauma is documented in more than 85% of patients and a primary ischemic event may cause this form of the disease. Nontraumatic osteochondral lesions of talus also occur and can be familial.
Osteochondral lesions of talus have been found in more than 40% of patients after operative treatment of ankle fractures. They are bilateral in approximately 10% of the cases.
Relevant Anatomy
The talar dome is trapezoidal in shape [Anterior surface is on average 2.5 mm wider than the posterior surface.] and much of its part is covered by the trochlear articular surface that articulates to form ankle joint. The medial and lateral articular facets of the talus articulate with the medial and lateral malleoli, their articular surface of these facets being contiguous with the superior articular surface of the talar dome.
On the whole, 60% of the talar surface is covered by articular cartilage. Talus bone has no muscular or tendinous attachments.
The motion at ankle joint occurs in all the planes. So when the ankle joint is loaded in dorsiflexion, the articular geometry contributes to transitional stability and to a lesser degree, rotational stability. The ligaments provide stability, especially in an unloaded ankle and particularly when the ankle is in plantar flexion.
Pathophysiology of Osteochondral Lesions of Talus
Nontraumatic causes of osteochondral lesions are known but many authors consider trauma to be the trigger. It could be some macrotrauma or repetitive microtrauma in an already predisposed individual. Endocrine abnormalities, metabolic abnormalities, vasculopathy, and avascular necrosis are potential causes of nontraumatic osteochondral lesions but not proven substantially yet.
The primary mechanism leading to osteochondral lesions of the talus is damage and insufficient repair of the subchondral bone plate.
Subchondral cysts with overlying chondromalacia, osteochondral fragments, and loose bodies are various stages in the progression of osteochondral lesions of the talus.
Anterolateral lesions on the talar dome result from inversion and dorsiflexion, causing the anterolateral aspect of the talar dome to impact the fibula.
The anterolateral lesions are shallower and more wafer-shaped than medial lesions as the force vector is more tangential.
Medial lesions result from a combination of inversion, plantar flexion, and external rotation. This causes the posteromedial talar dome to impact the tibial articular surface. The lesions are deeper and cup-shaped as the forces are relatively perpendicular.
The lesion becomes painful when subchondral bone innervation under the cartilage defect stimulated.
Clinical Presentation
Patients typically present with chronic ankle pain along with intermittent swelling and, possibly, weakness, stiffness, instability, and giving way. The patient may correlate this to a previous inversion injury. The pain is commonly described as deep in the ankle.
Patients may also report mechanical symptoms including catching, clicking, and locking. A high index of suspicion for osteochondral lesions of talus must be maintained in chronic ankle pains.
In posteromedial lesions, palpation may reveal tenderness behind the medial malleolus when the ankle is dorsiflexed. Anterolateral lesions may be tender when the anterolateral ankle joint is palpated with the joint in maximal plantarflexion.
Ligamentous insufficiency or laxity may be present and should always be evaluated.
Imaging
Radiography
For posteromedial lesions, the x-rays are done in varying degrees of plantar flexion and for anterolateral lesions in dorsiflexion. Opposite ankle should be x-rayed as well to rule out the presence of a contralateral lesion.
Magnetic resonance imaging
Magnetic resonance imaging can identify occult injuries that are missed on routine x-rays. Postoperative MRI may be done to assess the healing.
MRI shows areas of low signal intensity on T1-weighted images [indicating sclerosis of the bed of the talus, indicating chronic lesion.T2-weighted images reveal a rim that representing instability of the osteochondral fragment.
Staging of Osteochondral Lesions of Talus
Various classifications for osteochondral lesions of talus have been developed. The classifications are based on different imaging modalities or arthroscopy.
Cheng
Cheng et al developed the following arthroscopic staging
Stage A
Smooth, intact, but soft or ballotable, stable
Stage B
Rough surface, stable
Stage C
Fibrillation/fissuring, stable
Stage D
Flap present or bone exposed, unstable
Stage E
Loose, undisplaced fragment, unstable
Stage F
Displaced fragment, unstable
Berndt and Harty
Berndt and Harty gave a classification on radiographs.
Stage 1
Small area of subchondral compression
Stage 2
Partial fragment detachment.
Stage 3
Complete fragment detachment but not displaced.
Stage 4
Displaced fragment.
Ferkel and Sgaglionz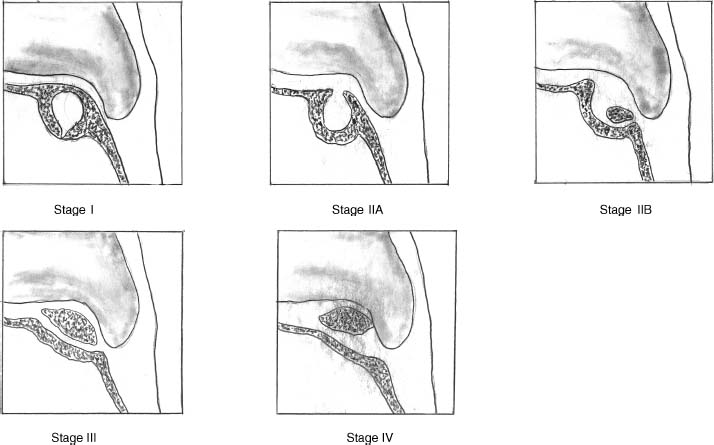 Ferkel and Sgaglionz staging system is based on CT Scans
Stage 1
Cystic lesion within the dome of the talus with an intact roof on all view
Stage 2
Stage 2a – Cystic lesion communication to talar dome surface
Stage 2b – Open articular surface lesion with an overlying nondisplaced fragment.
Stage 3
Nondisplaced lesion with lucency
Stage 4
Displaced fragment
Hepple
MRI bases staging was suggested by Hepple
Stage 1
Articular cartilage edema
Stage 2
Stage 2a – Cartilage injury with underlying fracture and surrounding bony edema [acute]
Stage 2b – Stage 2a without surrounding bone edema [chronic]
Stage 3
Detached but nondisplaced fragment
Stage 4
Displaced fragment
Stage 5
Subchondral cyst formation
Treatment of Osteochondral Lesions
Non-operative Treatment
The patients of osteochondral lesions of the talus should always be treated conservatively first which include immobilization and physical therapy.
Post-treatment may be evaluated with MRI to assess the condition of the articular cartilage, its stability, and to detect any intra-articular bodies.
Surgical Treatment
If there are symptoms indicating intra-articular derangement [effusion, catching or locking of the ankle, instability, pain, and ankle pain relieved with diagnostic lidocaine.] surgery is indicated.
Surgical treatment depends on a variety of factors,
Patient profile
Activity level
Age
Degenerative changes
Lesions
Different types of surgeries are based on the following principles
Loose-body removal with or without stimulation of fibrocartilage growth

Microfracture
Curettage
Abrasion
Transarticular drilling

Securing the lesions to the talar dome

Retrograde drilling
Bone grafting
Internal fixation

Stimulating the development of hyaline cartilage

Osteochondral autografts

Osteochondral autograft transfer system [OATS]
Mosaicplasty

Allografts

Particulate juvenile cartilage
Cell culture
Treatment of completely detached lesions
Removal of the loose body and debridement of the bony bed
The edges should be trimmed back to viable cartilage.
Treatment of intact lesions
Drilling of the subchondral bone enables revascularization of the fragment.
Approaches
The different surgeries are done by an open approach or arthroscopically.
The approach depends on the lesion. Anterolateral osteochondral lesions of the tibia are approached by the anterolateral approach to the ankle joint whereas the lesions are approached from medial side foe posteromedial lesions.
Posteromedial lesion has also been treated by using a combined anterior and posterior arthrotomy exposure.
Surgical Options
Different surgical options are
Internal fixation

Screw fixation.
Bioabsorbable pins

Bone grafting
Autologous osteochondral grafting

OATS procedure
Mosaicplasty
Both procedures involve grafting a plug from the femoral trochlea or condyle into the lesion.
Good results reported

Autologous chondrocyte transplantation
Particulated juvenile cartilage allograft

Uses particulated juvenile cartilage allograft from donors< 13 years.
Immature chondrocytes are believed to regenerate hyaline-like cartilage
Treatment of coexisting OLT and ligamentous instability
Acute ankle ligament injuries with a large, unstable fragment typically first undergo surgical repair of the talar lesion. The ligament is allowed to heal postoperatively.
Postoperative Care
Physical rehabilitation includes active and passive range-of-motion exercises and a home program, edema control, and strength and proprioceptive training. It usually begins after 6-7 weeks of the nonweight bearing.
Pain after operative treatment of is common for up to one year. MRI may be considered if the healing is not progressing as intended.
Complications
Arthroscopic intervention is associated with less surgical morbidity and joint stiffness and decreased rehabilitation time.
Allograft implants are not advocated as these grafts may become resorbed over time and fragment.
The osteochondral transplantation procedures have the additional risk of a second surgical site.
Prognosis
Nonoperative treatments of osteochondral lesions of the talus are associated with published success rates of 45-50%.
Curettage and drilling has reported a success rate of 85% success
Both mosaicplasty and the osteochondral autograft transfer system (OATS) procedure have reported a success rate around 90%.
References
Athanasiou KA, Niederauer GG, Schenck RC Jr. Biomechanical topography of human ankle cartilage. Ann Biomed Eng. 1995 Sep-Oct. 23(5):697-704.
Treppo S, Koepp H, Quan EC. Comparison of biomechanical and biochemical properties of cartilage from human knee and ankle pairs. J Orthop Res. 2000 Sep. 18(5):739-48.
Anderson IF, Crichton KJ, Grattan-Smith T. Osteochondral fractures of the dome of the talus. J Bone Joint Surg Am. 1989 Sep. 71(8):1143-52.
Donnenwerth MP, Roukis TS. Outcome of arthroscopic debridement and microfracture as the primary treatment for osteochondral lesions of the talar dome. Arthroscopy. 2012 Dec. 28(12):1902-7.
Choi WJ, Choi GW, Kim JS, Lee JW. Prognostic significance of the containment and location of osteochondral lesions of the talus: independent adverse outcomes associated with uncontained lesions of the talar shoulder. Am J Sports Med. 2013 Jan. 41(1):126-33.
Wiewiorski M, Miska M, Nicolas G, Valderrabano V. Revision of Failed Osteochondral Autologous Transplantation Procedure for Chronic Talus Osteochondral Lesion With Iliac Crest Graft and Autologous Matrix-Induced Chondrogenesis: A Case Report. Foot Ankle Spec. 2012 Jan 31
Woelfle JV, Reichel H, Nelitz M. Indications and limitations of osteochondral autologous transplantation in osteochondritis dissecans of the talus. Knee Surg Sports Traumatol Arthrosc. 2013 Aug. 21(8):1 925-30
Save
Save