Last Updated on July 31, 2019
Patella Baja or patella infera is an abnormally low lying patella [compare with patella alta, the high riding patella].
It is associated with a restricted range of motion, crepitations, and retropatellar pain.
Patella baja could be congenital, acquired, or a combination of the two is commonly encountered in total knee arthroplasty.
Any cause that would lead to shortening of the patellar tendon would lead to patella baja.
Causes of Patella Baja
Injuries
proximal tibial osteotomy – most common complication following proximal tibial opening-wedge osteotomy

shortening of the patellar tendon during tibial osteotomy
Scarring of the patellar tendon post-operatively

Tibial tubercle slide or transfer
Joint line elevation during total knee arthroplasty [pseudo patella baja]
ACL reconstruction
Bony or ligamentous trauma
Achondroplasia
Quadriceps dysfunction
Poliomyelitis
Tourniquet paralysis
What is Pseudo Patella Baja
Pseudo patella baja is a condition where the cause of lower patella is not due to shortened patellar tendon but elevated joint line.
As we noted before, the cause of true patella baja is shortened patellar tendon.
Pseudo patella baja is seen commonly after total knee arthroplasty. The patella remains in a normal position relative to the femoral trochlea but the level of the joint line is elevated, pseudo-patella-baja is present.
This complication can occur due to higher femoral cut or tibial under-resection (compared to the prosthetic tibial component which is thicker)
Excessive soft tissue release may necessitate elevation of the tibiofemoral joint line to provide stability.
Clinical Features
Decrease in range of motion
Extensor lag
Anterior knee pain
Tiredness as the knee consumes more energy due to a short lever arm
Rupture of quadriceps tendon or patellar tendon
Imaging
X-rays are done for the involved knee. Like patella alta, different indices have been devised for confirmation of patella baja
A number of methods for determining patella height have been devised.
More on patellar height measurement
Insall-Salvati ratio
according to the relative height of the patella and length of the patellar tendon. It is assessed on lateral radiographs or sagittal cross-sectional imaging.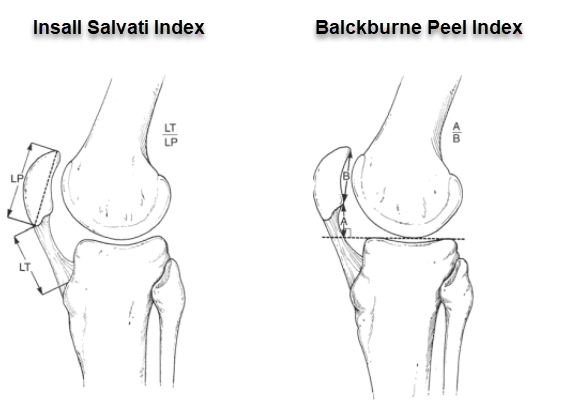 Blackburne-Peel ratio
Ratio of the vertical distance between the tibial plateau and patellar articular surface and length of the patellar articular surface.
Caton-Linclau method
Vertical patella height is assessed by dividing the distance between the anterosuperior rim of the tibia and the lowermost end of the patellar articular surface by total length of the patellar articular surface.
Norman, Egund and Ekelund method
This method assesses the vertical position of the patella on a cross-table lateral view with knee maximally extended and quadriceps muscle contracted prior to exposure.
The foot is externally rotated by 10-15 degrees in order to superimpose femoral condyles.
The measured parameters include vertical position of the patella, length of patella and length of patella tendon are expressed relative to body height in centimeters.
Blumensaat's technique
The lower pole of the patella normally lies at the level of the Blumensaat line.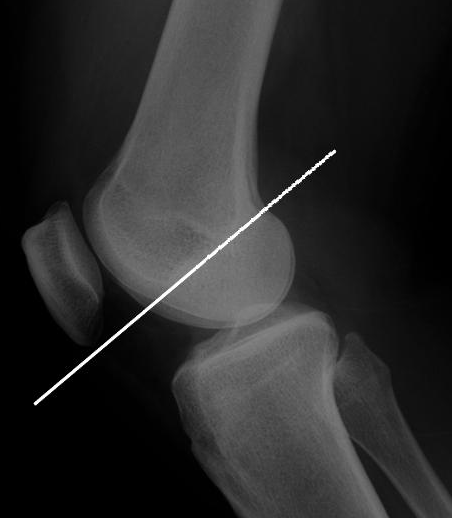 Treatment for Patella Baja
Post-surgical or post-traumatic patella baja is often symptomatic and requires early surgical correction.
The aim of a surgical intervention is to make the patella proximal.
Transfer of the tibial tubercle
Proximal transfer of tibial tubercle allows for early mobilization to prevent the recurrence. But the extensor mechanism changes that could occur with the proximal transfer is a concern.
Lengthening of Patellar Tendon
It is done by either using the contralateral bone tendon bone graft or allografts.
Conventional z-plasty is convenient but weakens the tendon. V-Y lengthening and frontal lengthening is also reported.