Last Updated on July 31, 2019
Preiser disease is the term for idiopathic avascular necrosis of the scaphoid bone. Preiser disease was described by Preiser in 1910.
It is a rare disease that affects the patients in their forties.
Avascular necrosis of the carpal bones is rare. It is mostly seen in the lunate, the pisiform, the capitate, and the scaphoid.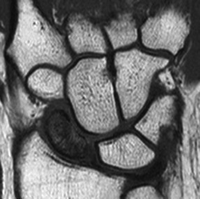 The diagnosis is based on radiographic evidence of sclerosis and fragmentation of the proximal pole of the scaphoid.
Preise disease is mostly unilateral but can occur in both scaphoids too.
It is mandatory in all cases of scaphoid nonunion to exclude osteonecrosis by MRI scans before surgery is undertaken.
Classification
Type 1
Type 2
Partial or segmental
Better outcome
Clinical Presentation
Patients with Preiser disease present with wrist pain on radial-side. The onset of the pain is insidious and may worsen with time.
On examination, there would be swelling and tenderness around the dorsoradial aspect of the wrist. There would be a restriction of range of motion and grip strength.
Imaging
The early presentation may not reveal any radiological abnormality. In cases with clinical suspicion and normal radiographs, a bone scan is helpful.
Changes in the xrays would depend on the stage of the disease.
Herbert and Lanzetta classification
ed the stages of Preiser disease according to the radiographic appearance.
Stage I
Normal radiographs, positive bone scan.
Stage II
Increased density of proximal pole, generalized osteoporosis.
Stage III
Fragmentation of proximal pole. There could be presence of a pathological fracture.
Stage IV
Carpal collapse, osteoarthritis.
Treatment
Nonoperative treatment consists of immobilization and is effective in about 20% of cases.
Operative treatment
Microfracture drilling, revascularization procedure, or allograft
Proximal row carpectomy or scaphoid excision with four corner fusion
The latter is a type of salvage procedure.
considered salvage procedures
Treatment options for Preiser disease include
Arthroscopic debridement and drilling of the lesion is a minimally invasive technique that seems to provide pain relief for a long period of time in patients with Preiser's disease and can be employed initially along with conservative measures like rest, splintage, and electrical stimulation.
For vascularized bone graft, the graft is harvested from distal radius dorsally or volarly in the form of a pronator quadratus graft, or from the second metacarpal.
Preiser Disease Complications
Degenerative changes
Stiffness
Weakness of wrist
Complex Regional Pain Syndrome
Continued pain
Wrist instability