Proximal humerus fractures account for approximately 5% of all fractures. Proximal humeral fractures generally occur in older patients. This is so because older patients have osteopenic or osteoporotic bones which get damaged easily by trivial trauma. However, high-energy trauma can produce these fractures in any person of any age.
Proximal humerus fracture is twice as common in females as males.
With older age, more complex fracture types occur.
All fractures of the surgical neck, anatomic neck, greater tuberosity, and lesser tuberosity of humerus are grouped under proximal humerus fractures.
Two-part surgical neck fractures are the most common type of fracture.
Relevant Anatomy of Proximal Humerus
[Related articles- humerus bone anatomy and Shoulder joint Anatomy]
Humerus bone extends from the shoulder to the elbow joint and participates in the formation of both joints.
Proximal humerus may be divided into four major fragments
Humeral head
Lesser tuberosity
Greater tuberosity
Shaft separated at surgical neck humerus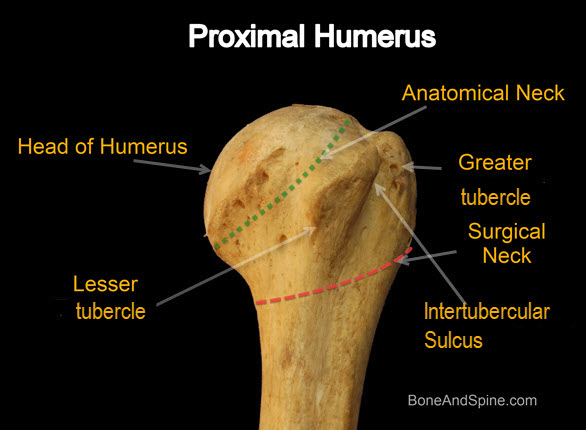 The anatomical neck represents the old epiphyseal plate whereas the surgical neck is a weakened area below the head. The surgical neck is more commonly fractured than the anatomical neck.
The average neck-shaft angle is 135 degrees
Various attached muscles are responsible for the displacements–
Pectoralis major displaces shaft anteriorly and medially
Supraspinatus, infraspinatus, and teres minor cause external rotation of the greater tuberosity
Subscapularis causes internal rotation of the articular segment or lesser tuberosity
Ligaments important for stability
Coracohumeral ligament attaches to coracoid and greater tuberosity and strengthens the rotator interval
Glenohumeral ligaments

Superior- restrainst inferior translation at zero degrees of abduction and neutral rotation
Medial- Prevents anteroposterior translation when midabducted
Inferior- Prevents anteroposterior translation at 90° degrees of abduction
The main blood supply to the humeral head is from the anterior humeral circumflex artery [passes inferior to subscapularis]. The arcuate artery arising from the anterior circumflex perfuses the humeral head. Additional supply is from posterior humeral circumflex artery [passes through quadrangular space]
The anterior humeral circumflex artery [passes inferior to subscapularis] is thought to provide the main blood supply to the humeral head. Recently, few authors have tried to challenge this belief as it is found that the disruption of blood supply is not as much affected as expected to be due to arterial disruption in association with 80% of proximal humeral fractures.
Mechanism of Injury and Pathophysiology

Most of the proximal humerus fractures occur due to a simple fall on the arm. Strong muscular contraction might be responsible for the setting of electric shock or seizure.
Muscle forces contribute to their displacement. In proximal humerus fracture, the pectoralis major draws the shaft of the humerus anteriorly and medially. The greater tuberosity may be pulled posteriorly by the infraspinatus and superiorly by the supraspinatus. The subscapularis tends to internally rotate the head segment where lesser tuberosity remains attached.
Though the fracture can occur in anyone, the following risk factors have been noted.
Osteoporosis
Diabetes
Epilepsy
Female gender
Low energy falls in the elderly can lead to fractures. In young persons, high-energy trauma is responsible for these injuries.
When proximal humeral fractures are due to high-energy injury, there are greater chances of neurovascular injuries and other associated injuries.
It is predicted that the anterolateral branch of the anterior circumflex artery, which is considered to be the main source of the blood supply, is at risk of disruption, especially in complex injuries.
Hertel's criteria to identify at-risk heads for ischemia
If the calcar [thick bone in the neck region of humerus] attached to the articular segment is less than 8 mm
Medial hinge at calcar is disutped[Leads to the medial displacement of shaft]
Complex fractures
Displacement of more than 1 cm
Angulation more than 45°
Associated Injuries
Following injuries are commonly associated with proximal humeral fractures
Axillary nerve injury [most common]
Vascular injury [less common]

Often seen in the surgical neck fractures or subcoracoid dislocation
Classification of Proximal Humerus Fractures

Neer's classification is the most commonly used classification method of proximal humerus fracture. The four parts on which the classification is based are
Head
Greater tuberosity
Lesser tuberosity
Shaft
One-Part
Displacement of 1 cm or is angulation more than 45 degrees is considered significant. All fractures where the values are less than specified are considered minimally displaced and are considered together as one-part fractures, regardless of the number or location of fracture lines.
Two-Part
A single segment is displaced in a two-part fracture. Examples are
Surgical neck fracture
Greater tuberosity fracture
Lesser tuberosity fracture
Anatomical neck fracture
If the head is split or has suffered an impression fracture, it is considered to have an articular loss.
Three-Part
Generally, the fragments are
Shaft
Tuberosity [ greater tuberosity more common]
Head, to which one of the tuberosities remains attached.
An example is a fracture of the surgical neck of the humerus, and a fracture of either greater tuberosity or lesser tuberosity.
The greater tuberosity is displaced superiorly by the pull of supraspinatus or posteromedially by the infraspinatus and teres minor.
In lesser tuberosity fractures, on the other hand, displacement tends to be medial because of the pull of the subscapularis.
Four-Part Proximal Humerus Fracture
A four-part fracture is present when the head is separated from all other segments, even if the tuberosities are together. Avascular necrosis of the head is a significant problem in these fractures.
Clinical Presentation of Proximal Humerus Fractures

Painful, swollen arm after injury
Bruises over the injured area
The patient should be assessed for neck and chest injury. It goes without saying that the distal limb should be examined for any neurovascular involvement.
Severe injuries often result in fracture dislocations. Dislocations are emergency and should be reduced immediately. A revaluation should be done after reduction to note the amount of displacement of the associated fracture.
The most commonly injured nerve in proximal humerus fracture is the axillary nerve.
If the patient has loss of memory, bilateral injuries, or a posterior fracture-dislocation, a seizure disorder or electric shock must be ruled out.
The stability of the limb can be checked by careful manipulation of the limb. In grossly unstable fractures, the humeral shaft may be easily palpated in the deltoid muscle mass, moving independently of the proximal fragment.
Imaging

X-rays
The ordered radiographs for these fractures must include an anteroposterior view of the scapula, a lateral "Y-view" of the scapula, and an axillary view.
Following additional views may be necessitated
Apical oblique
Velpeau
West Point axillary
CT
CT scans are most helpful in checking for dislocations, ruling out a glenoid fracture, and assessing posterior retraction of the greater tuberosity. Any missed fracture can be revealed by CT.
CT scan are helpful in planning for surgery, ascertaining intraarticular comminution, and head split fracture.
Treatment of Proximal Humerus Fracture
Nonoperative Treatment
Proximal humerus fracture, in quite a number of cases, can be managed with nonoperative treatment. The principle of treatment by conservative methods is early protection combined with gradual mobilization.
Stable fractures and minimally displaced fractures are usually treated with non-operative means.
Nonoperative treatment is considered in
<5mm of superior or 10 mm of posterior greater tuberosity displacement inactive people
<10 mm of superior displacement in the nondominant arm of sedentary patients
Elderly patients with less than half shaft diameter displacements and less than 45-degree angulation in the dominant arm in young people.
Lesser demands and expectations of the patient
If the patient is unable to tolerate surgery and anesthesia
The patient cannot participate in rehabilitation
Apart from age, the following are the factors are considered in deciding the conservative treatment
Fracture type
Displacement of fracture
Bone quality
Concomitant medical illness
Associated injuries.
Most patients are placed in a sling for the first week to 10 days. Closed reduction of surgical neck fracture may be attempted but often not required in elderly.
Hand, wrist, and elbow motion is begin immediately.
X-rays are done after 3-4 weeks.
After that, the patient is put on assistive exercises along with formal physical therapy.
Gradual stretching exercises are also begun and continued till the maximum range of motion is achieved.
Closed Reduction Percutaneous Pinning
This modality is chosen for the following cases
2-part surgical neck fractures
3-part
Valgus-impacted 4-part fractures and

Good bone quality
Minimal comminution
Intact medial calcar
There are higher chances of neurovascular injuries with pins when compared to other surgical options.
Open Reduction Internal Fixation
Open reduction is considered in the following cases
Greater tuberosity fracture with displacement > 5mm
Displaced 2-part fractures
Young patients with type 3 and 4 fractures
3-, and 4-part fractures in younger patients
Head-splitting fractures in younger patients
Medial support is important for fracture stability after reduction. If it is not there, it should preferably be reconstructed using a fibular strut.
Intramedullary nailing
It is considered in
Surgical neck fractures
3-part greater tuberosity fractures in young
Combined proximal humerus and humeral shaft fractures
Results are similar and comparable to open reduction and internal fixation
Arthroplasty
Shoulder arthroplasty [hemiarthroplasty or completer arthroplasty] in proximal humerus fractures is indicated in
Hemiarthroplasty is indicated in the 45-60 years age group with complex fracture-dislocations.
Reverse total shoulder arthroplasty is indicated in low-demand elderly individuals where bones are of poor stock for fixation holding.
Treatment of Different Types of Proximal Humerus Fractures
Two-Part Proximal Humerus Fractures
Lesser Tuberosity Fractures
Reduction of the shoulder if dislocated [often posterior dislocation of shoulder present.
If no major displacement- conservative treatment
Displacement of the lesser tuberosity often is medial, and closed reduction with internal rotation often can place the tuberosity in a satisfactory position.
Open treatment of these fractures may not be necessary.
Greater Tuberosity
Greater tuberosity fractures occur more commonly in association with anterior dislocation of the shoulder.
If loss of function of the rotator cuff and mechanical block by fracture fragment is an issue, consider surgery. Otherwise, the fracture can be managed with non-operative treatment.
Displacement of greater tuberosity fractures usually is posterior and superior. Attempts at closed reduction are unsuccessful, except in cases with an associated anterior dislocation, in which closed reduction of the fragment may be adequate.
Open treatment is recommended for greater tuberosity fractures displaced 5 mm or more.
Surgical Neck Fractures
Closed reduction, closed reduction, percutaneous pinning, and open reduction and internal fixation with pre-contoured proximal humerus locked plates can be considered.
Anatomical Neck Fractures
Displaced fractures through the anatomical neck are associated with a high incidence of avascular necrosis and nonunion due to instability. Surgery should be performed if closed manipulation fails to restore the local anatomy.
Three-Part Proximal Humerus Fractures
The three-part fracture consists of a large displaced proximal fragment through the surgical neck, associated with an avulsion of either the lesser or greater tuberosity or both.
If the lesser tuberosity containing the subscapularis is avulsed, the proximal fragment is externally rotated.
If the greater tuberosity is avulsed, the proximal fragment is internally rotated. This happens due to the pulling of respectively attached tissues.
Open reduction and internal fixation should always be performed if delayed union and nonunion are to be prevented.
Four-Part Proximal Humerus Fractures
The four-segment fracture is the most difficult to treat as the treatment is commonly associated with
Delayed union or nonunion or/ and avascular necrosis of the humeral head. The pathognomonic feature is the small, crescentic, proximal articular fragment severed from the anatomical neck of the humerus.
The fracture is mostly treated by surgical methods and the surgery may vary depending on fracture configuration
Fracture-Dislocation of Shoulder
Two-Part
The two-part anterior fracture-dislocation is associated with an avulsed greater tuberosity.
Closed reduction with no surgical intervention except when the fragment becomes irreducible due to soft tissue interposition [long head of biceps tendon] is the treatment.
A two-part posterior fracture-dislocation is associated with an avulsed lesser tuberosity. Closed treatment is usually sufficient.
Three-Part
In the three-part fracture-dislocation, closed manipulation with general anesthesia may restore the proximal fragment to an anatomical position. If the proximal fragment cannot be reduced because of soft tissue interposition, then the open reduction is mandatory.
Four-Part
Open reduction is usually indicated, but the avascular necrosis of the humeral head is likely.
Complications of Proximal Humerus Fracture
Instability
Malunion

Poor reduction and fixation

Nonunion- rare
Avascular Necrosis
Neurovascular injury
Arthritis
References
Monga P, Verma R, Sharma VK. Closed reduction and external fixation for displaced proximal humeral fractures. J Orthop Surg (Hong Kong). 2009 Aug. 17 (2):142-5.
Olerud P, Ahrengart L, Ponzer S, Saving J, Tidermark J. Internal fixation versus nonoperative treatment of displaced 3-part proximal humeral fractures in elderly patients: a randomized controlled trial. J Shoulder Elbow Surg. 2011 Jul. 20 (5):747-55.
Bahrs C, Rolauffs B, Dietz K, Eingartner C, Weise K. Clinical and radiological evaluation of minimally displaced proximal humeral fractures. Arch Orthop Trauma Surg. 2010 May. 130 (5):673-9.
Ross M, Hope B, Stokes A, Peters SE, McLeod I, Duke PF. Reverse shoulder arthroplasty for the treatment of three-part and four-part proximal humeral fractures in the elderly. J Shoulder Elbow Surg. 2015 Feb. 24 (2):215-22.
Save
Save
Save
Save
Save
Save
Save