Last Updated on October 29, 2023
Pseudoachondroplasia is a rare, inherited disorder that causes short stature and affects 1 in 30,000 people. The condition is also referred to as pseudoachondroplastic dysplasia or pseudoachondroplastic spondyloepiphyseal dysplasia. It is a form of dwarfism.
Persons with pseudoachondroplasia have normal intelligence, head size, and facial features. But are small in stature [Average male is around 3 feet 11 inches tall and a female about 3 feet 9 inches.]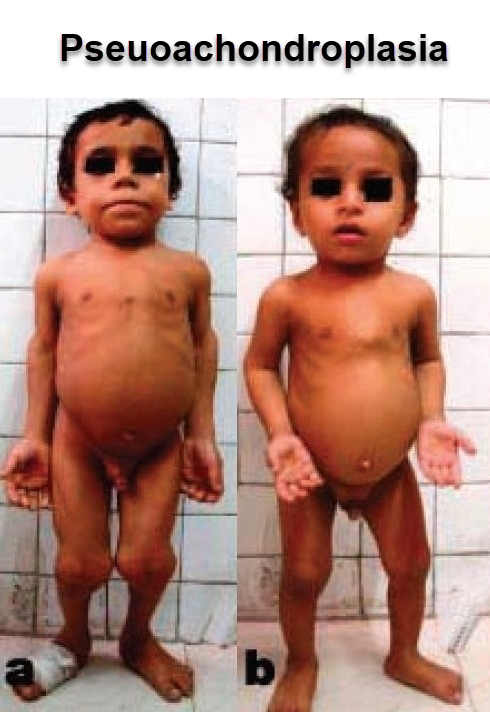 The disorder is not visible at birth [as compared to achondroplasia]
This condition was reported by Maroteaux & Lamy in 1959. It is one of the most common dwarfisms encountered.
Inheritance is generally autosomal dominant.
Pseudoachondroplasia was once thought to be related to achondroplasia but without that disorder's characteristic facial features. More research has demonstrated that pseudoachondroplasia is a separate disorder.
Thirty percent of cases are familial whereas 70% occur as a random mutation.
Pseudoachondroplasia is classified as a form of short-limbed dwarfism, in which the arms and legs are abnormally short in comparison to the body.
Synonyms of Pseudoachondroplasia
PSACH [Pseudoachondroplastic spondyloepiphyseal dysplasia syndrome]
Spondyloepiphyseal dysplasia, type pseudoachondroplasia
Pseudoachondroplasia affects males and females in equal numbers.
Causes of Pseudoachondroplasia
Pseudoachondroplasia is caused by mutations in a gene called cartilage oligomeric matrix protein (COMP). The COMP gene is located on the short arm (p) of chromosome 19.
COMP is an extracellular calcium-binding protein and is involved in chondrocyte migration and proliferation. In pseudochondroplasia, COMP is not secreted and accumulates in the chondrocytes leading to their death. This leads to a significant reduction of growth as some chondrocytes do manage to survive.
Recent studies suggest interactions of the mutant COMP gene products with specific cartilage components, such as type IX collagen being also involved in pseudoachondroplasia development.
Inheritance is generally autosomal dominant.
Some cases of pseudoachondroplasia occur because of germline mosaicism.
[Germline mosaicism is said to occur when the parent's some reproductive cells or germ cells carry the mutation, while other cells in the parent's body do not have the mutation.
The parents are normal but one or more of the parent's children may inherit the germ cell gene COMP mutation, leading to the development of pseudoachondroplasia]
Signs & Symptoms of Pseudoachondroplasia
Signs of pseudoachondroplasia can vary from child to child. Affected people may not have all of the symptoms.
Many children appear normal at birth, though close examination may reveal limited elbow extension and slightly short limbs. The head and face are normal.
The shortness becomes apparent by 2-3 years of age. As the child grows, dwarfness may become evident.
Walking is delayed and soon after, waddling gait, lumbar lordosis, and bow leg develop. The knees and wrists tend to show joint laxity and the hips, shoulders, elbows, and knees may show varying degrees of joint incongruity.
Moderate or severe dwarfing develops.
The hand is a trident type of hand, reaching only to the greater trochanters, as in achondroplasia.
The fingers are short and the wrists ulnar-deviated. The elbows show limited extension and the shoulders limited movement and subluxation.
The hips show limited movements and the knees various deformities, but usually genu varum or recurvatum.
The feet tend to have secondary valgus, especially if there is medial rotation deformity of the limb. Scoliosis may develop in later childhood.
During adolescence, the hips and knees may become painful and premature arthritis develops in adult life.
Spinal abnormalities are common and include abnormal curvature of the spine like exaggerated lumbar lordosis, kyphosis, and mild to moderate scoliosis.
Affected individuals also experience early onset of inflammation, pain, and stiffness in affected joints that can develop into chronic joint pain.
Hypoplasia of odontoid process [a part of second cervical vertebra]. Cervical instability may develop which may lead to cervical myelopathy.
Intelligence is unaffected.
Differential Diagnosis
Achondroplasia
Multiple Epiphyseal Dysplasia
Investigations
X-rays
The vertebral bodies show some flattening and anterior blunt projections.
In anteroposterior views, there is no alteration in the interpedicular distances.
Kyphosis may occur at the thoracolumbar junction or scoliosis in the thoracic or cervicothoracic spine.
The hips show abnormally shaped acetabula and the femoral necks are in varus. The epiphyses at the knee show wide irregular metaphyses and irregular epiphyses often with deformity. The fibula is often longer than the tibia and the fibular malleolus projects distally.
The hands show typical short metacarpals and phalanges with blunt proximal ends of the metacarpals and the distal end of the phalanges
MRI/CT
MRI and CT are able to tell the details of tissue when compared to x-rays.
COMP Levels
COMP levels are significantly reduced in patients with COMP mutations. Measuring the level of circulating COMP is considered to be an efficient and effective method for diagnosing Pseudoachondroplasia.
Molecular Genetic Testing
It can confirm a diagnosis of pseudoachondroplasia by detecting mutations in the COMP gene known. This test is available as an at specialized laboratories only.
Prenatal Diagnosis
When there is an increased risk of pseudoachondroplasia in the offspring, chorionic villus sampling or amniocentesis may help to know the specific gene mutation during the pregnancy.
Treatment of Pseudoachondroplasia
Treatment depends on the specific complaints of an individual.
Treatment is likely to be needed for the spine and knees in childhood and for the hips in adult life.
Atlantoaxial fusion is indicated in atlantoaxial instability which may occur due to hypoplasia and ligamentous laxity.
Scoliosis may develop but is seldom severe. Brace such as Milwaukee brace may be indicated in progressive scoliosis.
Osteotomy of the upper tibia or lower femur or both may be indicated in knee deformities.
Distal fibular overgrowth may require lower fibular epiphysiodesis.
Osteotomy may also be needed in hip deformities.
Analgesics are indicated in pain. Physical therapy, which can improve joint motion and avoid muscle degeneration is beneficial.
Spinal abnormalities may require surgical intervention. Genetic counseling may be of benefit for affected individuals and their families.
Pseudoachondroplasia versus Achondroplasia
Pseudochondroplasia was, for a long time, thought to be similar to achondroplasia. But they are not related. The name suggests false achondroplasia because of the striking similarity between the two without facial features in achondroplasia.
[Read more about Achondroplasia]
But as medical literature and laboratory advances occurred, these two were found to be different disorders.
Therefore, there is no point in comparing two different entities. But here are highlights of the major difference
Achondroplasia presents at birth whereas pseudoachondroplasia presents around 2-3 years of age.
Genes affecting the two are different
Achondroplasia is severer of the two forms
Facial features are not present in pseudoachondroplasia