Last Updated on October 27, 2023
Shoulder osteoarthritis is a progressive degeneration of the shoulder joint resulting in loss of cartilage and other degenerative changes.
Shoulder osteoarthritis is less common than osteoarthritis of the hips, knees, and hands. But it is a chronic debilitating problem that impacts patient's life in a significant way.
It can make daily activities like lifting a dish from a high cupboard, wearing of clothes, making a throw or steering a car, golfing, throwing a ball lifting items overhead, putting on a seat belt, or brushing teeth and other activities difficult.
A significant trauma or chronic repetitive injury could play a role in shoulder osteoarthritis. Genetic factors could also contribute,
The disease is gradual in onset and worsens with time.
Early detection and management are associated with a better overall outcome.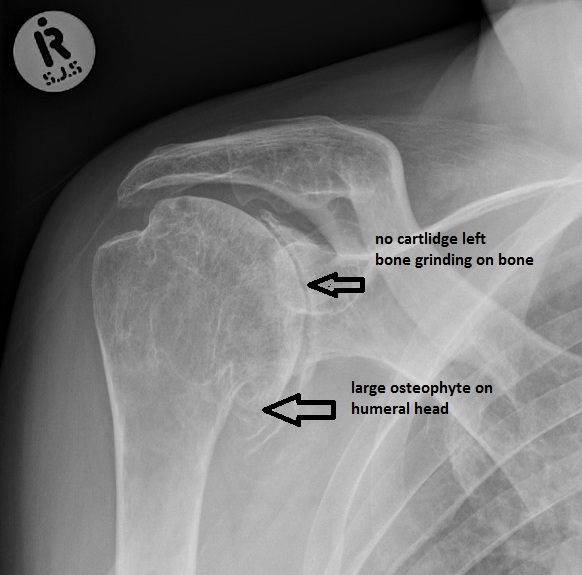 Relevant Anatomy of Shoulder Joint
[ Read detailed anatomy of shoulder joint ]
The shoulder joint is a complex joint between these bones. It is the most mobile joint of the body and formed by humerus, clavicle, and scapula.
The glenohumeral joint is the major joint of the shoulder joint and commonly referred to as shoulder joint.
Here, the head of the humerus articulates with glenoid, a shallow socket of the scapula called the glenoid.
The acromioclavicular joint is between clavicle and acromion process of the scapula and is even more vulnerable to osteoarthritis. It is discussed separately.
Pathophysiology and Causes for shoulder Joint
[ Detailed pathophysiology of osteoarthritis ]
The degeneration of cartilage, the covering layer over the joints results in thinning and irregularity of the cartilage.
The body attempts to repair the cartilage but the original cartilage [hyaline cartilage] is gets replaced by another type [fibrocartilage]
Osteophytes are bone spurs that are also formed as a result of the repair process. These may impinge on the surrounding structures and cause pain.
Causes and Risk Factors of Shoulder Osteoarthritis
Prior shoulder surgery, history of trauma, inflammatory conditions (rheumatoid arthritis), and shoulder overuse are the usual causes of osteoarthritis shoulder.
Individuals who engage in high-intensity overhead activities such as weightlifters and racquet sports players are at increased risk.
Trauma
A significant trauma predisposes the development of osteoarthritis of the shoulder –
Intra-articular fractures
Dislocation of shoulder
Surgery of shoulder
Chronic Repetitive Injury
People who require frequent lifting objects overhead, throwing, or doing high-impact activities, such as chopping wood or using an air-hammer are more likely to develop shoulder osteoarthritis.
Advanced Age
>50 years
Congenital Defects or Illness
Congenital defects of the shoulder or disease involving shoulder joint can lead to shoulder osteoarthritis.
Family history
A woman whose mother has shoulder osteoarthritis is more likely to develop the disease than another woman whose mother did not have the shoulder osteoarthritis.
Glenohumeral arthritis is more common in women.
Presentation of Shoulder Osteoarthritis

The symptoms, like other osteoarthritis, are gradual in onset and progression.
Pain is the most common complaint followed by limitation of motion. The symptoms get better intermittently
Pain due to glenohumeral osteoarthritis is usually centered at the back of the shoulder and is generally felt in the middle-range of motion [Periarthritis is usually painful in extremes of motion]
There may be dull aching pain at night and difficulty in sleeping because of pain.
Decrease in range of motion is both in active and passive motions.
Sometimes, a phenomenon known as catching occurs. Catching is a sudden interruption of movement and is often associated with popping or crunching sound. Catching could indicate shoulder osteoarthritis.
Loss of cartilage can lead to the friction of denuded bones making a sound termed as crepitus.
Symptoms may lead to decreased use of shoulder resulting in muscle wasting. However, a decrease in activity makes the condition worse, making it stiffer.
Swelling can occur in shoulder arthritis, though can be less pronounced than it is in other types of arthritis, such as knee or hand arthritis.
The symptoms may worsen with time and flare up after activity.
Diagnostic Procedures
Osteoarthritis is usually diagnosed by a combination of clinical examination and history of the presenting complaint.
Injecting a local anesthetic such as lidocaine can help to diagnose shoulder osteoarthritis. If the pain is temporarily relieved after the injection, then a diagnosis of shoulder arthritis is confirmed. If the pain persists, there is some other cause of shoulder pain like rotator cuff injury.
Imaging
X-rays
Xray of the shoulder can reveal
loss of joint space in the glenohumeral joint indicating loss of cartilage.
Osteophytes or bone spurs
Subchondral sclerosis
MRI
MRI is helpful if the diagnosis of osteoarthritis is not clear and some other pathology needs to be ruled out.
Lab Studies
Lab tests can be used to rule out other causes of shoulder pain such as infection or gout. In suspected infection, aspiration of shoulder joint could be subjected to biochemical, cytological and other staining studies.
Treatment of Shoulder Osteoarthritis
Activity Modification
Activities that cause or worsen the shoulder pain need to be curtailed. For example chopping wood, lifting weight and other intense shoulder activities.
A person with shoulder osteoarthritis should avoid working through the pain. It is advisable to take frequent rest for the required intervals.
Warm or Cold Compress
Using moist heat, such as a warming pad or whirlpool, for a few minutes can loosen a stiff shoulder joint making activity easier. Icing the shoulder joint for 15 or 20 minutes after activity can decrease swelling and provide some immediate pain relief. The relief is temporary.
Physical Therapy
A physical therapy program that is focused on stretching and strengthening muscles and maintaining the shoulder's range of motion can be helpful.
Drugs
Pain relievers, such as acetaminophen, NSAIDs like aspirin, ibuprofen etc to reduce inflammation. Topical gel and pain relieving patches can be used in combination with oral pain medications.
Glucosamine and chondroitin sulfate [Benefits are equivocal]
Steroid Injections
Hyaluronic acid injections [Viscosupplementation]
Surgical Treatment
Arthroscopic Treatment
The surgeon removes unwanted material and smoothes off the joint, hopefully providing relief of symptoms. It y provides relief for a limited period.
Shoulder Replacement
Shoulder arthroplasty is indicated in non-resolvable pain or previous failed treatments. Patient age, activity level, and the amount of bone affected determine the choice of surgery.
The surgeries could be
Hemiarthroplasty
Total shoulder arthroplasty
Humeral head resurfacing
References