Skin traction is a type of traction that transmits the force via skin. A traction is a directional pull on the trunk or on an extremity. Its applications include immobilization and reduction of fractures, correction of deformities, and elevation of extremities for the management of soft tissue injuries and burns.
It is accomplished by attaching immobilizing devices either to the skin or to the skeleton. Depending upon this it is called skin traction and skeletal traction.
Skin Traction
Skin traction is used in the treatment of conditions for which only a small amount of pull is required. It is often used for
Immobilization of extremities after internal fixation of fractures
For the relief of muscle spasm in low back pain
For immobilization of septic joints.
Elderly patients are not good candidates for skin attachment, because their skin is fragile and their circulation may already be impaired. Traction with skin attachment is mostly applied to the lower extremity, although it is occasionally indicated for traction to an upper extremity.
There are two kinds of skin tractions
Adhesive skin traction has been discontinued because the adhesive material used causes many complications. The maximum weight that can be attached with skin traction is 15lb or 6.5 kgs but should be individualized.
The weights, typically weighing five to seven pounds, attach to the skin using tape, straps, or boots. They bring together the fractured bone or dislocated joint so that it may heal correctly.
In obstetrics, weights pull along the pelvic axis of a pregnant woman to facilitate delivery.
Complications of Skin Traction
Complications often result due to tight wrapping or excessive weight leading pressure areas. Bony prominences are especially prone.
Following complications are associated with skin traction
Skin Injury

Can vary from abrasion to partial-thickness skin loss.

Nerve injury

Superficial nerves more prone
Peoneal nerve and ulnar nerve are most prone
Pain, paresthesia, and loss of function are early signs

Compartment Syndrome

Severe complication
Caused by a deprivation of blood supply muscles due to raised pressure within the compartment
Muscles swell further compromising supply
Contributing factors

Direct soft tissue injury
Vascular injury
Fasciotomy may be indicated if not relieved

Inadequate Immobilization
These complications demand careful selection of patients and regular inspection. A rash, abrasion, or open wound is a contra¬indication to skin attachment.
It should not be used in very young or disoriented people.
Following things should be taken into account while application of skin traction
Clean skin thoroughly before application of adhesive traction
The elastic bandages must be wrapped evenly with gentle, equal pressure exerted with every turn around the extremity.
The bandages should be removed and rewrapped daily and adjusted frequently.
Inspect the skin daily for signs of skin breakdown.
Adequately pad areas of bony or soft tissue prominences.
Maximum weight should not exceed 5 kgs
Maximum period in traction should be no more than 3 months.
Daily monitoring of motor and sensory function .in the limb
Skeletal traction
It requires pins, screws, or wires to be driven into the bone which allows putting traction directly on the skeleton. It is used in cases where a heavier pull is required or when skin traction is not appropriate for the body part needing treatment.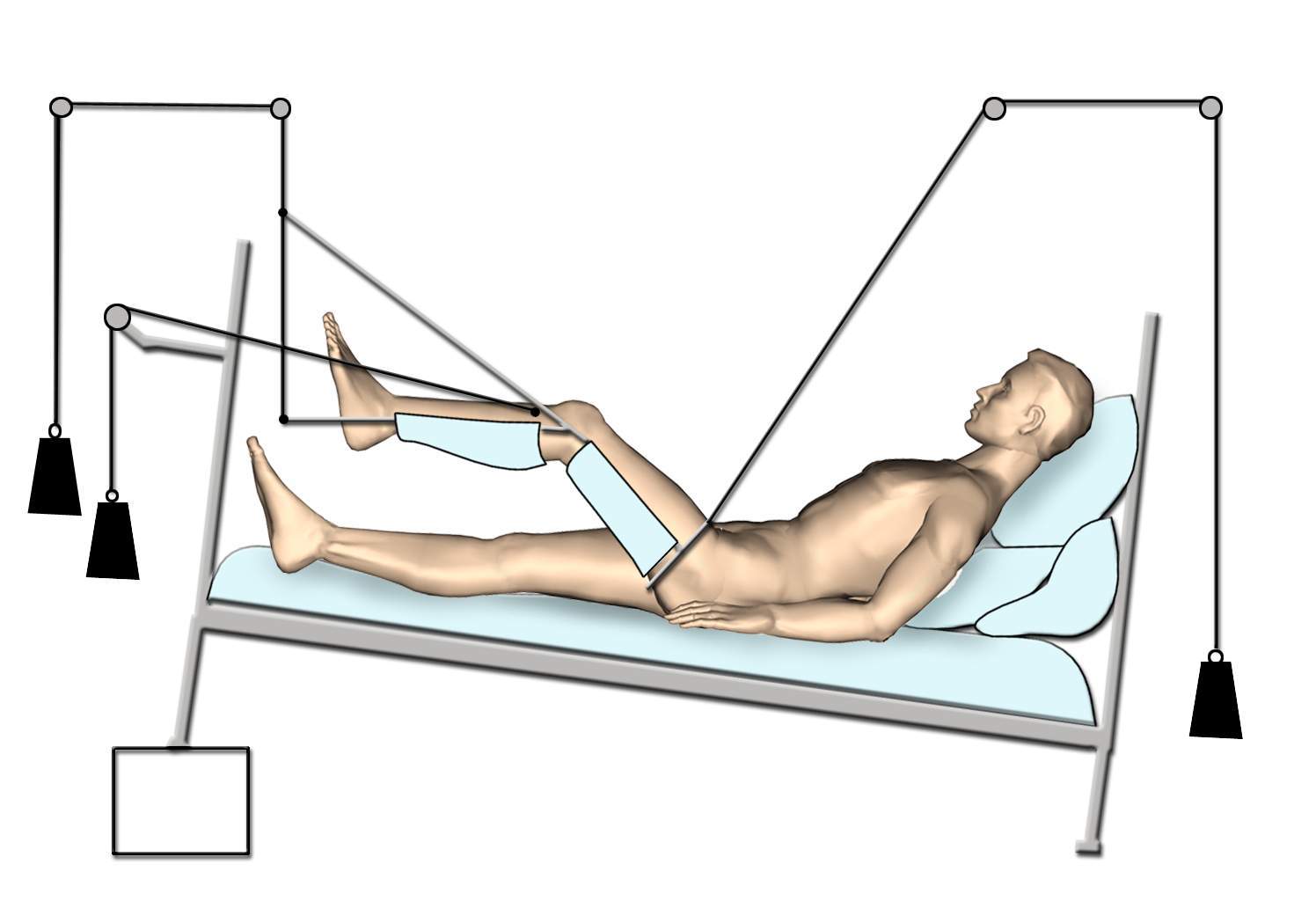 It is important to place the pins correctly. The pins must be clean to avoid infection. Damage may result if the alignment and weights are not carefully calibrated.
Skeletal traction is most commonly employed in lower limbs and is rarely employed for upper limb problems.
Steinman pin is commonly used [inserted in the bone] and upper tibial site is the most common site.
What is Countertraction?
Traction is often applied to part of the body to negate the effect of the forces causing the deformity. To be an effective traction the traction should act on the deformity and not the whole body. To counter the effect on the whole body we need another force that acts in opposite direction.
This is countertraction.
Let us understand this with an example. Suppose that there is a fracture of shaft of the femur bone. Shaft femur fracture would produce a deformity because of the pull of the muscles and broken bone. To straighten it one requires to put a pulling force distal to the fracture site. Let us say on holds the foot and pulls the limb so as to correct the deformity. Some of the deformity would be corrected but the force of the pull would also pull the body towards the person who is pulling.
Note two opposite forces
We need to cancel this force to avoid dragging of the body. Let us say that another person is holding the shoulders of the person and is able to resist the drag exerted by pull. If he exerts a force equal to the pull, there would be two forces that would act on body and body would not move. At the same time, both the forces would also be exerted on the fracture and therefore correction of the deformity results.
Try to pull a person's hand. If there is no resistance when you would result in pulling of a person toward you. However if a person holds him from the elbow, all your force is transferred to forearm only. This is another example of traction and countertraction forces,
In orthopedic practice,countertraction may be obtained by altering the angle of the body-weight force in relation to the pull of traction, such as by elevating the foot of the bed with blocks to enable body weight to act as a counter force.
Countertraction is an important aspect of traction treatment.
The absence of counteraction not only results in ineffective traction but also in the discomfort of the patient.